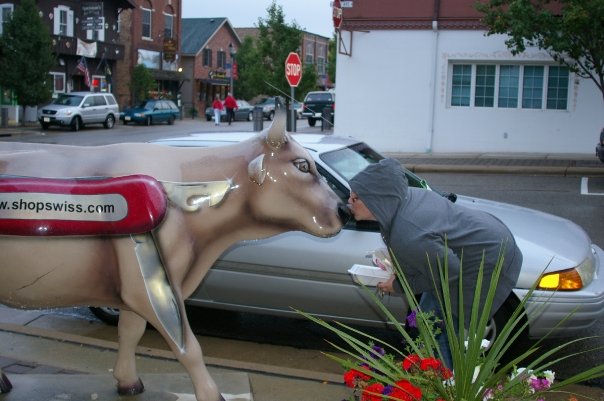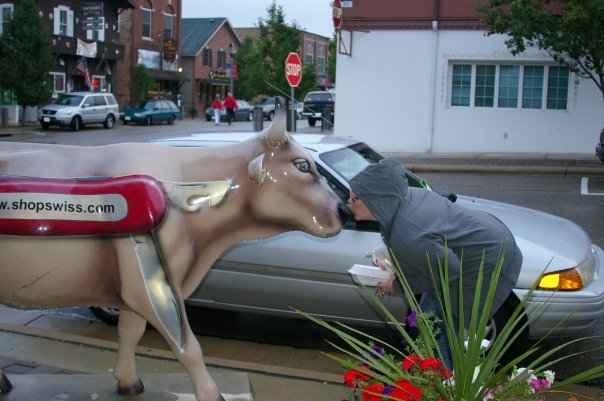 After House on the Rock, Nicki and I went to New Glarus, tiny Wisconsin Swiss town, home of the Glarner Stube and a supposedly awesome brewery that was closed by the time we got there, in line with my family's tradition of being a day late and a dollar short for everything, particularly themed towns. I'd originally intended on visiting Dr. Evermore's Forevertron on the same day as The House on the Rock, but Roadside America lied to me when it indicated that Baraboo was anywhere near Spring Green, which I should've cottoned onto when they said that after visiting the Forevertron, it was only a short jaunt to Wisconsin Dells for their torture exhibit. Wisconsin Dells!? That's FAR away from Spring Green! However, Nicki told me there was something I needed to see in New Glarus, and that I would be suitably impressed.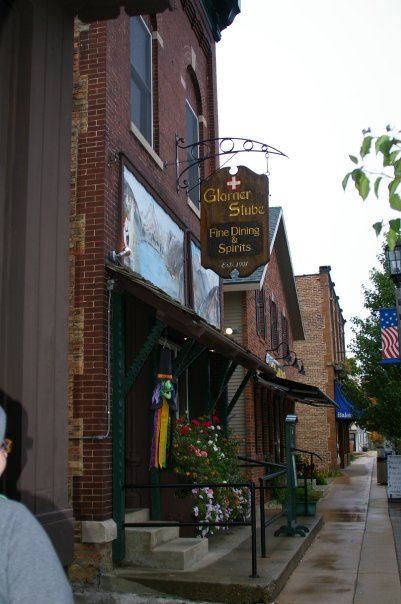 After some delicious Swiss cheese fondue with wine, garlic, and kirsch, I decided that I should probably order the Schublig, which was billed as a mild spiced beef sausage made by Ruef's Meat Market, and sure to please a true sausage lover. Who could possibly love sausage in their face hole more than me? I was NOT prepared for the scale of the Glarner Stube's sausage, however. Laid out onto a plate and brought into the light, it looked almost obscene. The green beans seem like almost an afterthought compared to the sheer amount of sausage majesty* set in front of me.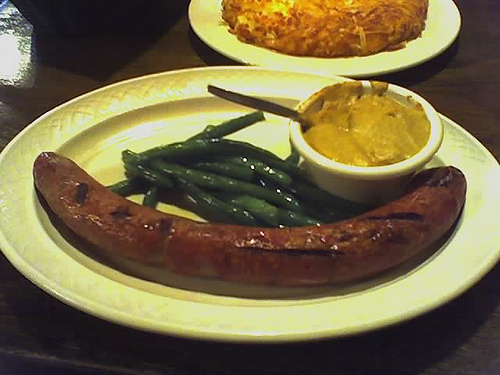 I couldn't even make a sizeable dent in the sausage–it was no meal, it was a task! A challenge! A trial! The waitress seemed appalled that I asked for a box after about two bites, but I wasn't there to impress her, I was there for something else. Are you ready to find out what that something else was? That something else happened to be none other than the midwest's largest urinal.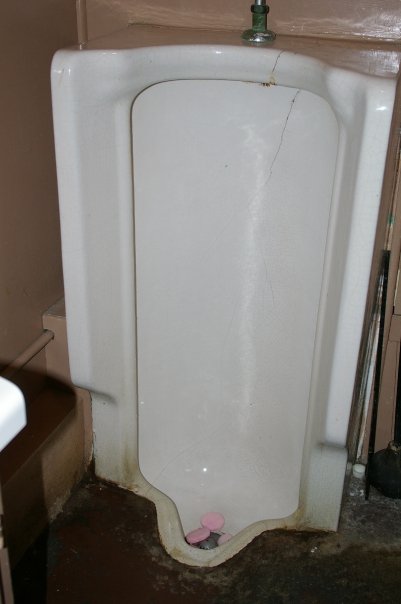 I was a little disappointed that the Glarner Stube doesn't really promote that they have the midwest's largest urinal, nor is it in a sizeable room with tasteful lighting. Rather, it's crammed into a one-man bathroom, where you can hardly appreciate its massive scale. That still didn't stop me from opening the men's room door to snap a photo, giggling so hard at the absurdity that I could hardly hold the camera up, whilst the people at the bar had a good laugh at the girl busting up while taking a picture of a urinal with no fewer than four pink cakes inside. …I suppose when you've got a big sausage, you need a big urinal. Yes/no? *'Sausage Majesty' would be an awesome band name.