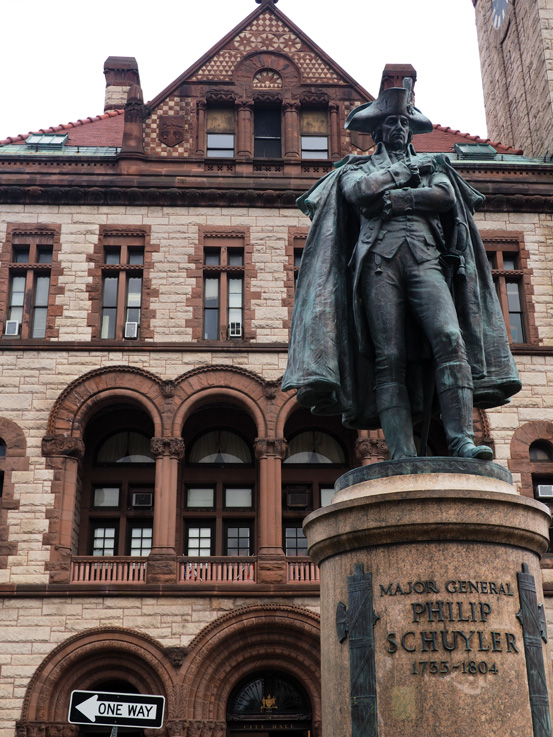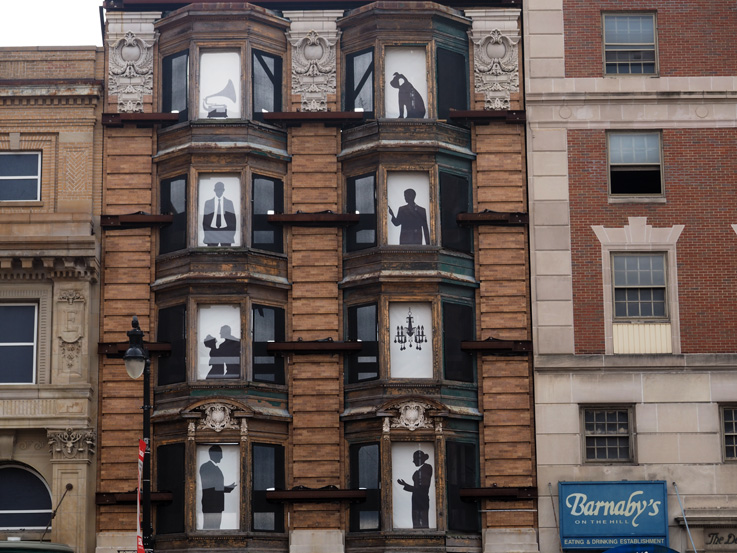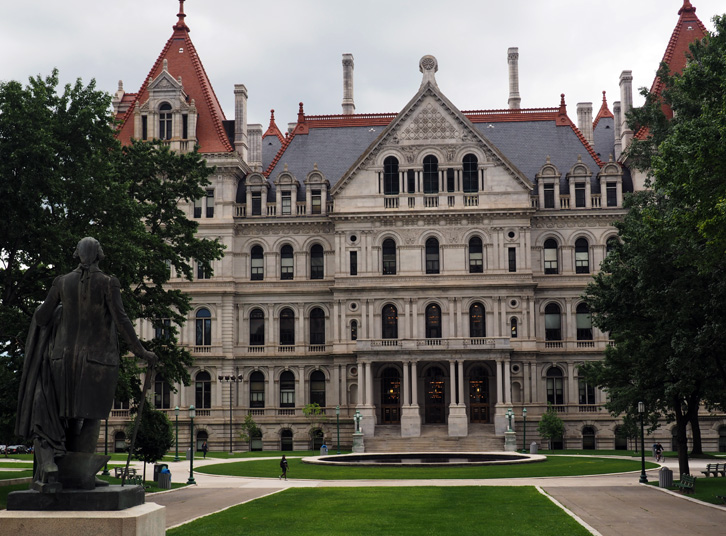 While Jason was off doing his groomsman duties over the course of the couple of days we were in Albany, I decided to take take the opportunity to wander around and see what there was to see. More than once I found myself thinking "Dude, where is everybody?" It's not that peculiar that a state capitol is no longer a center of commerce, but aside from a few cars on the road and the occasional other pedestrian, it felt absolutely deserted. I've heard that when school is in session, it's more lively, but I can't speak to that: all I know is that when our cab arrived at midnight and everything was closed, it made me feel like I was in a suburb, not a city. In 2013, Conde Nast Traveler Magazine determined Albany was the 7th most unfriendly city in the country (the 13th most unfriendly in the world!). Aside from an unpleasant encounter with a cab driver (which was admittedly just as much my fault as his), I have to say that I just don't see it. Everyone that I spoke with was perfectly nice, and I didn't solely interact with people in hospitality–so either the title shook the natives to their core and they've made a strong effort to change how they're perceived, or the list is mostly a bullshit excuse to put up a slide show for ad revenue. I'm thinking the latter is more likely.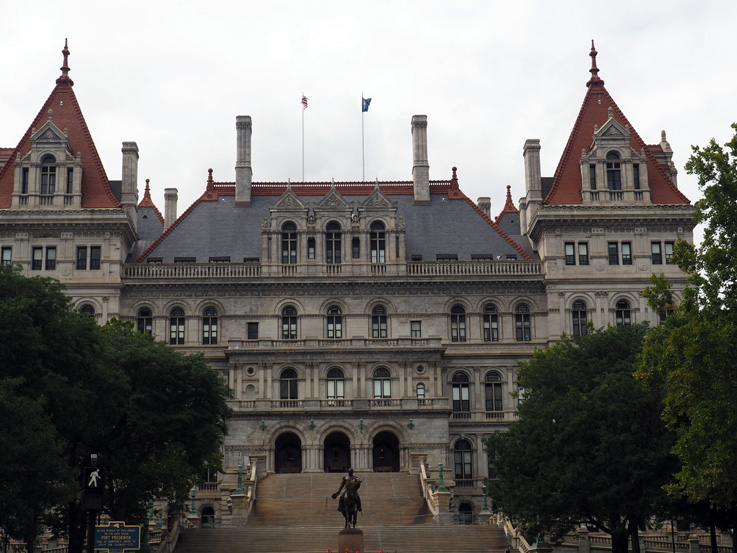 NY Capitol Building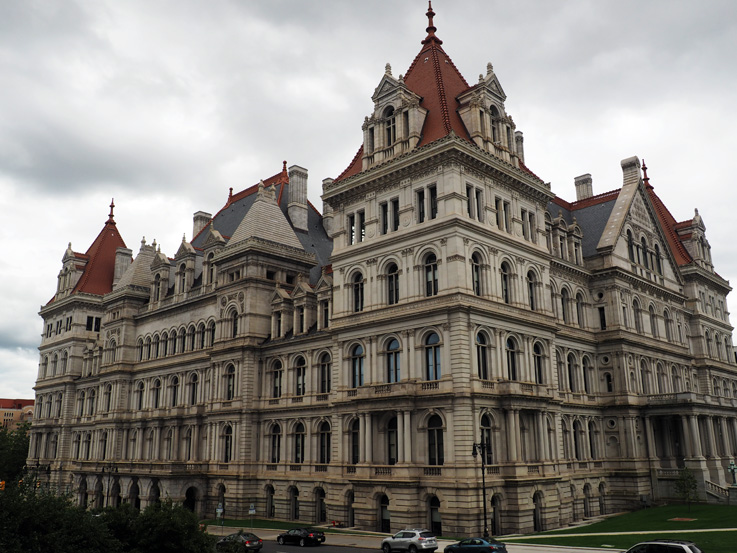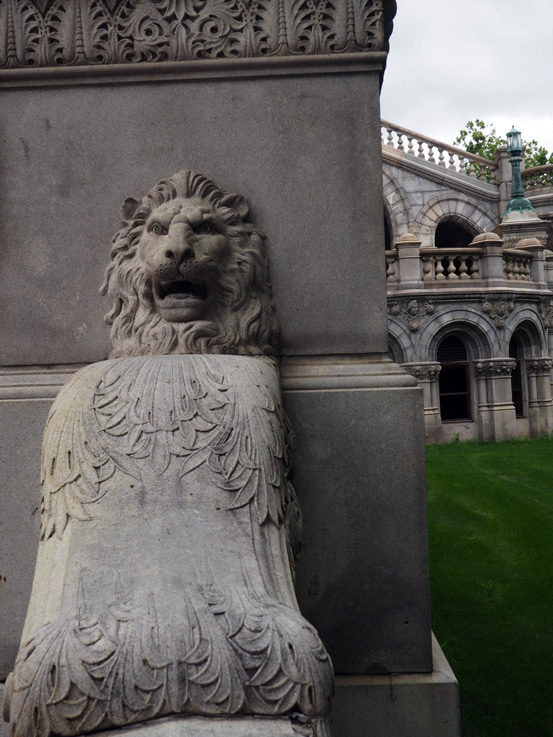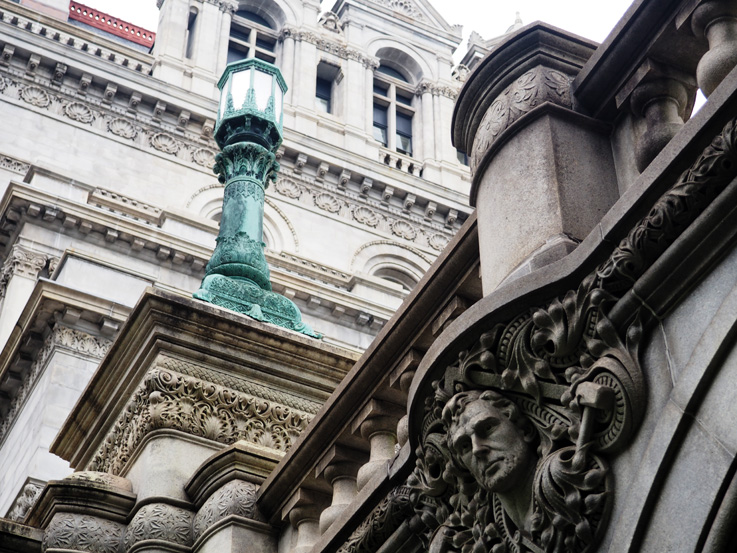 I was absolutely taken with the detail on the buildings in downtown Albany; I grew up in the Midwest and have lived most of the rest of my life on the west coast, and mostly you don't see French Gothic Revival, Beaux Arts, Romanesque Revival, and Art Deco all in one place. The Historic Resources Commission has done an excellent job protecting their landmarks, if not always preserving them. I also love that the state motto, Excelsior, is everywhere: anything that makes me think of gleeful Martin Prince can't be bad!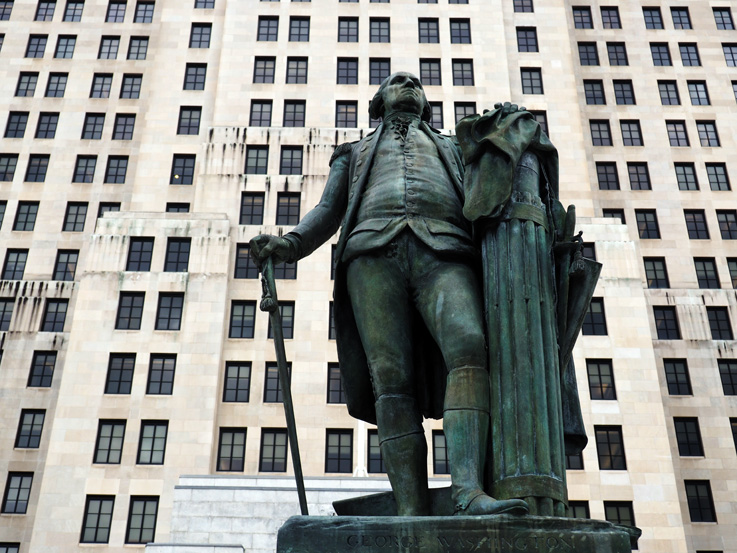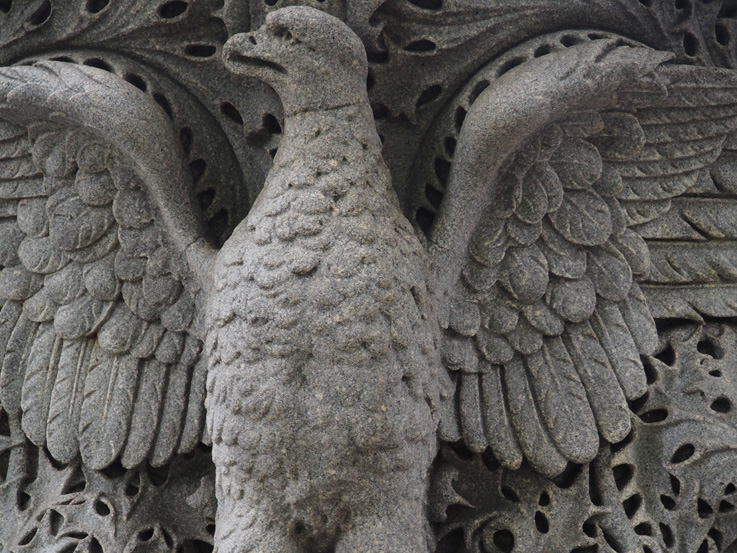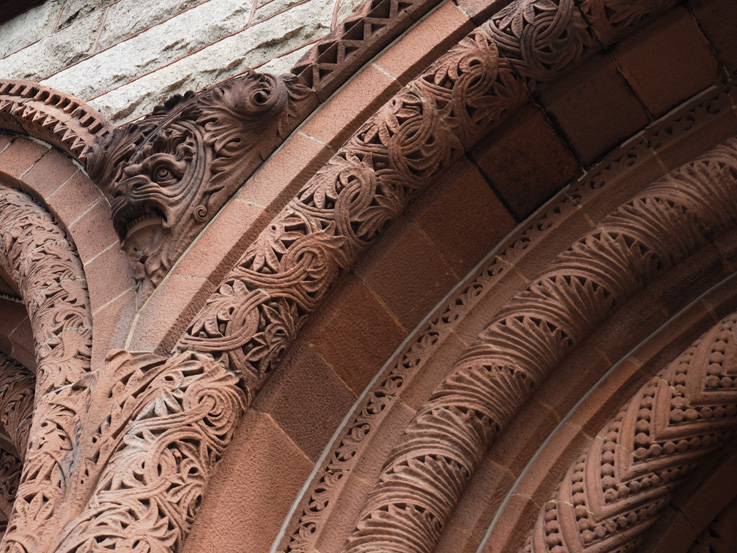 Details of Albany City Hall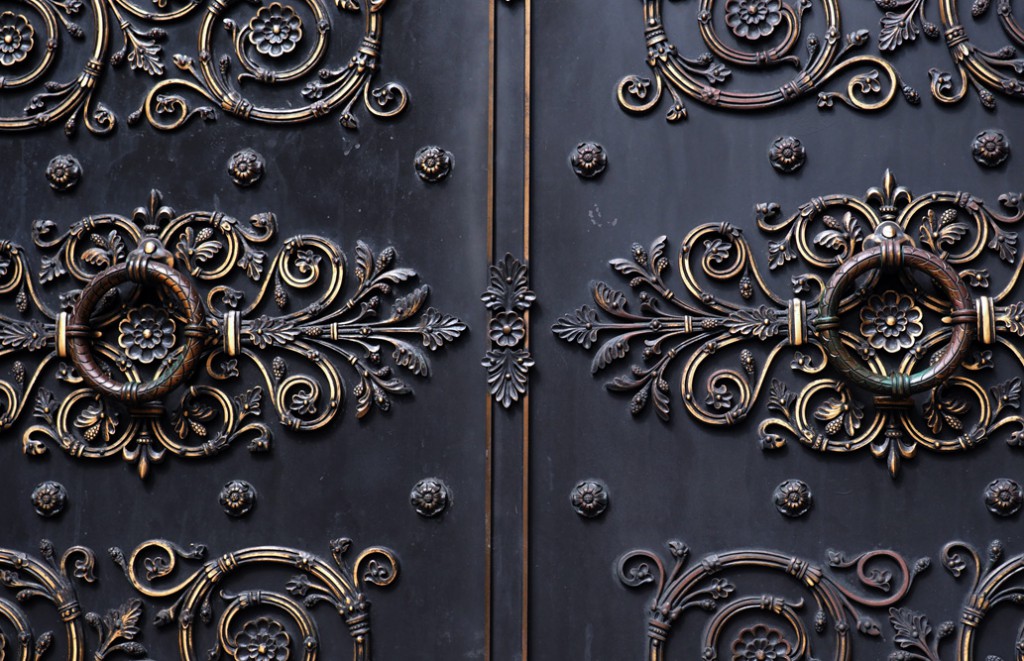 Door detail of St. Peter's Episcopal church; the place where Lord Howe was interred–the only member of British aristocracy buried on U.S. soil.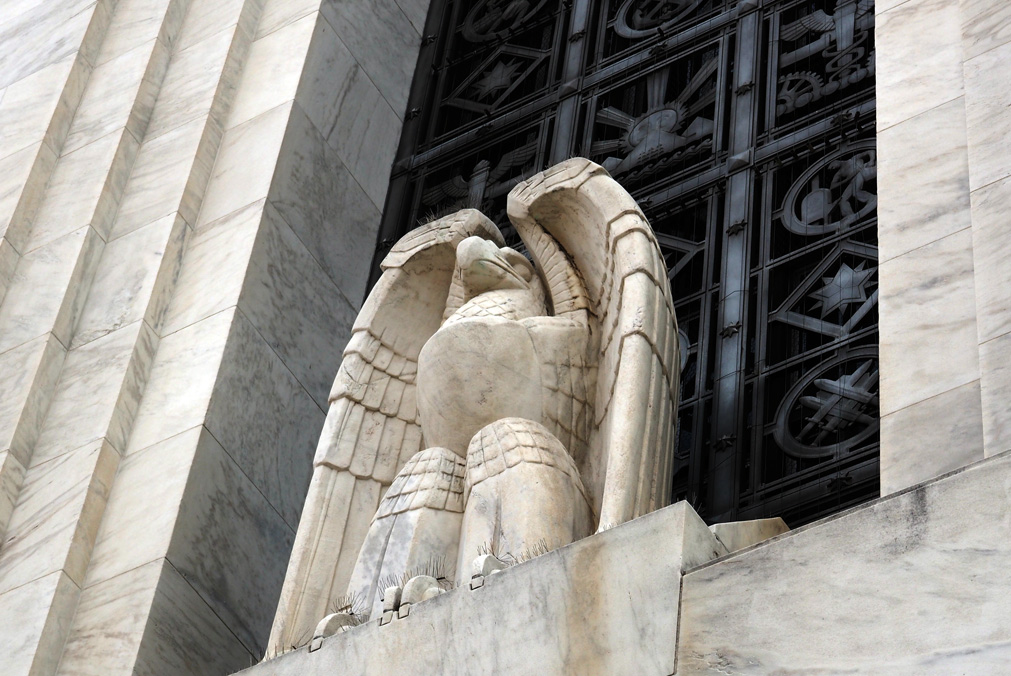 The James T. Foley U.S. Courthouse, an Art Deco building with 8 foot marble eagles over each entrance.
I was shooed away from the courthouse by a police officer for trying to take a photograph. He said that post 9/11, they were touchy about people taking pictures of entrances and exits of federal buildings and he had to ask me to stop even though I "don't fit the profile." You know and I know that it's perfectly legal to take pictures of federal property, but I didn't want to push my luck, so I went back the next day and approached from the other side, because I'm a rebel. Or a pansy. Or a bit of both. Either way, I think we can agree that my photo of the marble eagle was totally worth potentially being arrested over. Right? Right.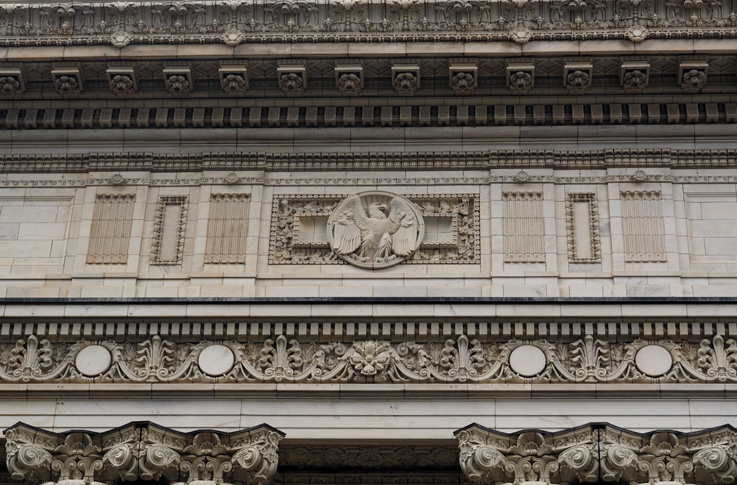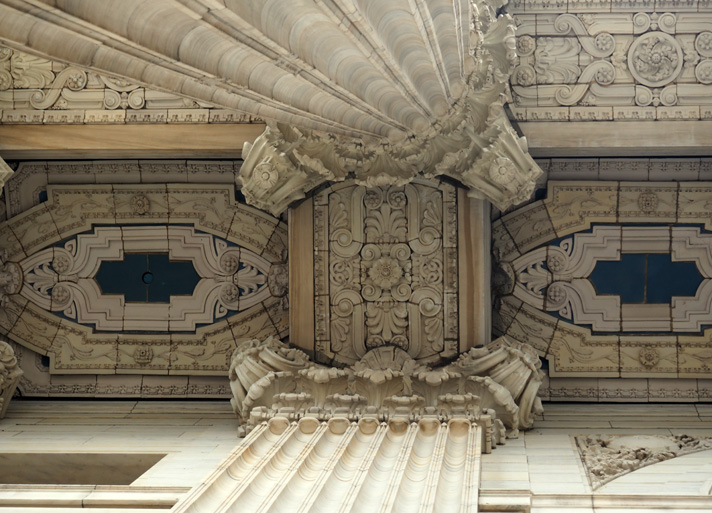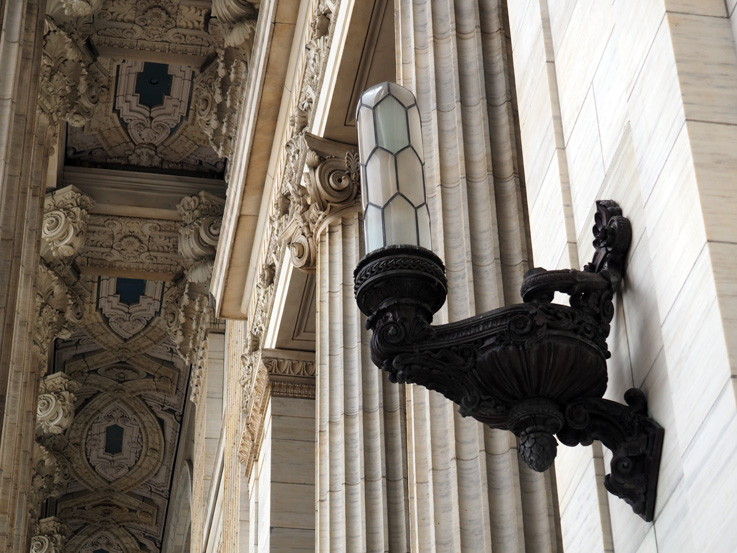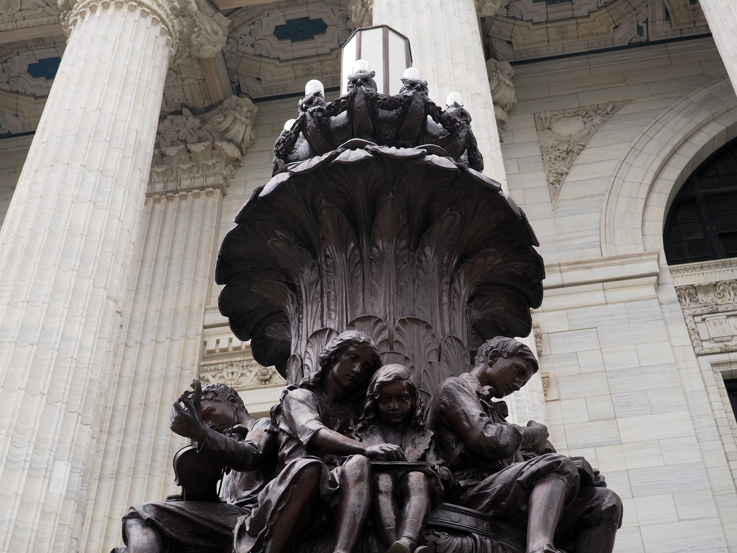 State Education Building details. I appreciate that they represented Hogwarts at the top of their statue with all of the mail owls.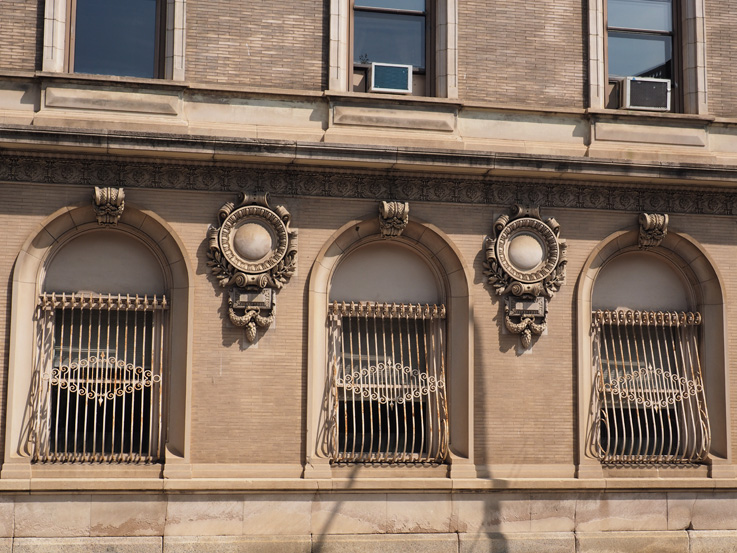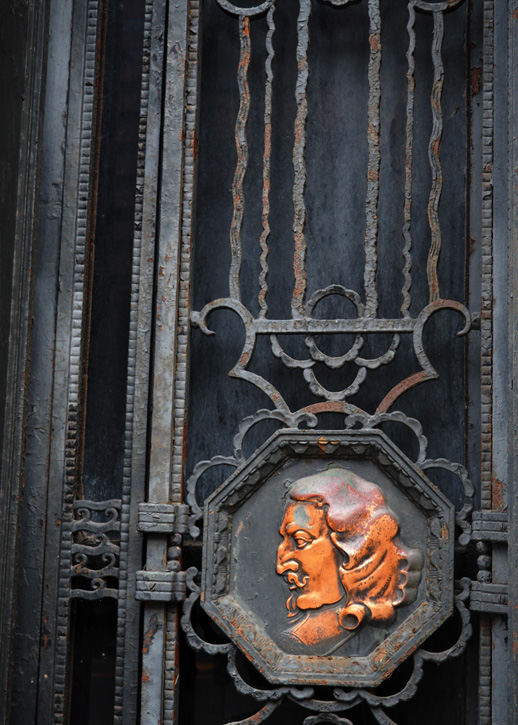 Home Savings Bank Building detail

Alfred E. Smith Office building detail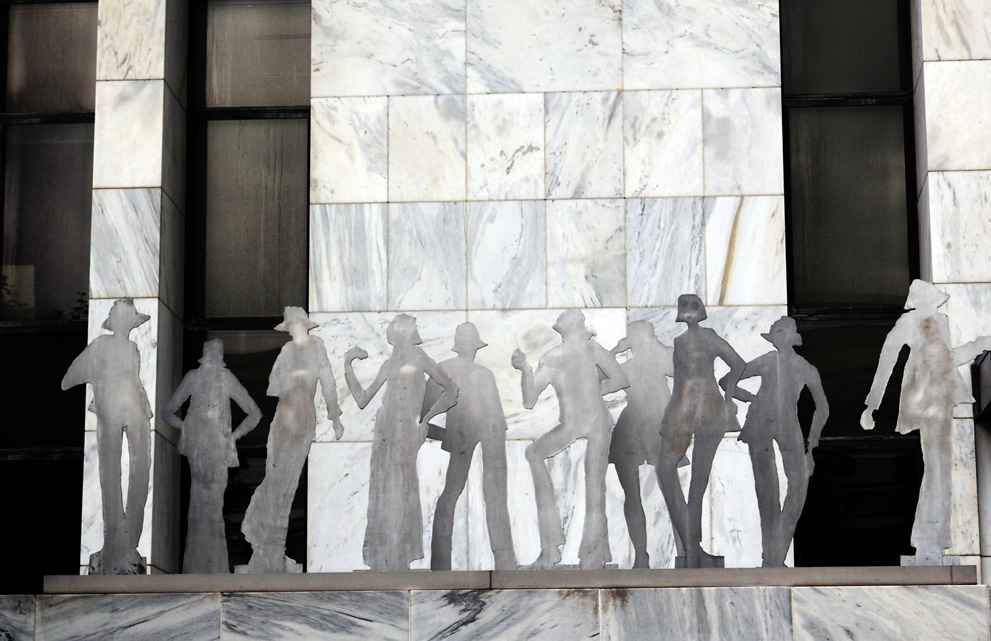 Legislative building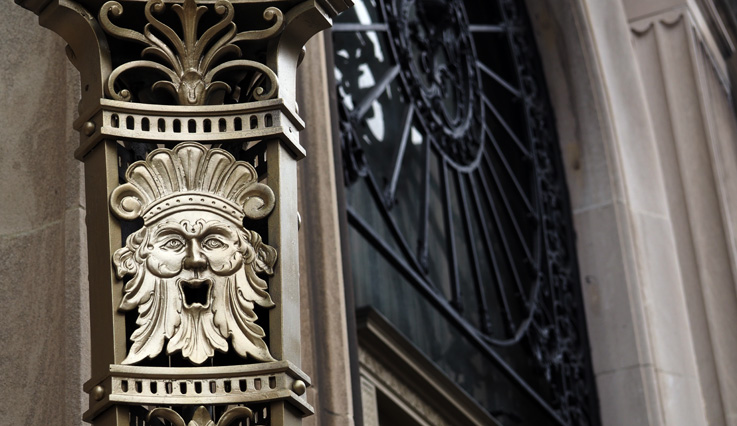 Old State Room building detail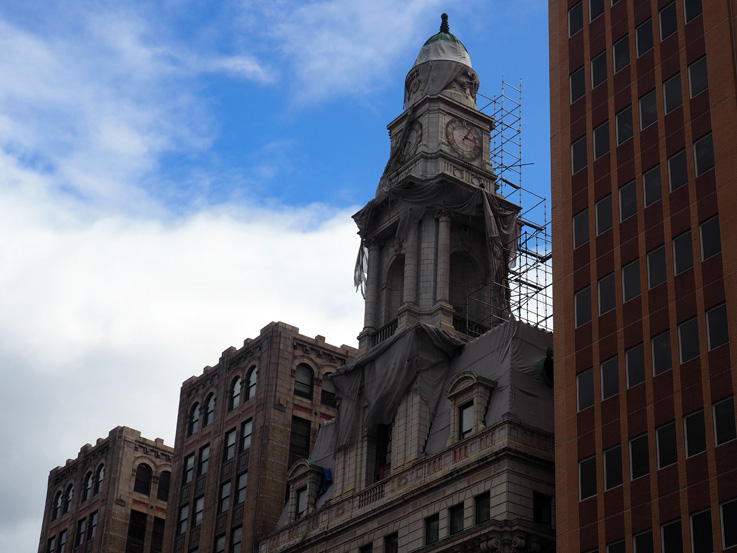 New State Room building, which at the moment looks like it's going through an Addams Family phase. This is where the wedding we attended was held and it was super swanky on the inside. The bride and groom cruised around in one of the cars from The Godfather and hanging out inside made me feel like a filthy rich Senator.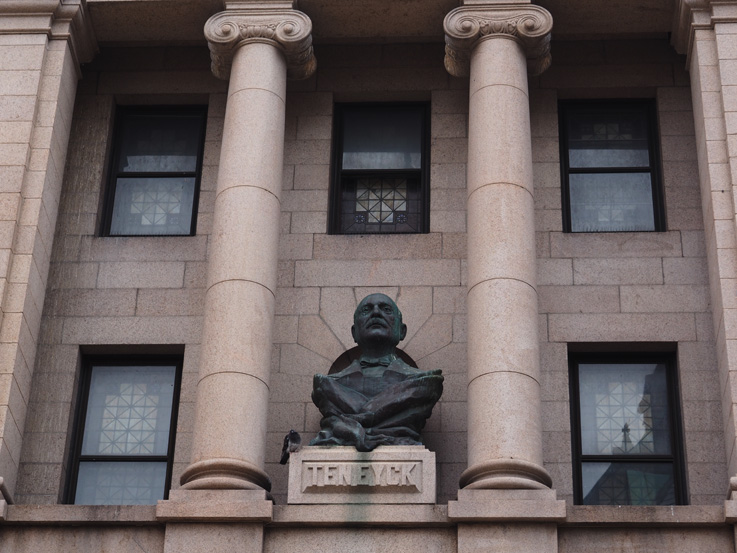 The Albany Masonic Temple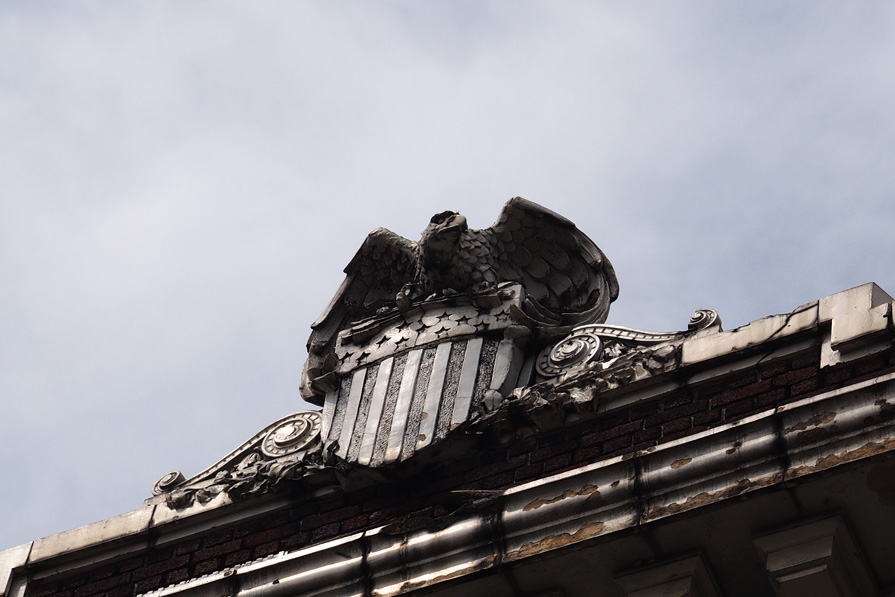 Eagle perched atop a boarded-up police station on Pearl St.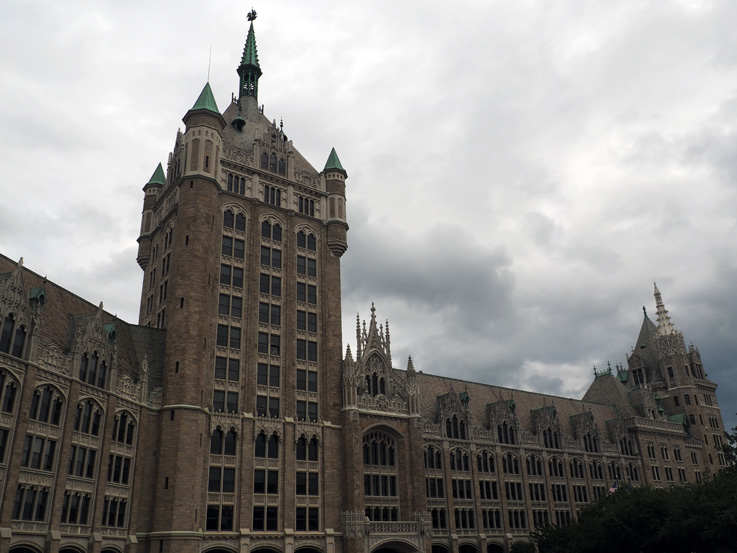 SUNY System Administration Building. It certainly makes my former college campus look like crap…and frankly, it looked like crap to begin with. Yeah, Drexel, I'm talking to you.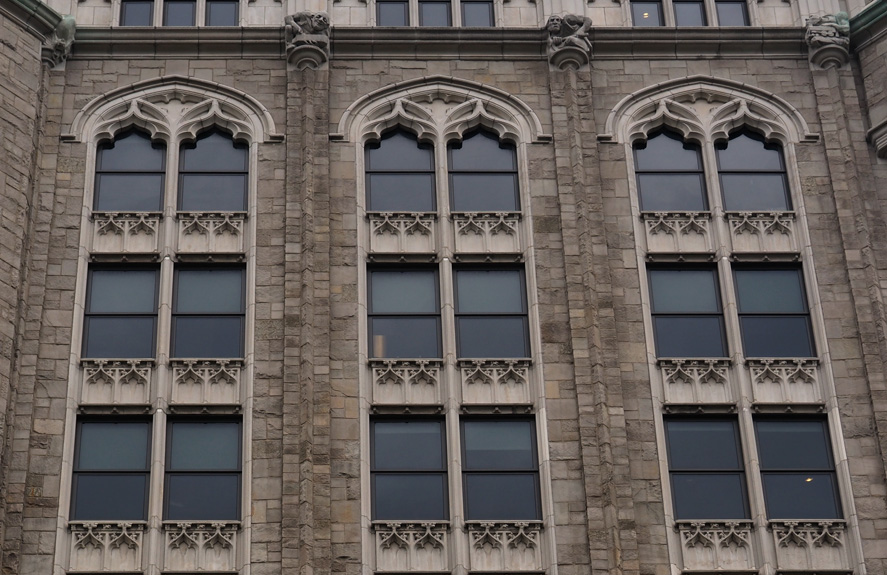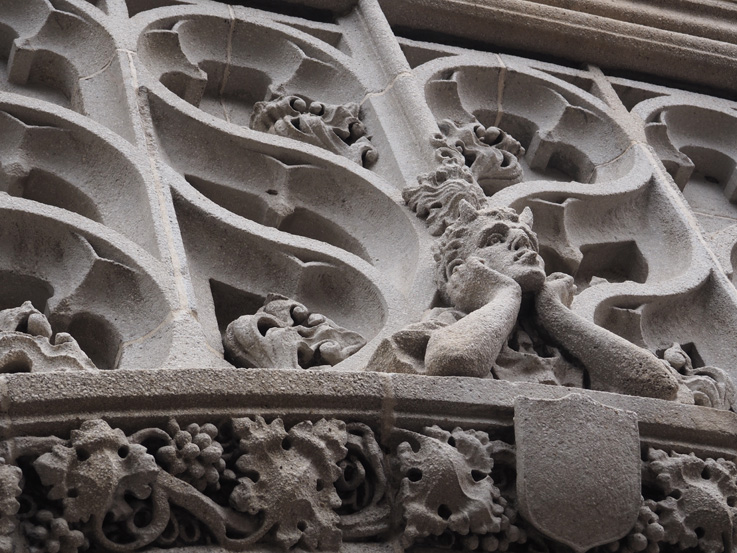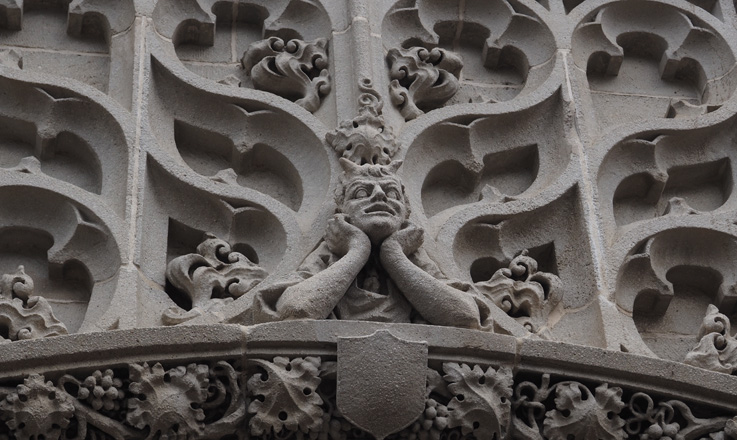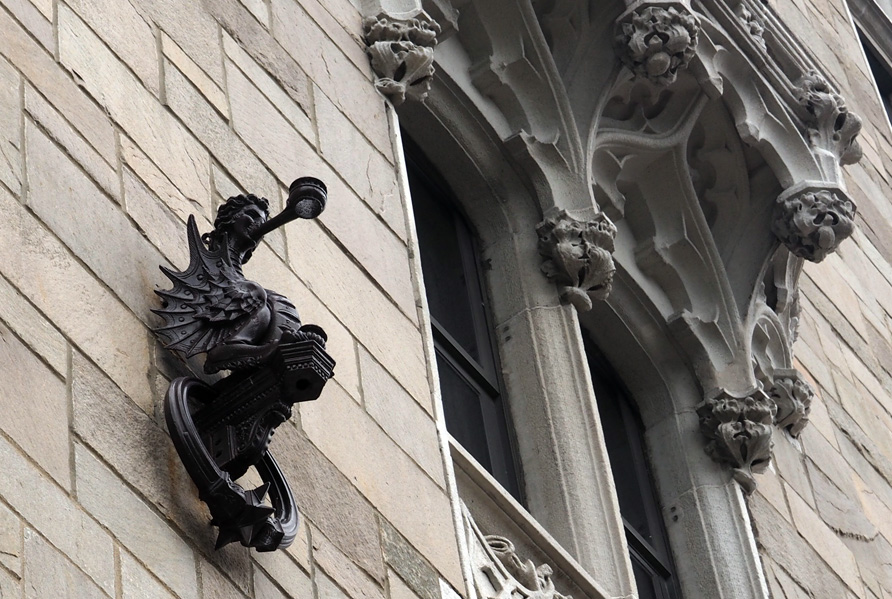 Whatever this is–door knocker, torture device, candleholder, murder weapon…I want it. Ideally, a pair.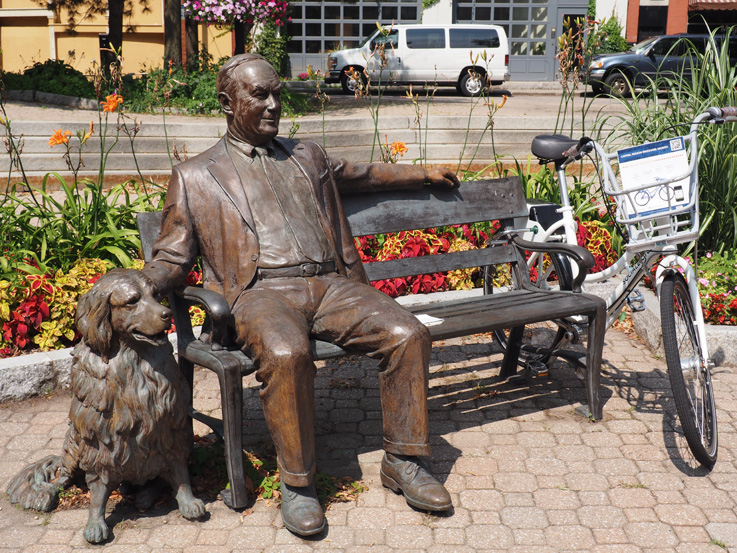 Statue of Mayor Thomas Whalen III and his dog, Finn McCool in Tricentennial Square–if I had known about the bikeshare bikes available at the park that week, I would have been able to range further in my exploration of the city. As it was, I ran into them at the tail end of my visit.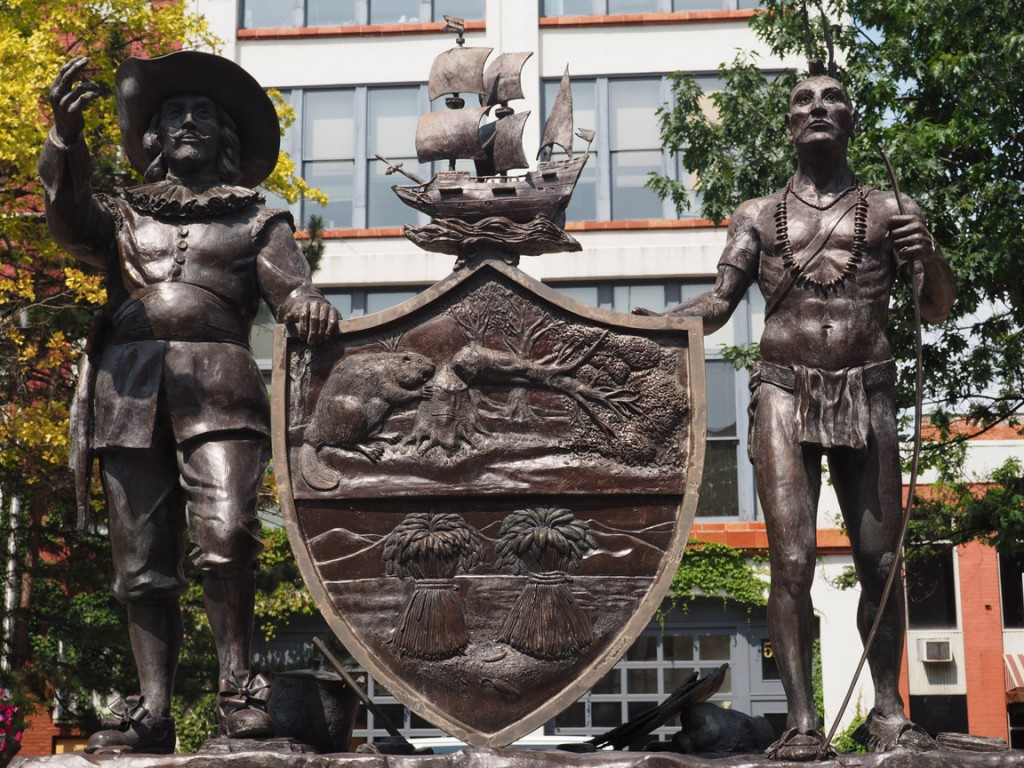 "Our city's motto is Assiduity!" "A perfectly cromulent motto."