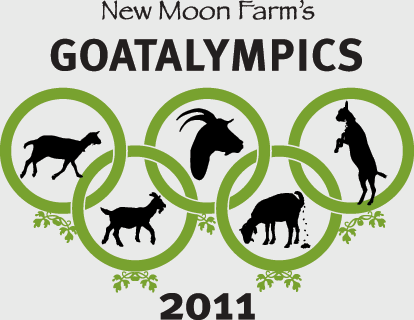 Occasionally people ask me how I find out about the strange, random events I attend, and how I determine whether or not they will be worth the trip. The answer is simple: there is no choice; I am drawn to these things as certainly as sailors are drawn to their doom by sirens. When I heard that the nearby fairgrounds were going to be hosting a Goatalympics, it wasn't a question of whether I should go, but who I should drag with me. Jason, of course, and Emily and Tom joined as well, after Tom extracted a promise from me to not aid Emily in any way, shape, or form, should she attempt to smuggle a goat home and then feign innocence as to how it appeared on their back patio. Promises made, we ventured to the Evergreen State Fairgrounds to watch goats and humans compete for prize ribbons in such categories as loudest bleat, most spots, pinkest nose, best trick, and goat-owner lookalike. On the way, we heard the new Lady Gaga song on the radio, "Edge of Glory" and found it not only boring, but repetitive, so we spiced it up with some new lyrics: I'm on the edge…of the Goatalympics! And I'm gonna pet some cute goats with you! I'm on the edge…of the Goatalympics! And I'm gonna see some goats in costumes! We arrived too late to watch the goats play red light green light or balance an egg on a spoon in their mouths, and since we had time before the next round of events started, we went into the barn to check out the competitors. Inside the barn, we heard loud screaming that we assumed was a child imitating a goat, given that we are predisposed to blaming children for any number of loud and obnoxious behaviors. The noise, however, actually did emanate from a goat, whose insistent screeching put Emily off the idea of goat ownership.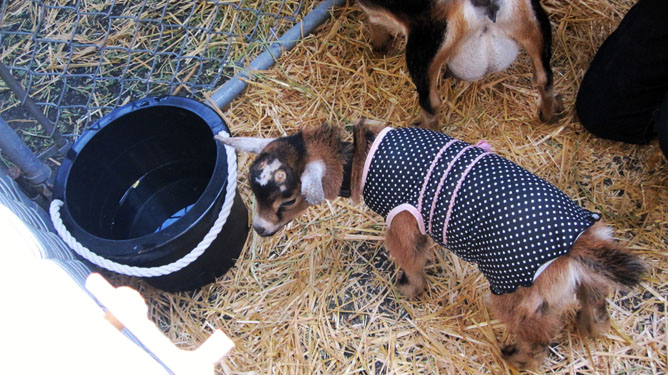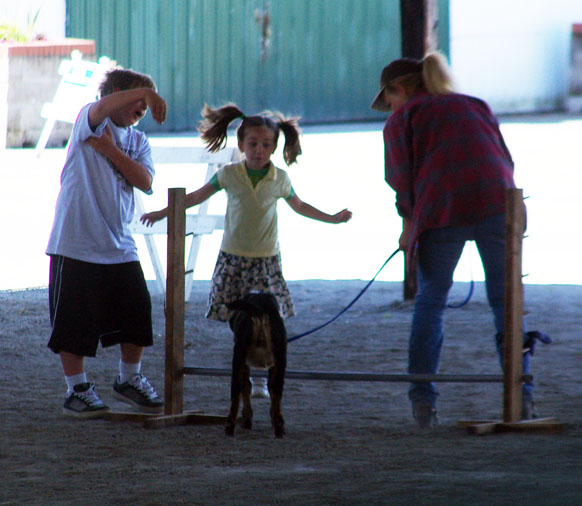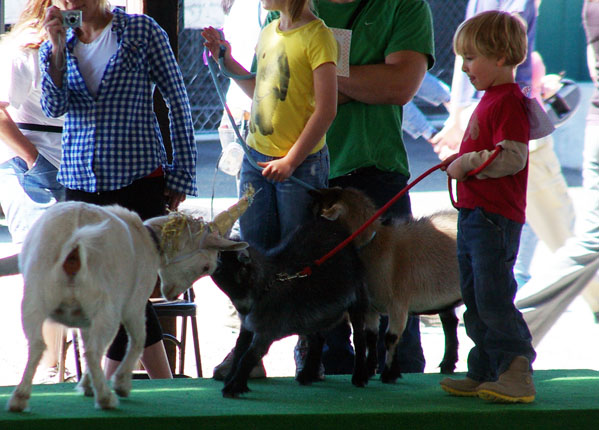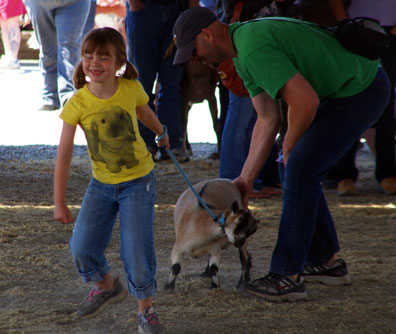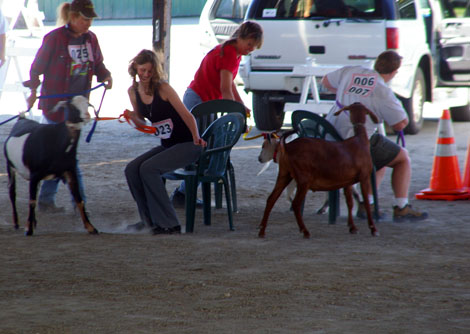 While the goats and owners gathered to compete for the "Most Talkative" award, the audience instigated a call-and-response with one tiny goat, who seemed confused that humans were speaking his language.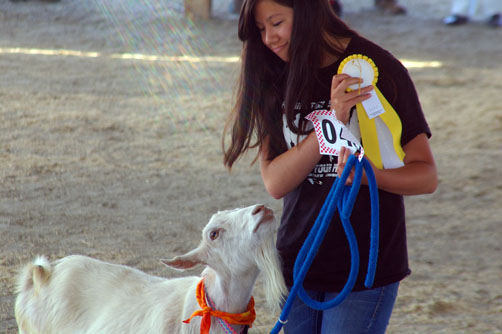 This goat was trying to eat his ribbon!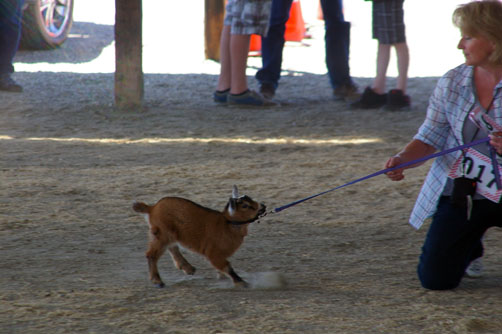 It was around this time that the goat obstacle course started. None of the goats seemed thrilled about participating, but most bore the indignity for treats.
One goat, however, was having NONE of it and had to be carried and shoved through the entire course, after which, her princess-outfit-bedecked owner yanked her around and pouted, which raises the question as to which of them was the more stubborn.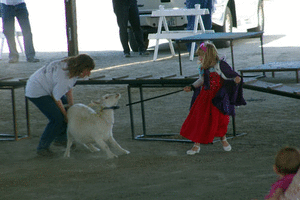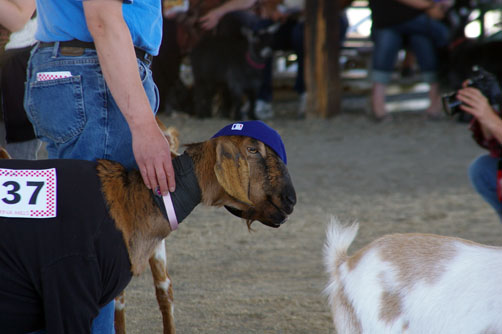 A man we had dubbed Kenny Rogers demonstrated that his goats knew more than a few tricks, but as in the goat-owner lookalike contest, both Kenny Rogers and his goats got screwed because the ribbons always went to the children who had participated in the event. What is the point of having a contest if the winner is always the person most likely to throw a tantrum? Moreover, whenever I participate in contests against children, why don't the judges recognize that the person most likely to throw a tantrum is me? All I'm saying here is that goats have beards, and so does Kenny Rogers, making him the most goat-like, and therefore deserving of the ribbon. I demand a recount!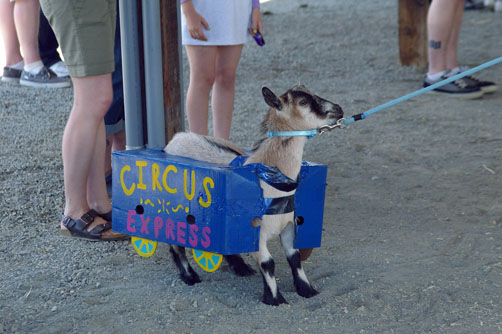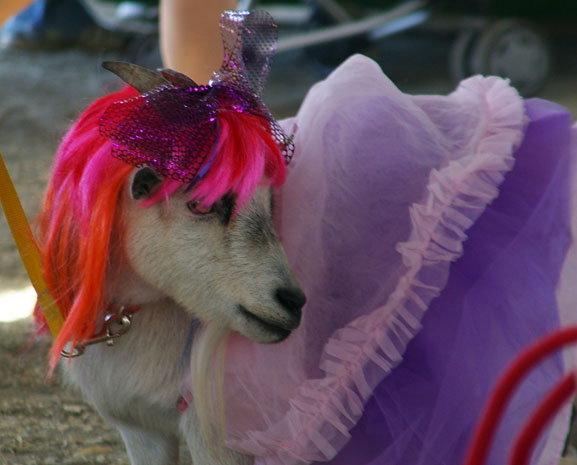 Entered in the costume contest: One Lady BaaBaa.Who could have ever guessed that our Lady Gaga lyric makeover would have been so appropriate?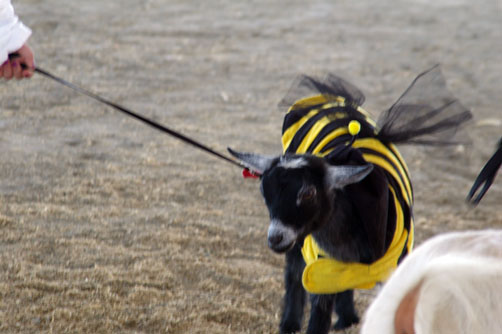 Along with the bleating of the goats, the day's soundtrack consisted of the nearby racetrack's cars droning around in circle after circle. We had very nearly convinced Emily that it was part of the Goatalympics and that goats were driving the cars, complete with goggles and scarves, but I'm afraid my grin gave the game away. After the show, we went out for some ice cream, and I learned an important lesson about black licorice ice cream: don't eat it. Particularly if the people who have made it decided to load it with black food coloring, because then your lips and teeth and tongue and digestive tract will turn black and all your friends and even some strangers will have a great big laugh at your expense. Snoqualmie Ice Cream, have I got a bone to pick with you!