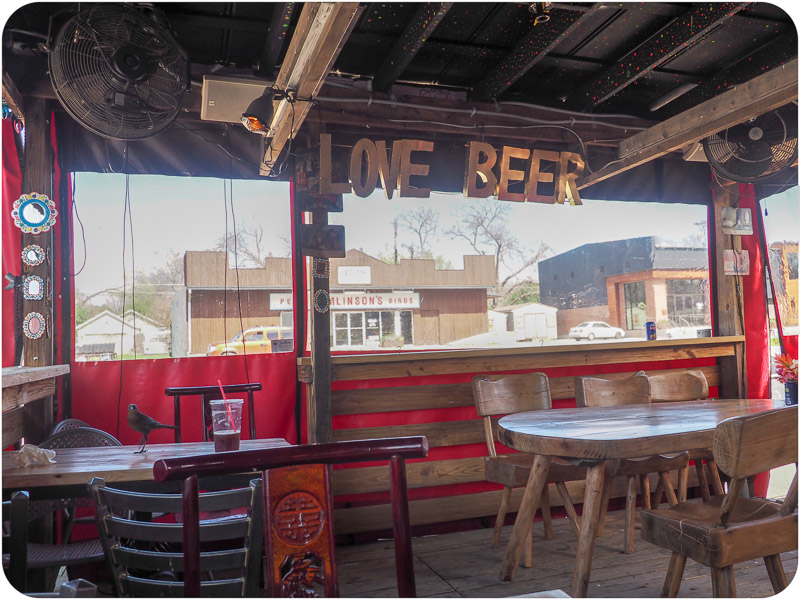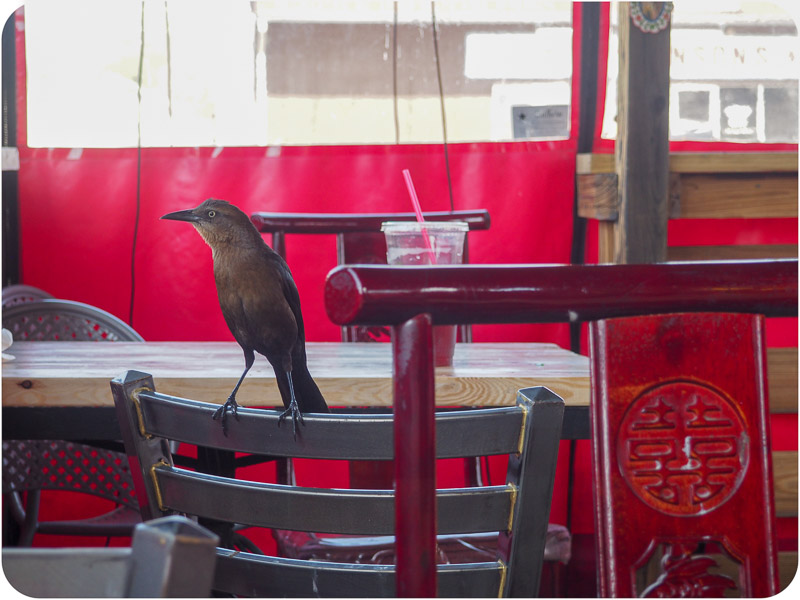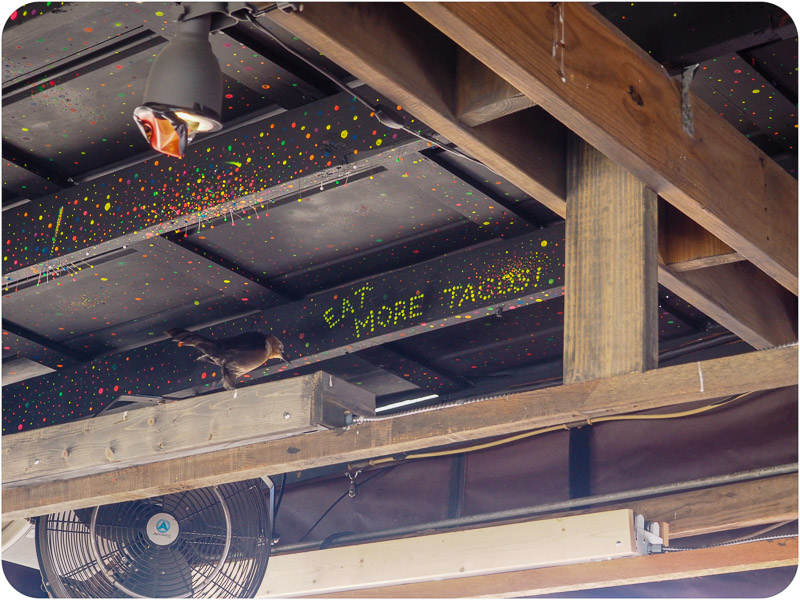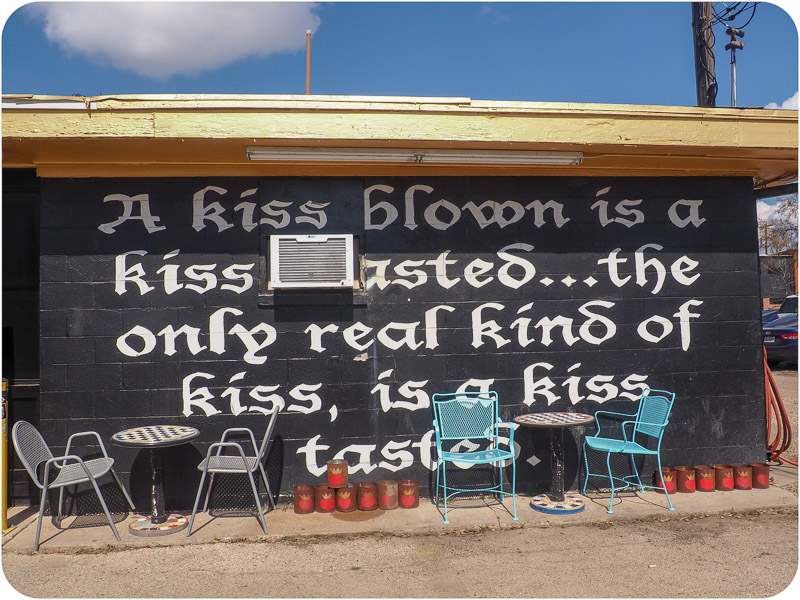 Still not 100% on what a kiss blown is. A kissairconditionerasted?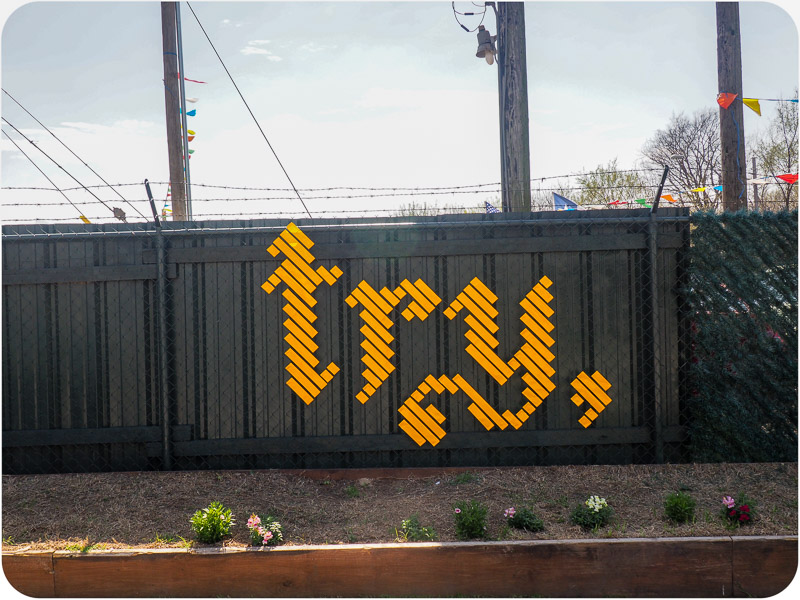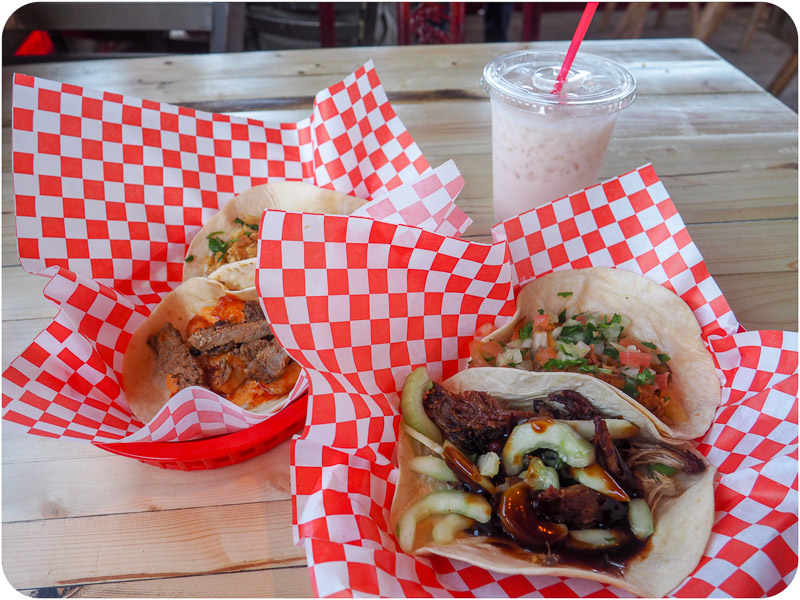 clockwise from upper left: burnt ends, al pastor, crispy duck, tasty basterd
Tyson's Tacos is a charming restaurant with an inventive menu, though none of those things are what brought me here. I was lured to this establishment by two rumors: first, that there's a ukulele at the ordering counter and in case anyone would like to sing for their supper, Tyson's is willing to make that trade, at a going rate of one song per taco. The second rumor was that of a gold toilet in their restroom. I stalked my way all the way around this building and the only toilet I found was tragically white.
The ukulele, however, does exist, though the kind of off-key error-riddled song I could play on a uke would only be worthy of the saddest taco, the lonely little scamp trying to run away from home and make a new life in the dumpster. And I didn't want a sad taco, I wanted a robust taco. Four of them. Al pastor, burnt ends, tasty basterd, and crispy duck, specifically. Plus a horchata, like the two kinds of agua fresca they had available gratis wasn't good enough. 
The decor at Tyson's is eclectic, with chippendale chairs next to chunky blonde wood chairs with carved in butt grooves and neon rainbow spatters dot the black ceiling. Rainbow dots among other things–birds come right inside and conduct their business. In addition to the type of business you already thought of, they also hop on the tables and chairs and scream at people for food.
They couldn't have mine.  I did not love my al pastor taco, as I found it full of gristle. However, the tasty basterd, a surf & turf taco with shrimp, fajita steak, sriracha, and cheese surprisingly works. I mean, come on, it's an unholy trinity: seafood and steak and cheese. Those very specific textures don't tend to enter my mouth in tandem, but I was intrigued enough by the pure fortitude it took to invent this taco and then put it on a menu to order it and it really does work. By the end of it, I was a little creamied out, I think it ended up being too much of a good thing. I felt the same about the burnt ends taco. With onion rings, jalapenos, and valentina cream, it was delicious but I was done with it before it was finished. The last, the crispy duck, was a perfectly fine taco. I thought the crispiness of the duck and the fresh crunch of the cucumber was a wonderful pairing; I'm just not personally a huge fan of duck. I would've loved to see all these tacos in a smaller version so I could try more kinds of tacos, but that's just greed talking. Greed and my failure to order five tacos so I could try the Prince taco.