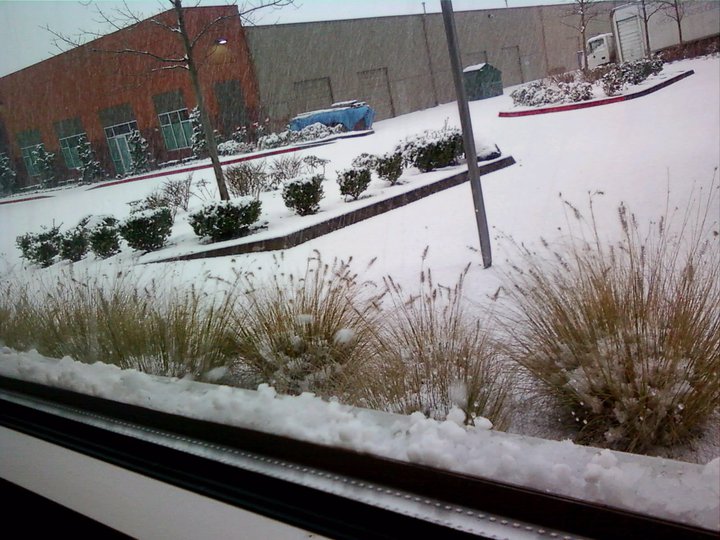 Why yes, that *is* hail bouncing off my office window!
Today, it snowed and then hailed and then snowed some more. Everyone else in the office ended up going home early–my boss offered to let me go saying that he didn't want me to get trapped there, but the project manager had demanded package tracking numbers which I could not obtain until the late afternoon, so I stayed. At the end of the workday, I scraped the car clean, popped on the heater, drove two blocks, and my jaw dropped. Cars were way the hell backed up, and I prepped myself for a hell of a long ride home, even though I live quite close to work. As soon as I pulled onto a more main road, however, I realized there was a problem…the snow on the roads had melted a bit and re-frozen into a sheet of ice. As I made this realization, the car in front of me fishtailed, hit the curb, and then when it backed up, it nearly hit me.
I made an executive decision: turn into the next parking lot, drive back to work, leave the car there overnight and walk home.
This was the correct decision to make. I would have sat in traffic for a very long time, evidenced by me passing the car that had nearly hit me still sitting almost in the exact same spot in the time it took me to drive back to the office and then walk back. As I made my way up the hill over highway 167, I saw a group of three men helping to push cars up the hill, as so many were ineffectively spinning their tires. I decided to lend a hand, and spent the next hour and a half pushing cars, vans, and trucks up the hill, and even a goddamned semi out of an intersection. We also cleared a path for an ambulance! Along the way, we picked up more people–one woman who had just gotten back from Montana had a bunch of road salt in her truck so she stopped and started spreading salt out on the road in front of stuck vehicles. Another man showed up with a shovel and started digging people out. People in stalled cars further back hopped out and helped people who were farther up the hill. It felt really good to help these people out and be part of the solution, especially since I know I would have been part of the problem had I elected to continue the drive home.
After a while, traffic started to clear, and people were no longer having issues getting up that section of road, so I walked with the guys back up the hill–we parted ways at the hospital, as one of their wives was in the process of having a baby. I continued on my merry way home, simultaneously warm from all the running and pushing and yet cold to the bone, and still ended up pushing another car out of the hospital employee parking lot. I don't envy those who have to drive anywhere right now, and tomorrow morning after the roads are freshly frozen again, I will envy people less, if that's even possible. At least in the midwest when it's so cold that cows freeze into solid blocks and mastadons start thinking about making a comeback, most everything is flat so you don't have to contend with hills coated in sheets of ice.
This is going to be a nasty winter, and I'm not looking forward to it. If the roads are still this bad on Thursday and Friday, all signs point to me having Thanksgiving dinner at Shari's diner instead of with friends, which is a thought that defies physics by both sucking and blowing at the same time. But I am thankful to have a little faith back in the general good nature of humanity and willingness to band together to help each other out.