It's exceedingly rare for me to get excited about a pancake. If I'm going to go to the trouble to make breakfast batter at home, that batter is going into a waffle iron for maximum crispiness and nooks for butter and syrup. I am especially loathe to stand in line for a pancake. But I recently heard someone talk about SlappyCakes, and after perusing their menu, determined that it was a pancake experience worth waiting for.  I made a point of getting up at the asscrack of dawn (aka 7am, the struggle is real) to get to SlappyCakes before they opened. Even so, there was already a line forming when we arrived. I'd told Jason that we were going to a pancake place and about the different batters and toppings, but I neglected to tell him the most important part–that you cook the pancake yourself on a griddle at your table, Korean BBQ style.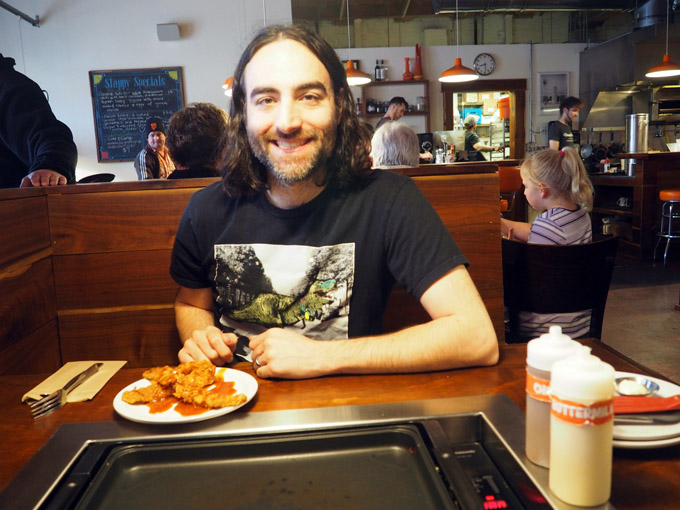 We ordered two different pancake batters — buttermilk and chocolate, as well as the two toppings each of us was most interested in. I went with the lemon curd and dried cherries, and Jason chose bananas and nutella. For good measure, we also split a side of chicken fried bacon. Everyone has seen those crazy detailed art pancake videos that are continually making the rounds on facebook. Overconfident, I decided that I was a budding pancake artist as well, and for some reason, decided that my first glorious pancake creation would be a worm. My "worm" resembled nothing so much as a hot turd, and it was with said turd on the griddle that our waitress came back and saw the horror that I'd wrought. She glanced at it and politely asked us if she could bring us anything. Her eyes said she was thinking that she probably couldn't, if that was what we were into. TurdCake, however ugly, was delicious. The chocolate pancake batter was excellent, and I bet that it would have been even better in combination with the peanut butter batter. The dried cherries, which are kind of 'meh' when cold, are soft and delightful when baked into a pancake.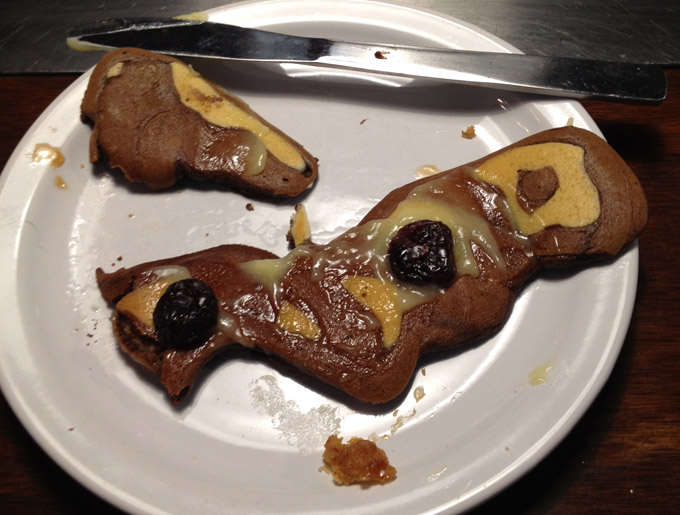 My second attempt at pancake 'art' went much more smoothly. I had so much fun making pancake creations, and I could have kept going save for the fact that both of our stomachs were completely out of room.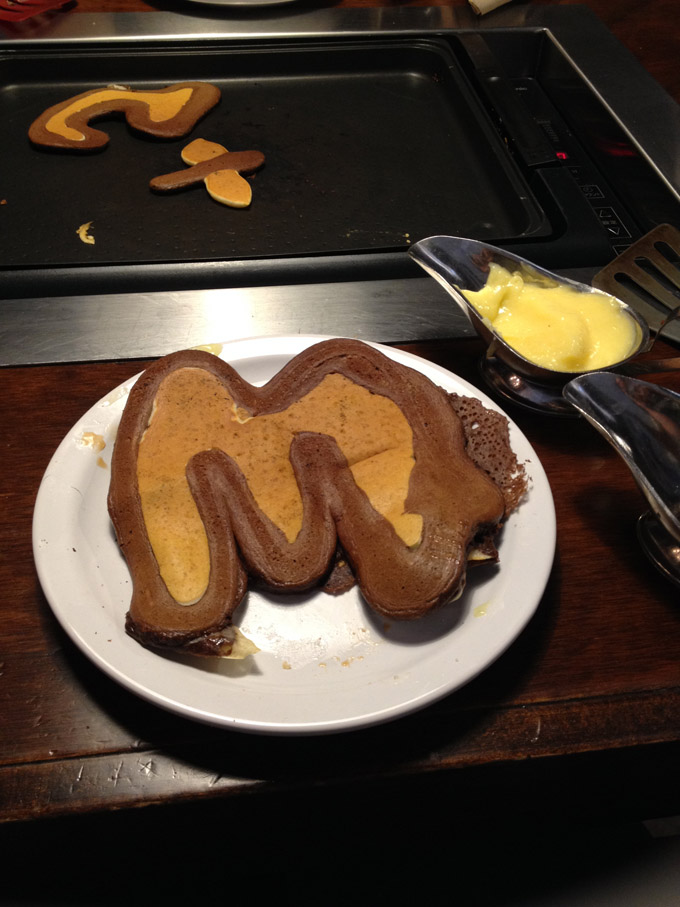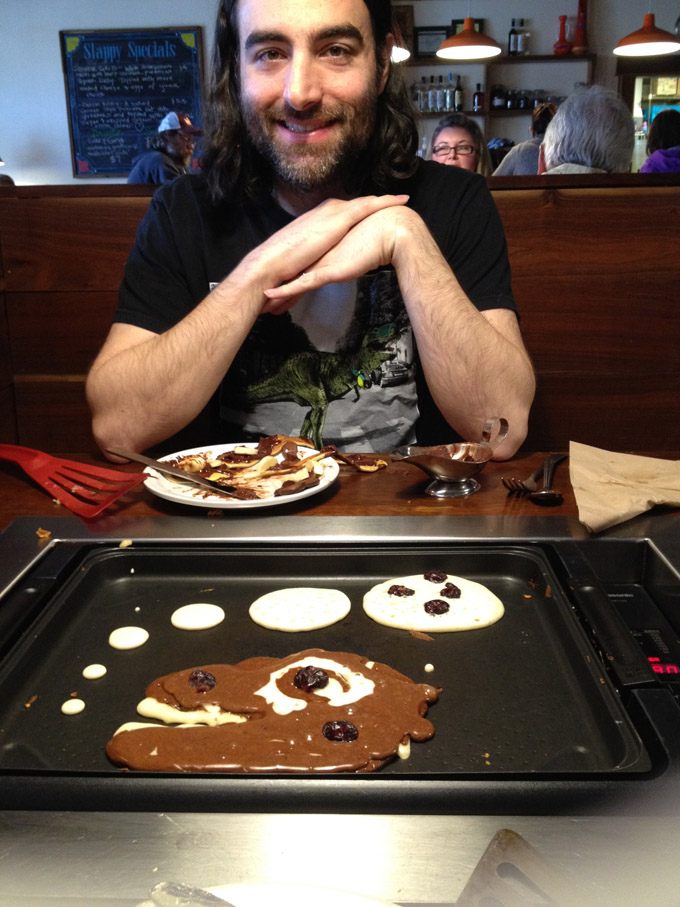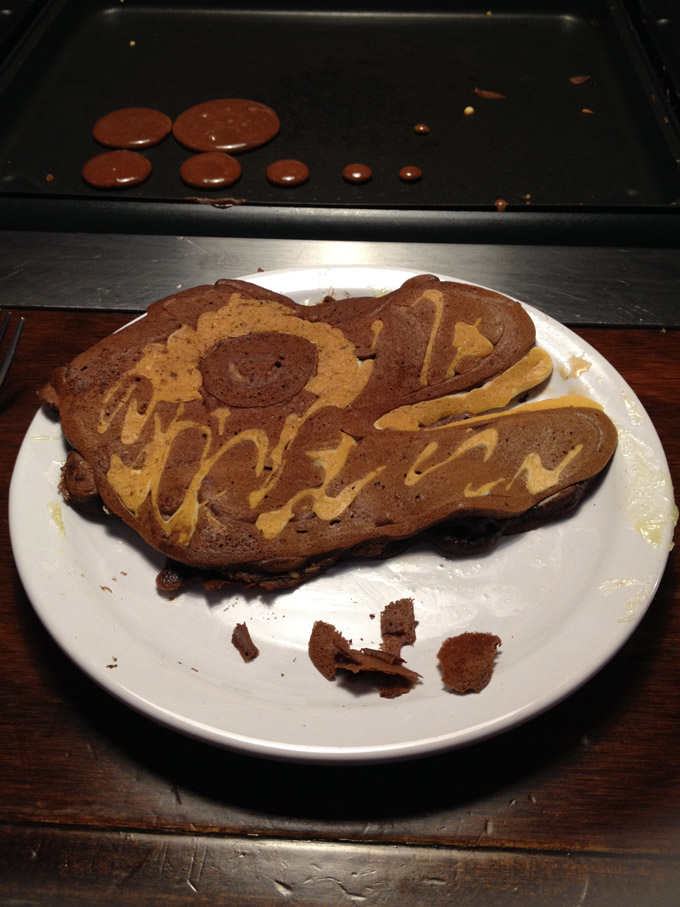 Lack of room didn't stop us from strolling into Salt & Straw about an hour later, though. We'd made an attempt late in the evening the night before and were stymied by the line that stretched around the damn block, like they were giving out ice cream for free with $100 bills tucked into the cones. Since we found ourselves in the area for something else post pancake binge, we decided to see what the line situation was like at 10am. As it turns out, the line situation is nonexistent, so should you find yourself with a desire for Salt & Straw but no patience for lines, you may need to develop a taste for early morning ice cream.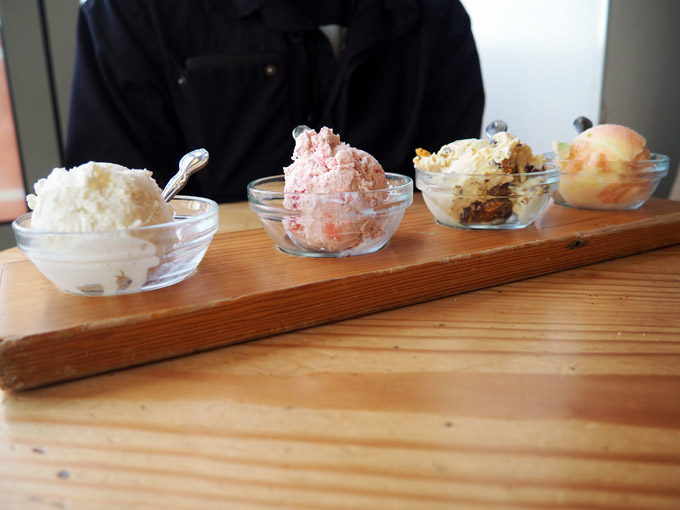 We split a "flight" of ice cream — four kid-size scoops, which were still about twice as large as I expected them to be. The flavors we chose were Double Vanilla, Strawberry Balsamic, Honey Bear, and Gummy Wummy Surprise. Jason is the vanilla guy, mostly I think vanilla is vanilla is vanilla. Honey Bear is the reason I sought out the NW 23rd shop–it's vanilla custard with chocolate honeycomb pieces and edible glitter, and it was surprisingly my least favorite of the bunch. I love chocolate honeycomb, but there was just something about it that tasted off to me. Gummy Wummy Surprise Sorbet tasted exactly like a gummy bear. It was eerie. And Strawberry Balsamic ended up being my favorite, with its jammy strawberry flavor with that hit of balsamic richness at the end that gave the flavor incredible depth. After all this, I wasn't hungry for about twelve hours–the surprise was that I was hungry again that day at all. Or that week.