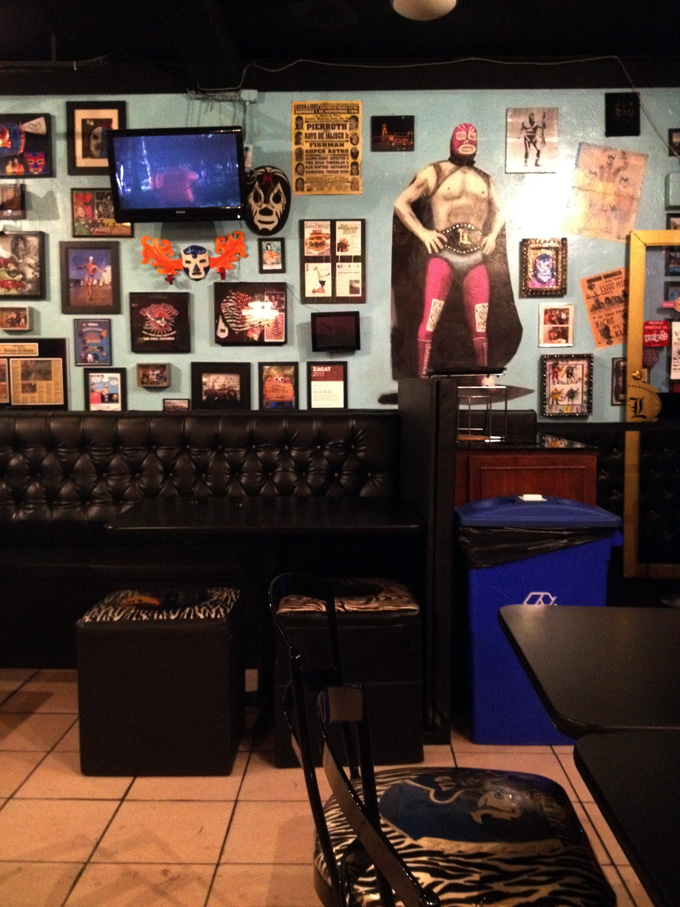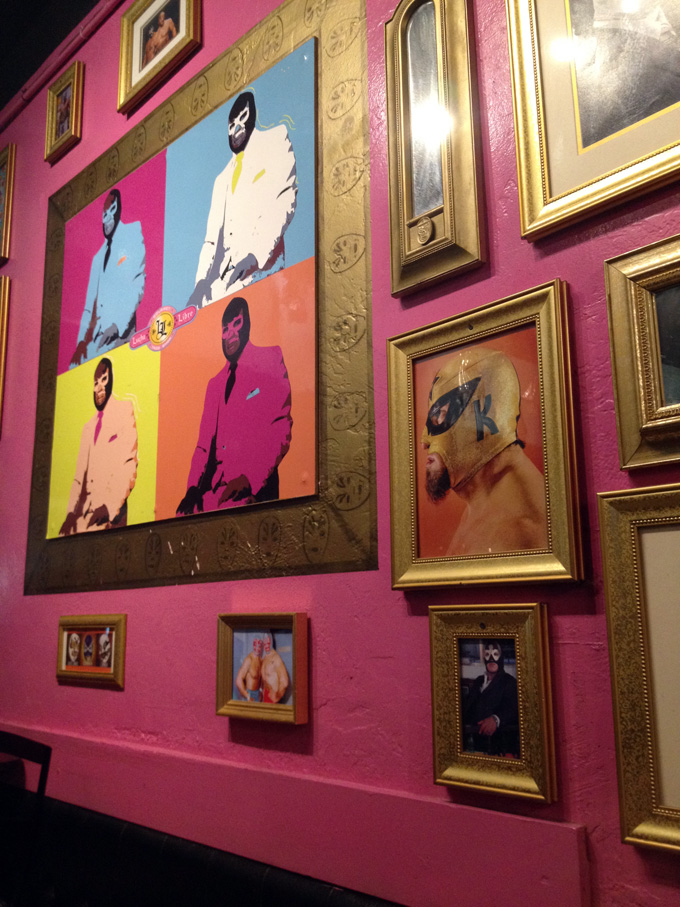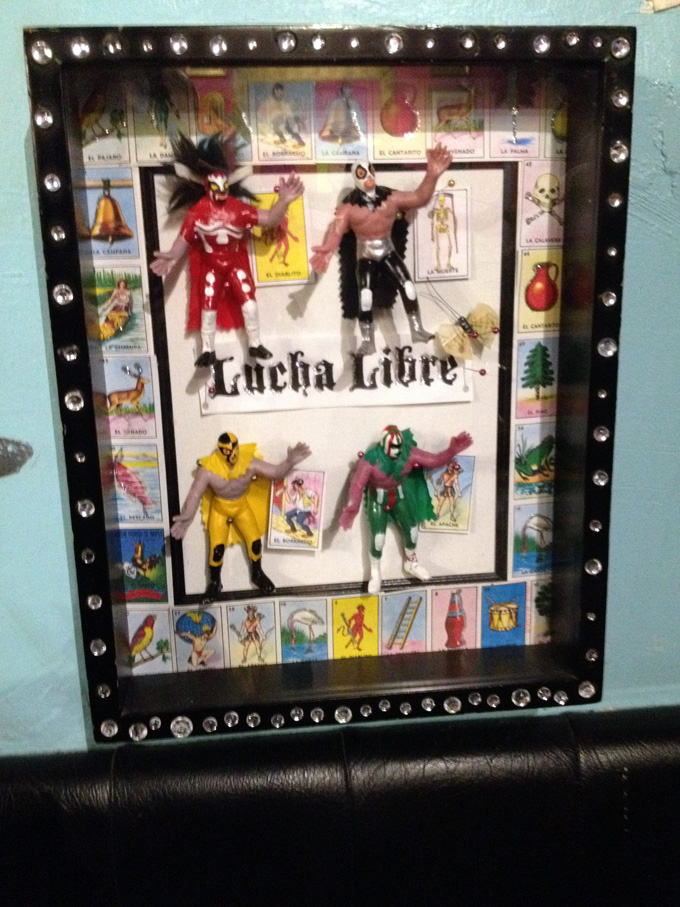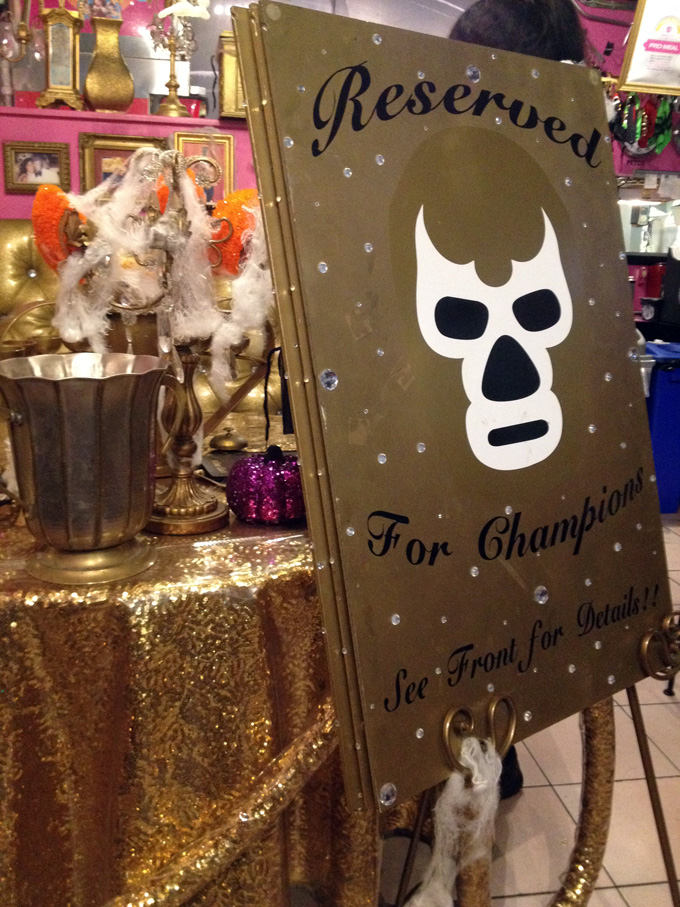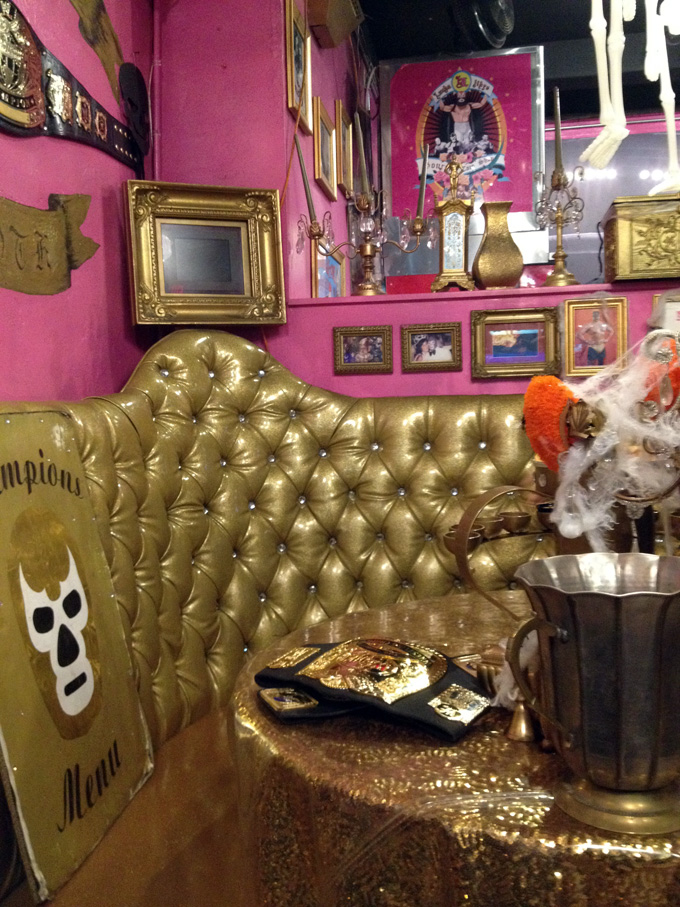 I wanted to love Lucha Libre. I wanted to love it a lot. First things first: look at that zaniness! LOOK AT IT. I appreciate a fine meal in a themed restaurant, and I appreciate it even more when a primary component of that meal is wrapped in a tortilla. My dad had even heard that Lucha Libre's food was better than El Indio, and in San Diego, those are fighting words, so I was definitely excited to try it.
For the primo experience, I decided to reserve the Champion's Booth for our group: a gilded booth where should you find yourself in need of anything, you ring a bell. The rules are that you have to make a reservation for it 24 hours in advance, which is relatively easy compared to the brackets of fighting it normally takes to be called a champion. When I called to make a reservation, they said I had to make the reservation online. Ok, no big deal, this is the age of smartphones and I have access to the internet just about everywhere, so I went to their website and filled out the reservation form. Unlike opentable, they don't tell you on the site which slots are available (if any) on your selected date, you just fill out a form with your name, phone number, email address, date, and time you want to attend. I selected 8pm for the next day and expected to be contacted in some way to let me know if the date and time I'd selected was confirmed or unavailable or something. My phone never rang. I didn't get any email, and eventually I decided to buy tickets for Rise of the Jack o Lanterns instead for that night since I hadn't heard anything and had to assume that we didn't have a reservation. I was on vacation with a limited amount of time in the area, I didn't have time to dink around and wait for a call that might never (and in fact, didn't) come.
We decided to go to Lucha Libre a couple of days later and skip the Champion's Booth, but at least try the food and check out the restaurant. When we ordered, I decided to ask why I'd never heard about my reservation, and they apologized and said that sometimes the confirmation email goes to the spam folder. I felt like an idiot–why didn't I check my spam folder*? Between all of us, we ordered a couple of california burritos, one nutty burrito, some rolled tacos, and a quesadilla. I bought a fountain drink because Orange Bang is delicious, and we all hit up their salsa bar. The overall consensus was…not good. The nutty burrito had a peanut sauce which was expected (and desired), but it also came with a really weird curry flavor. I'm generally down with curry but as it turns out, not in burrito form. The beans were kind of flavorless, as were the roasted vegetables. The california burritos were ok, but didn't compare favorably with El Indio. And the Orange Bang dispensed from the machine at room temperature, which was so not good for a number of reasons, the least of which is that there's egg, milk, and fruit juice in there and precisely zero of those things are good at room temperature. The whole experience was overall disappointing. Kitsch might get me through the door, but there needs to be something of substance there to get me to come back, and that just isn't there at Lucha Libre. Qué triste.
*When I got home, I checked my spam folder and there was nothing there from the restaurant, so something clearly went wrong somewhere, but at least I didn't leave them hanging by making a reservation and not showing up.