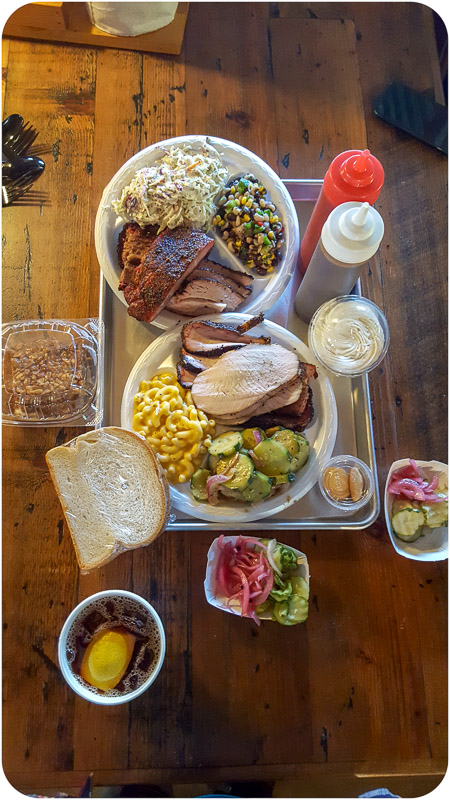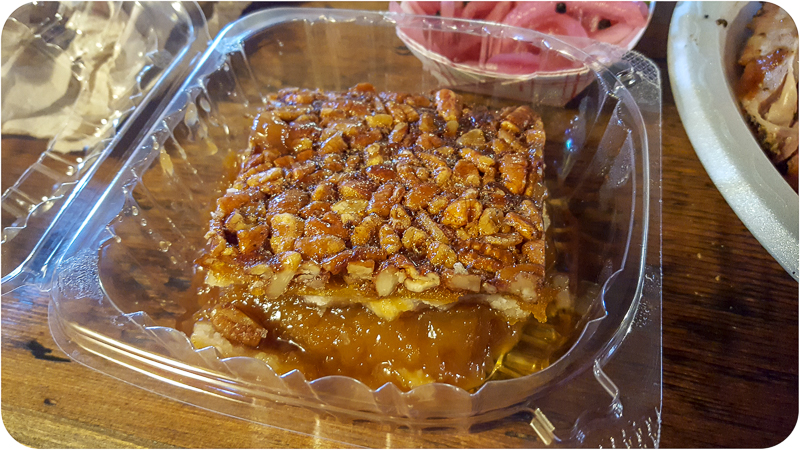 We arrived at Roegels (ray-gels) early: early enough to grab a spot in their small parking lot, but not early enough to be first in line–which is fine, I needed a little time to look at the menu and listen to what other people were ordering and make up my mind. We each ordered a two meat plate and between us had pork ribs, brisket, smoked pork belly, turkey, mac and cheese, seasoned cucumbers, texas caviar*, coleslaw, bourbon banana pudding, and pecan cobbler. Or in other words, half the menu. We also had access to a self-serve pickle bar with two types of pickled cucumbers (spicy and non), both with big swags of dill laid across the top, as well as pickled onions and jalapeños. Portions of everything were very very generous, especially the sides: huge scoops overwhelmed the plate, and I suspect that without the tray, the plate would struggle to support the weight of the food.
The pork ribs at Roegels were the best I had this trip, juicy with the perfect amount of peppery bark and toothiness, and the pecan cobbler (buttery nutty brown sugar heaven)  and bourbon banana pudding were both mindblowingly great, but everything else I couldn't help but feel I'd had a bit better elsewhere. The primary issue was dryness–the brisket and turkey both had dry bites, and the smoked pork belly's texture was flaky like fish and somehow also dry. Roegels also had two sauces to accompany the meats, both with the same thin base, tangy with vinegar, one kicking up the heat with jalapeños, and those did a great job masking any dryness I experienced. I have to assume I caught them on a bad day, and if I was in the area again, I'd give them another try because they're rated so consistently highly among reviewers of Texas barbeque, and their turkey came recommended so highly by my friend and favorite food writer in the game, Erika of Calling All Fats. My meal was overall very good, but I arrived expecting greatness and didn't quite get there.
*A bean, corn, pepper and onion salad, lightly dressed and served cold.