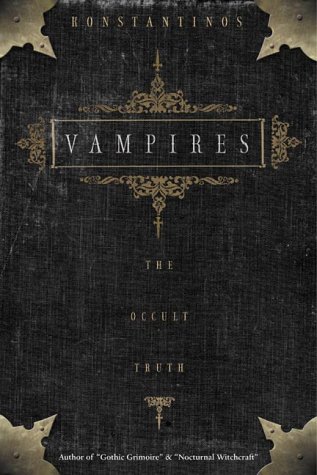 I love trolling the mega-clearance shelves at Half-Price Books, because I never know what manner of awesomeness or ridiculousness I'll run into for a dollar.
This time, I struck gold with 'Vampires: The Occult Truth' by Konstantinos, which purports that vampires are not only real, but there are several different types and you need to be familiar with all of them in order to protect yourself. As early on as page two, the book has such laugh-until-you-cry statements as "I consider those who are interested in the occult to be the scientists of the future." Not just scientists. Scientists of the future.
Later on in the book, he reveals a number of letters he's gotten from 'mortal blood drinkers of the present day' also known as big giant freakshows.
I would like to tell you of my vampiric lifestyle. You may print this letter under the condition that you do not reveal my true identity in your book. Where I live, word travels quickly and I would most probably be ridiculed and forced out of town. For that reason, you can call me the Vampire Jeremy.
Why do I consider myself to be a vampire–a predator? I kill animals and drink their blood, that's why. Don't confuse me with the types of so-called vampires that you hear about today. They do not impress me. They do not hunt their prey, but only stick hypodermic needles into themselves to trade blood. They are not hunters.
To obtain my sustenance I mainly kill mammals, but I will also drink the cold blood of reptiles. I suppose that my drinking from lower creatures than humans makes me a little like the character 'Renfield' from the novel Dracula. But I am not insane.
I wait for immortality and drink of the lower creatures until a noble undead will one day take me as his or her own. I wait and believe that night will come, and have prepared for it.
There are letters from vampires who talk about getting badly sunburned while playing minigolf. There are letters from vampires who try to contact immortal vampires through ouija boards. There are letters from single-mom vampires. Some claim to possess spooooooky powers. They nearly all insist they are not crazy like all of those OTHER nutcases who think they're vampires.
Here's an excerpt from another pricelessly funny letter:
I will tell you one more thing: Do not fool yourselves, dear friends. You do not make a discovery here with me or any others of my species. We are as old as time itself. The books and films are simply what they are. Most do not even scrape the surface of the contents of our being. So do not try to understand. That would be like lifting eternal veils of a faceless bride.
I can pretty well claim that this is one of the best things I've ever spent a dollar on. Now, if you'll excuse me, I'm off to go print some new business cards. Mellzah Dildarian, Scientist Of The Future has a nice ring to it.