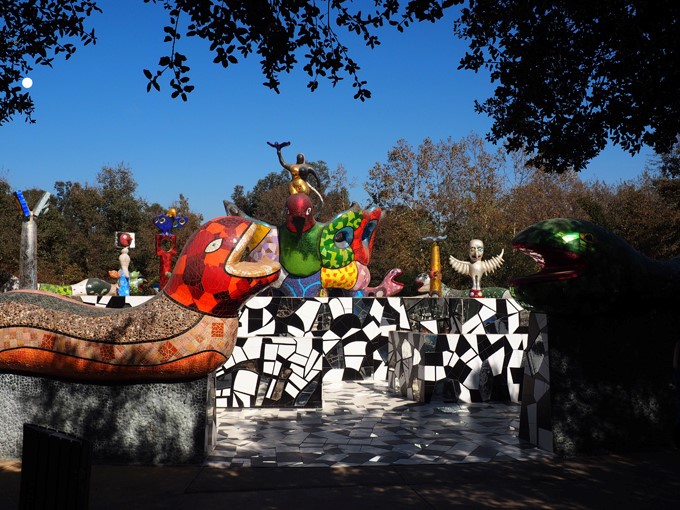 Queen Califia's Magical Circle, designed by French artist Niki de Saint Phalle, was first opened to the public in 2003. At some point thereafter, it became a target for vandalism by assholes who like to ruin things for everyone, and it had to be surrounded by a fence and locked. And that still didn't dissuade the vandals–at some point in 2013, it was so heavily vandalized that it closed to the public completely for all of the repairs that needed to be done, and the city hoped to be able to re-open it in Summer 2014. I hadn't seen any updates that the repairs were completed, so on my most recent trip, I just crossed my fingers and hoped that I might get a peek. By some stroke of extraordinary luck, my visit coincided with its grand reopening, and there was a docent on site to walk me through and tell me more about the artist, the history, and the symbolism of the piece. I still marvel at how lucky I was to have arrived precisely during the small window of time it was open: even now, the exhibit will only be open on the second Saturday of the month between the hours of 11 and 3, and only then when it's sunny. Private tours at other times with a docent can be arranged if you make a reservation several weeks in advance.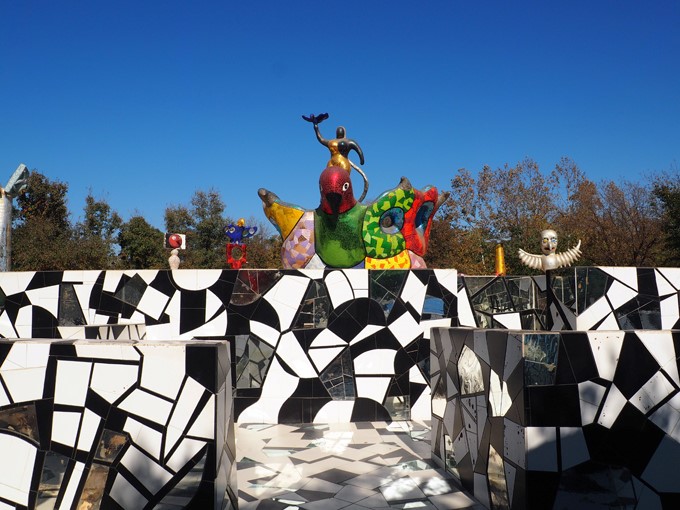 Queen Califia's Magical Circle opens with a black, white, and mirror mosaic maze. Just like the tassels in RichArt's Art Yard, its purpose is to give you an opportunity to reflect on yourself, your place, and to invite you to be wholly present in the Magical Circle, to recognize that it's not art that exists outside of you, but art that reflects you and is changed by you. The forms are consistent, but the colors change. When so much of the sculpture is comprised of mirrored surfaces, it's never the same from moment to moment, taking on the characteristics of the nature around it and the public inside it: we see the art, we see the world, we see flashes of humanity, we see ourselves. Moreover, this is artwork that invites you to touch, is designed to be touched, climbed upon, and interacted with–as you act upon it, it acts upon you.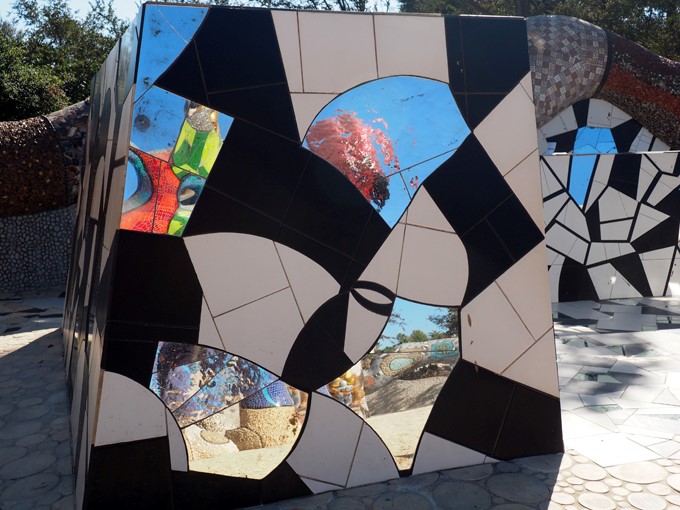 Can you believe I missed this opportunity for a selfie, especially after all of that talk about reflecting on myself? I'm ashamed.
From the black and white world, you cross the threshold into the magical world, surrounded by vivid color, with Queen Califia rising above all else in the center, clad in golden armor and astride a 13 foot tall eagle. Queen Califia is a fictional creation, characterized as both a warrior queen and the spirit of California: it is probable, though not conclusively proven, that the state of California was named after the land Califia rules in the popular 1500s novel Las Sergas de Esplandián. In the book, Califia is introduced as "a regal black woman, courageous, strong of limb and large of person, full in the bloom of womanhood, the most beautiful of a long line of queens who ruled over the mythical realm of California. She is said to be "desirous of achieving great things"; she wanted to see the world and plunder a portion of it with superior fighting ability, using her army of women warriors. She commanded a fleet of ships with which she demanded tribute from surrounding lands, and she kept an aerial defense force of griffins, fabulous animals which were native to California, trained to kill any man they found." 1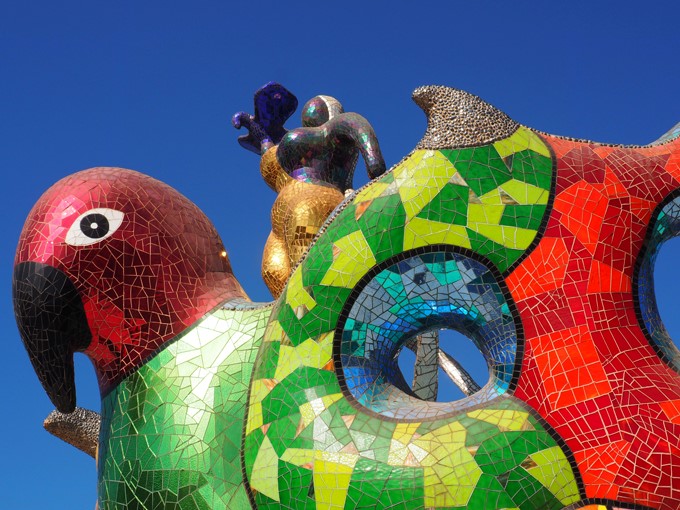 If you walk under the eagle's legs, you'll find yourself in a domed temple, accented not only with celestial motifs but also references to Tarot, de Saint Phalle's sculpture garden in Tuscany. Stepping into the cool shade of the temple from the blinding heat of the sun is like being taken into Queen Califia's protection–while she readies for war above, underneath, you're surrounded by calming blues and greater comfort. Inside the temple also resides a golden egg, handmade with goldleaf sandwiched glass. The egg was formerly a fountain to symbolize the waters over which Queen Califia rules, but even dry, the egg symbolism remains: birth, life, and motherly care–the role of women in society being one of de Saint Phalle's major themes throughout her body of work.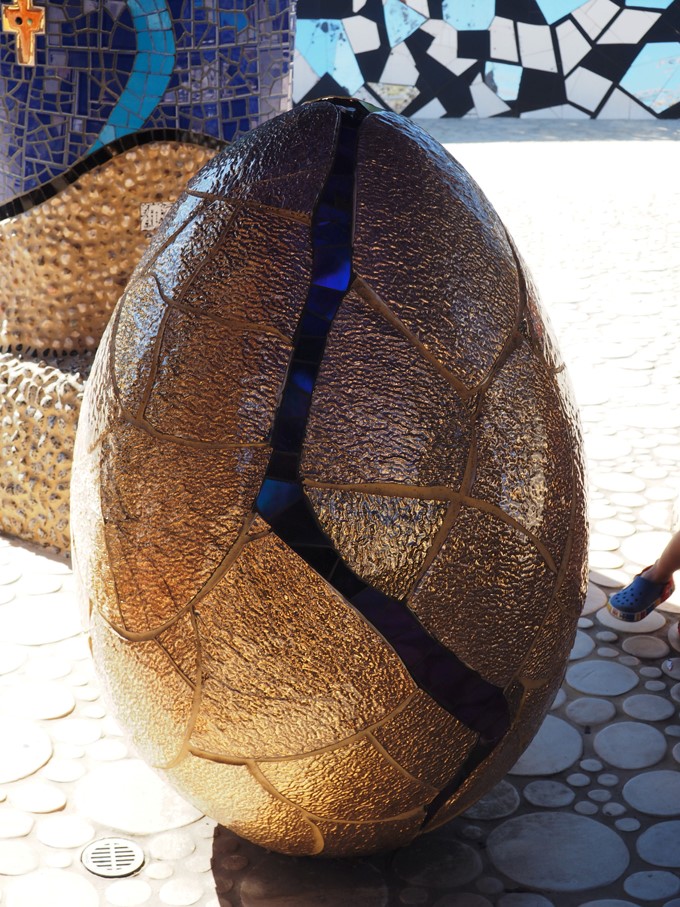 The docent invited us to note that the walls of Queen Califia's Magical Circle were surrounded by snakes. Playful snakes, cheerfully colored, friendly expressions, and none of the imagery we associate with the dangerous snake–the forked tongue and fangs. The gaps in the snake wall also allow you to see the park outside of the Magical Circle, further entwining the natural world and the magical world. The walls are also adorned with handprints: these belong to the longtime assistants of de Saint Phalle, who completed the sculpture park under the supervision of her granddaughter after her passing in 2002. Queen Califia's Magical Circle was Niki de Saint Phalle's last major work, and her only sculpture park in the United States.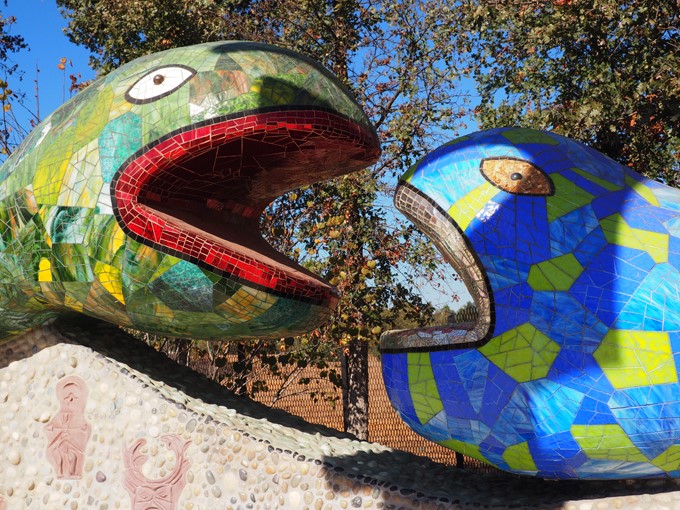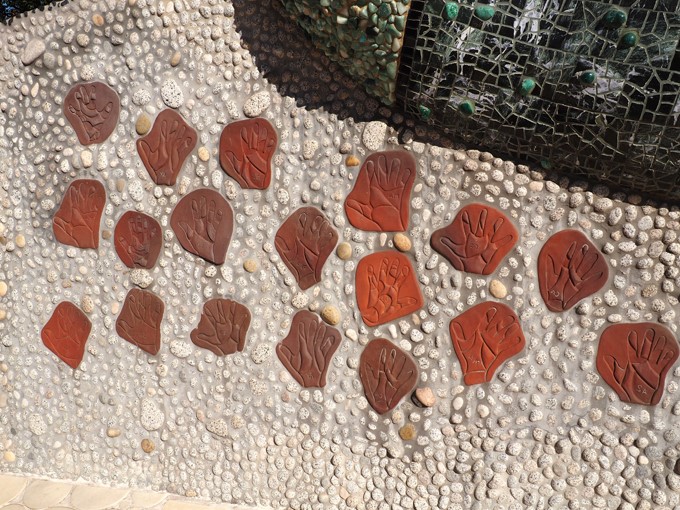 In addition to Califia and her eagle, the Magical Circle contains eight totems: Cathead Totem, Birdhead Totem, Bullhead Totem, Kingfisher Totem, Yelling Man Totem, Snake Totem, Step Totem, and Untitled Totem. Each is adorned with creatures and symbology native and sacred to the region. Each shimmers and sparkles and beckons you for a closer look–to marvel at its construction, to see it more closely, to see yourself. Above it all, Califia rides high, shining bright, protecting California and all its people, traditions, and history.