I absolutely love receiving the Bellevue College "Continuing Education" catalogs in the mail–not because I'm seriously considering signing up for any classes, but because I like to see the sort of things people pay for in the name of receiving an education. Things like: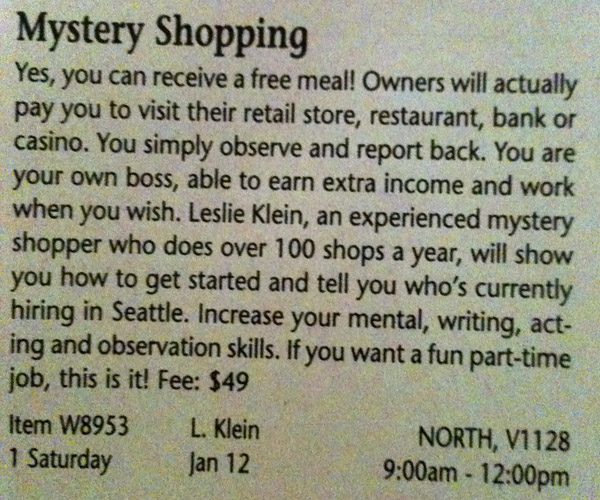 Mystery shopping! The ultra rare Sasquatch of jobs–get paid to shop and eat out! Except what they don't say in the class description is that you have to front the money for the shop, often waiting 60-90 days for reimbursement IF the company decides you performed the shop correctly. So pay for their products now, and the gas to get there, and the interest on the credit card and maybe earn $8-10 an hour for your time three months from now, which means it will almost take as long to see a return on your investment as a regular college degree, except no one respects you after you proudly announce you went to school for mystery shopping. It's also not easy to get paid–I went on a mystery shop with a former neighbor and the requirements were that we make certain that specific Hewlett Packard printer papers were displayed correctly at an office store…and we couldn't find 80% of the list. We spent two hours in that store and she never got paid, making it like a shelf-stocking internship. Oh, and there's a mystery shopper certification class that you need to take in order to be hired by most companies…and this isn't that class. SUCKER! You probably should have also taken…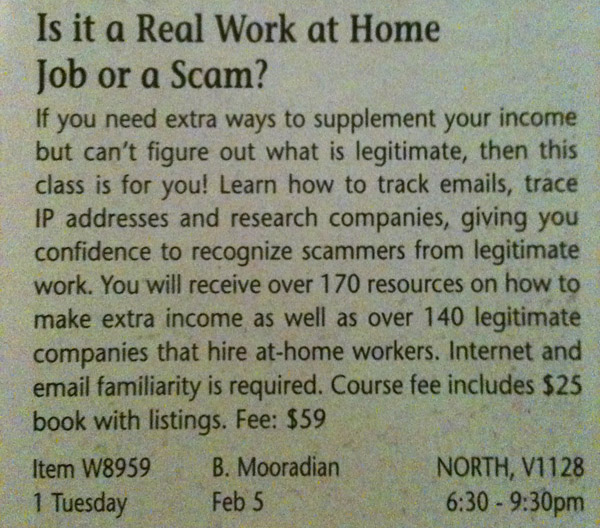 Hint: THEY'RE ALL SCAMS. Ok, maybe that's not true. But with as much work as it will take for you to figure out whether someone is scamming you or if the job's for real, you could get a guaranteed non scam job. No one is going to pay you hundreds of dollars to stuff envelopes when they can get an intern to do it for free. Use the golden rule: if it sounds too good to be true, it is. There, I just saved you $60, which you can remit to me via U.S. mail. No checks, please. Though I guess there is one way to start a home-based business…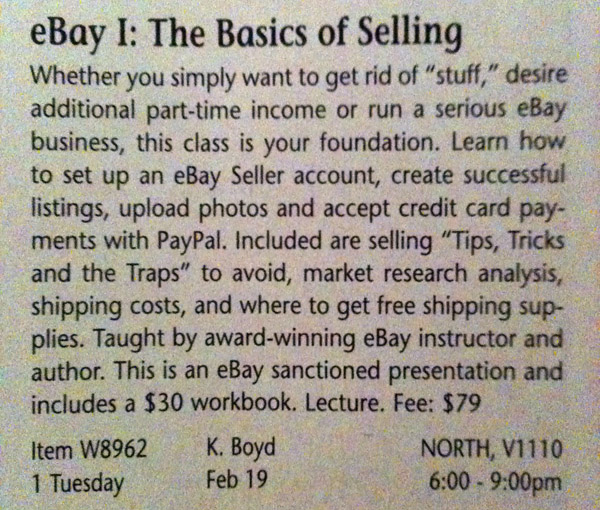 Ah, eBay. Last resort of the ripoff artist and the scoundrel, the promised land for knockoff luxury goods…unless you count the new manufactured goods that people are now selling on Etsy as 'vintage'. If you have no idea how to set up an eBay account, I don't know how you decided that you wanted to start a serious eBay business, but I bet that for your $79, they won't tell you that their feedback system is irrevocably broken, you get dinged with fees three times–listing, commission AND paypal (and eBay owns paypal, so they're triple-dipping the same chip), and that a buyer can receive a product, say they didn't, and you'll have to refund them completely even if you can prove you shipped it. Plus, nobody wants to buy your used crap, they all want NEW crap at bargain prices–you could feasibly LOSE money selling on eBay. If only you could predict what people will buy…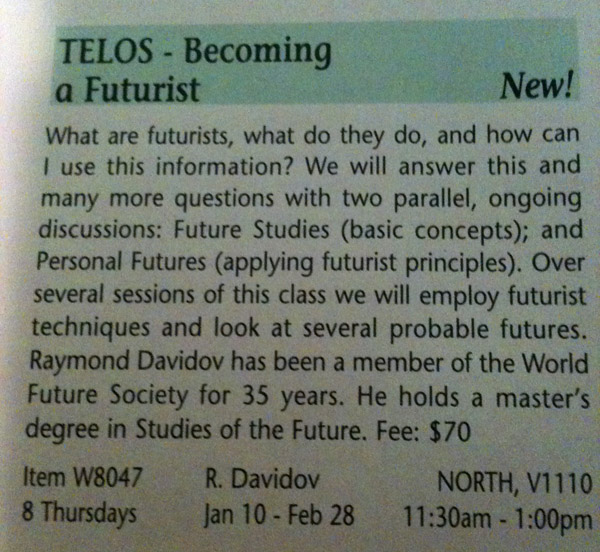 Become a futurist! Sorry, they won't tell you exactly what that is without you shelling out the $70, but from what I can discern from the description it probably involves a time machine. What they also won't tell you is that in addition to your course fees, you'll need to provide your own DeLorean or police box AND a shovel and knee-high boots to wade through the pit of bullshit they're spewing. I do see a bay in your future. Bay…bay…eBay? San Francisco Bay? Bay…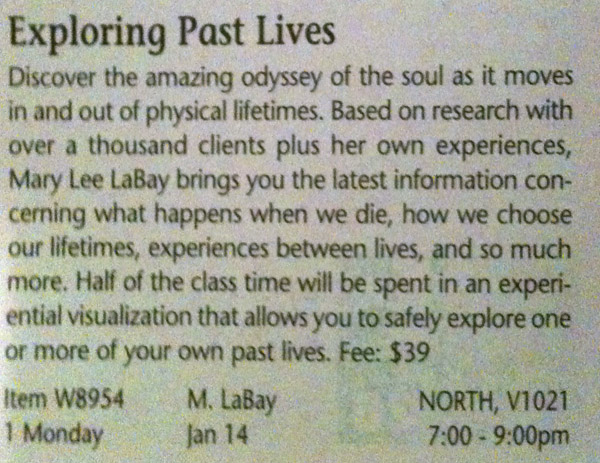 Oh, LaBay. Yes! The "let's nap and make shit up" class, yours for only $39! Based on the exhaustive 8 hours of research I did into my past lives last night, I can tell you conclusively that not only did I personally walk with dinosaurs but I was also a person who intensely liked doughnuts. Probably some kind of royalty, I can't imagine that I was ever someone common in one of my past lives, but definitely doughnut-oriented. This knowledge of my past life does help to give my current life some context and perspective–I need to be the sort of person I want to dream about 60 years from now when I'm reincarnated as a cyborg with laser eyes.
None of these appeal to you and your educational needs? There's always "Quality Cruising For Cheapskates", "Views of the News with Jim" (basically paying someone to talk about current events with you, for those who have no friends), and "Quilts! Quilts! Quilts!". Who says education needs to be educational?