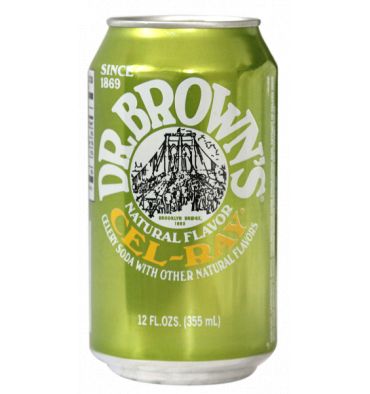 Here to wrap up this series of posts about New York is an east coast treat: Dr. Brown's Cel-Ray soda. Celery flavored soda. I don't know about you, but I think of celery as a sauce delivery vehicle, not a taste sensation by itself. Celery exists as an excuse to shovel ranch, french onion, and blue cheese dips into my mouth and the occasional bit of peanut butter with raisins. It's the palate cleanser between wings, the bit of crudite that you use to feel good about eating your vegetables and getting fiber, the crunchy part you add to you chicken salad if you're too cheap to buy pecans. Celery is made of  flavorless water and stringy bits: who said, "Yeah, let's blend that shit up and carbonate it"? What's next, essence of romaine and corn syrup?
Pros: You will probably be more hydrated than you were before drinking it, the can is pleasingly green colored, you're just the addition of part of a packet of hidden valley ranch away from a much more interesting drink, could be good with gin (especially Hendricks) or maybe with a bloody mary if that's your thing, it's kosher, it's been around forever so someone must like it
Cons: All the fiber has been stripped out, you may end up wishing celery had even less flavor after taking a sip, sugary vegetables

Loading ...