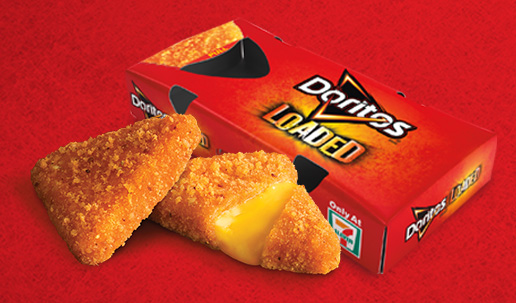 America, your cries to get a stomachache while you gas up have been heard and answered: now you can get fried cheese that's been breaded in doritos crumbs. This may be part of the grand doritos plan to get a foot in every franchise that people only eat at when they have two dollars and deep-seated self-loathing, I'm not sure. What I do know is that I don't feel even remotely hungry looking at that orange plastic molten cheese substitute, and I am generally the sort of person who gets hungry just thinking about pictures of cheese.
Pros: pleasing triangular shape, like a dorito-y grilled cheese, plenty of cheese, who doesn't like melted cheese?
Cons: 7-11 doesn't so much sell "food" as it sells "disappointment", you know that it's not cheese inside but cheez, this is going to be exactly like that time you thought it would be awesome to make nachos with doritos and subsequently got heartburn so bad that you thought you were dying

Loading ...