Melt was one of those places that was on my radar long before I decided to take a trip to Ohio. I first stumbled across them on instagram, where they'd post these insane grilled cheeses loaded with all kinds of things you might not necessarily expect to find on a grilled cheese: kimchi, mozzarella sticks, waffles, ribs, jalapeno poppers, wedges of deep fried mac and cheese…Basically, take a chain restaurant's entire appetizer menu and shove it inside a grilled cheese. I WILL HAVE THIS GRILLED CHEESE AND I WILL HAVE IT NOW AT A CONVENIENT TIME WHEN I AM PHYSICALLY LOCATED IN THE AREA. Months of anticipation built up, watching specials come and go on the 'gram, waiting.
As it just so happened, I was near (enough) to a Melt when while my 3D print job was still going over at Proto BuildBar, so we headed over. And promptly had to wait some more. Luckily, this location was right outside a mall, so I was able to cross something else off my list: renting one of those ride-around-the-mall animal shaped scooters in a place where no one in the position of offering me a line of credit might see me. Verdict? FUN. SUPER FUN. Finally, I'm one of those cool older kids at the mall.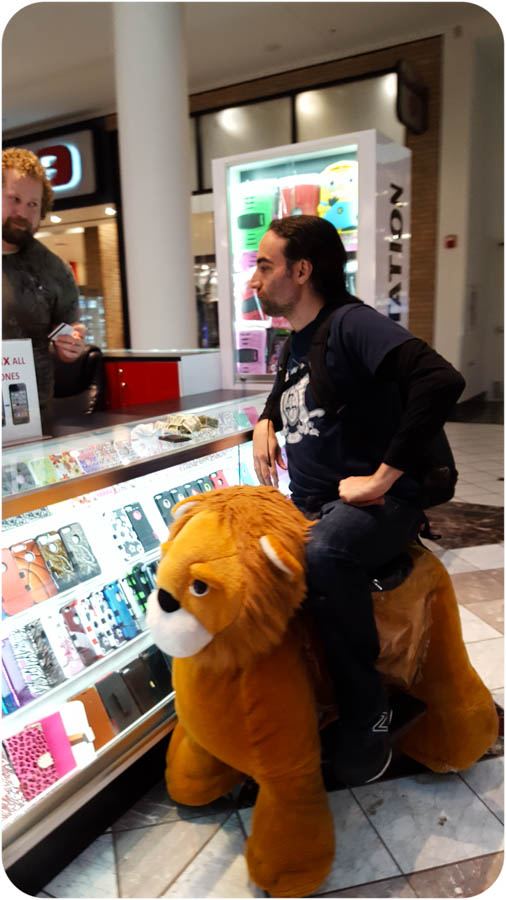 "I assure you that is my credit card, sir."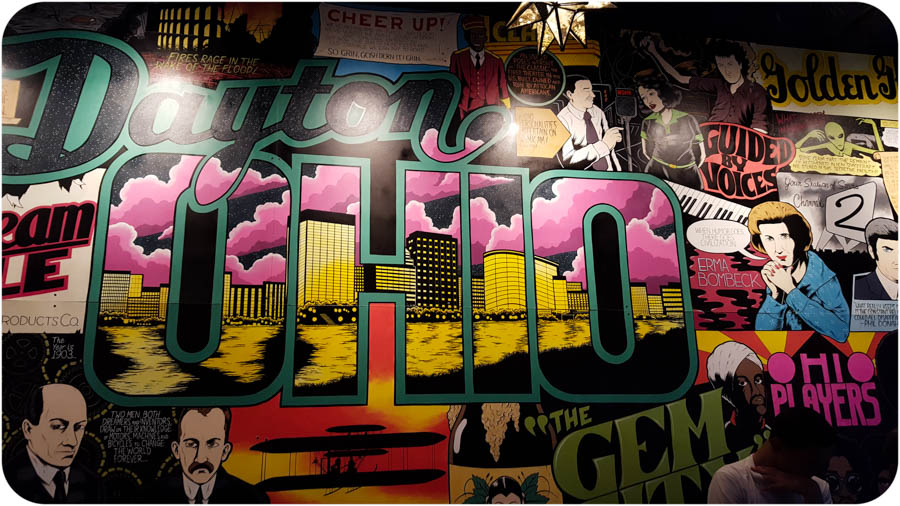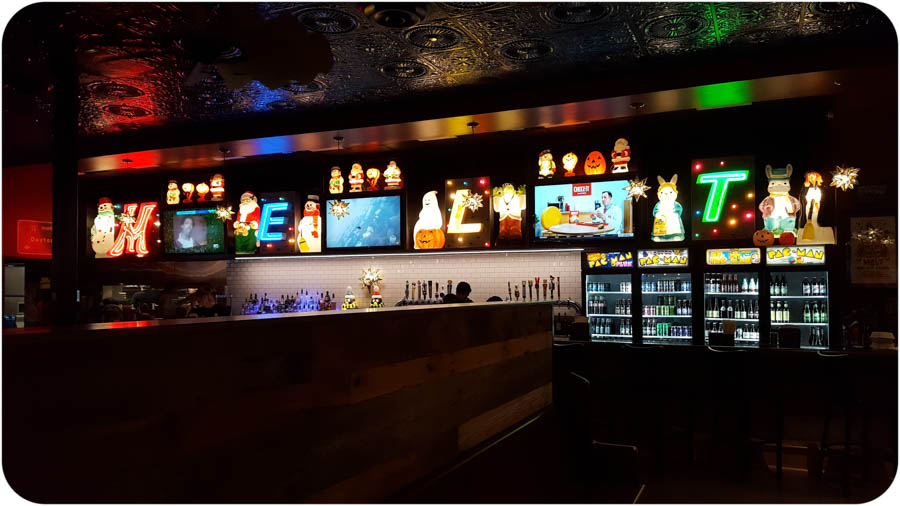 Mischief managed, it was back to Melt for what I expected to be a life-altering grilled cheese. They were out of the special (damn it!). In its stead, we ordered a number of sandwiches so we could try more of the menu since it was possible we'll never eat there again. We ordered: The Dude Abides (homemade meatballs, fried mozzarella wedges, basil marinara, roasted garlic, provolone & romano), Cuban War Pig (honey ham, mojo glazed pulled pork, fried pickle spears, honey mustard, swiss), Big Popper (fresh jalapeño peppers, cheddar & herb cream cheese, crispy battered & deep fried, powdered sugar, berry preserves for dipping), and Chicken & Waffles (crispy battered chicken, belgian waffle, sriracha butter, pepper-jack cheese & maple syrup for dipping). Bon choix!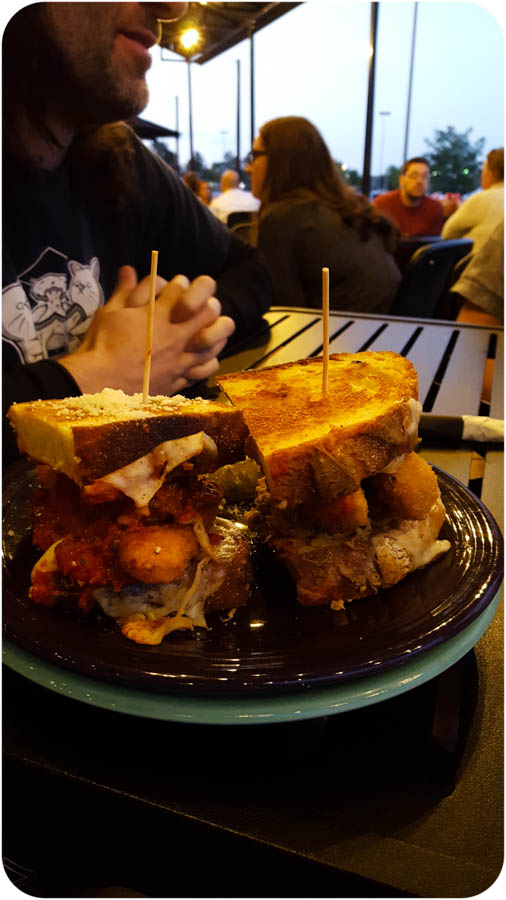 Honestly, none of them were that great. I've been thinking about it, wondering if the anticipation of eating here raised my expectations too high, because I want to be fair. And having thought about it, I think it's fully fair to say that the food at Melt is not great.
I get pumped about eating a lot of things before I actually try them. Fully half of my trip planning is devoted to where we might like to eat if we found ourselves hungry in X neighborhood, I won't lie. So it's not like the case of the 40 Year Old Virgin when I saw it a year after it came out and literally everyone said "You have to see this movie, it's the funniest movie I've ever seen, I wet myself eight times and would've gone back to see it again but I got banned from that movie theater  and all the other ones in a thirty mile radius owing to my refusal to pay to replace their seats. YOU HAVE TO SEE IT." Literally everyone said exactly that. And then when I finally saw it, I thought it was just OK, probably because I'd heard all the references for a year and the gushing (ewww) recommendations and it would take a movie funny enough to make me black out laughing to live up to those expectations and the 40 Year Old Virgin wasn't that movie.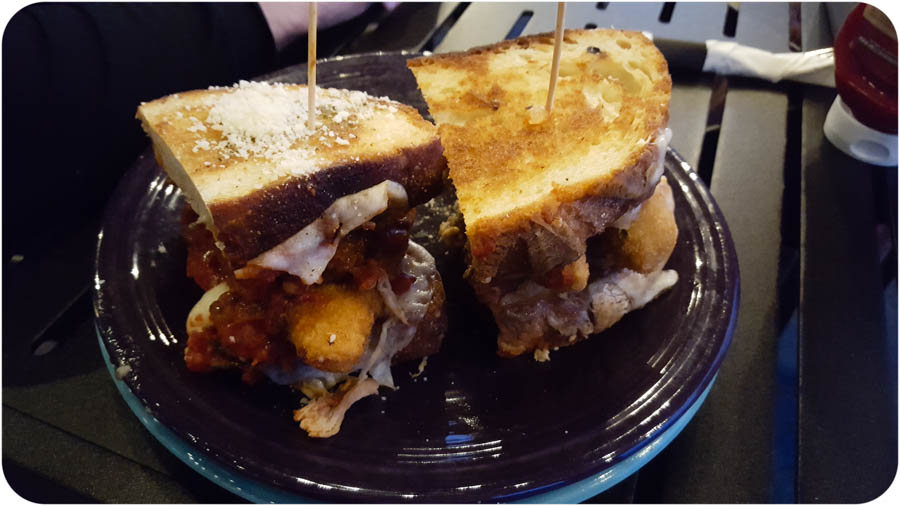 This restaurant was nothing like the 40 Year Old Virgin, being only a Six Month Anticipated Dinner: I expected a delicious sandwich and they served me a merely OK sandwich. The sandwiches at Melt are consistently too tall to fit an entire bite in your mouth, top to bottom, which means you're not getting all the components in every bite. That kind of sandwich height also makes it hard on the jaw because of having to open so wide–we're not snakes, Melt, don't make us unhinge.  The bread is too thick and crusty, so it competes too much with the insides while it abrades your mouth.
But all that is still not my main criticism: a grilled cheese should be first and foremost cheesy. Equal parts grill and cheese.  Everything else that you add to it should be in a supporting role to the main character, the star, the cheese. Otherwise, it's just a sandwich, not a cheese sandwich.
There's not nearly enough cheese in the sandwiches I had at Melt to qualify them as cheese sandwiches, with the exception of the Big Popper, which was straight up disgusting: fried outside surrounding mushy bread filled with jalapeno and a mound of slippery cheese. It's like someone took a bite out of a brick of cream cheese, chewed it up into a paste with a little bread and jalapeno and then spit that paste in blobs directly into a deep fryer. But in case it wasn't wet enough, it's got raspberry dipping sauce so it slides right down your gullet like an alien baby going to nest. Ahem.
In all the other sandwiches, the cheese consistently got lost against the other components. And I guess that would be one thing if it was just a regular cuban sandwich or meatball sandwich or, uh, chicken & waffle sandwich, but they're supposed to be grilled cheese sandwiches. And because they're making a "grilled cheese", they also apply sauce with a very restrained hand, which meant that overall, each sandwich was much too dry for a sandwich that size. Without enough cheese or sauce to lube up the works, it's less pleasant to eat, especially when you take into account the aforementioned height of the sandwich. And then when you add fried items to the sandwich, it adds yet another layer of breading and the overall effect is just…dry. Slap a waffle in between two dry pieces of bread and a piece of dry breaded chicken and you might as well be biting straight into a loaf of bread. Maple syrup on the side isn't enough to make this sandwich work. Don't get me wrong: I was hungry, and the sandwiches were decent (the flavors were fine), they just weren't mindblowing grilled cheese. Not great.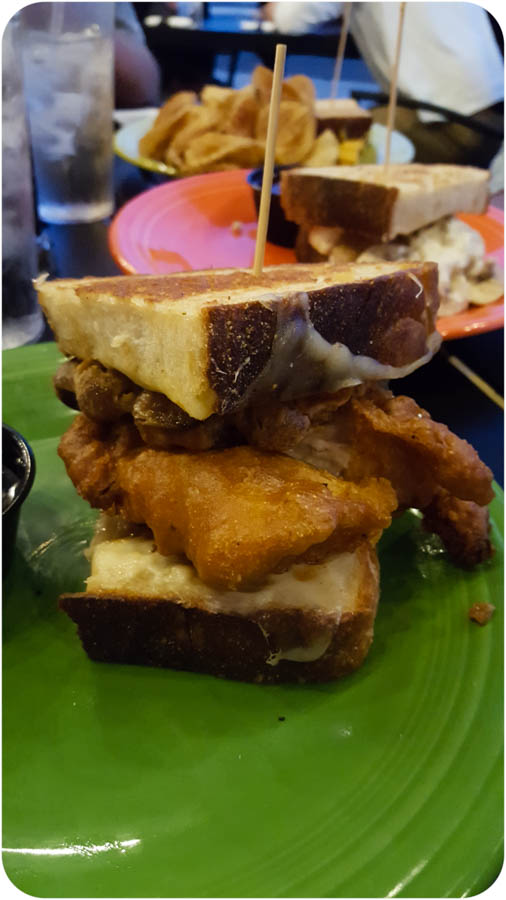 None of us finished anything. None of us brought home leftovers. I guess Instagram beauty is only skin deep.