Last night, we attended a cooking class at Shamiana, one of our favorite restaurants. Their Major Grey Chicken Curry is a standout dish, and when we found out this class would teach us how to make it, we leaped on the opportunity. Over the course of two hours, we learned how to make vegetable cutlets, cucumber-peanut salad, the aforementioned major grey, beef vindaloo, pulao, raita, and mango yoghurt mousse. It wasn't just a teaching class–as we were taught the steps, staff brought out all the courses for us to have a meal. By the time we finished the mango mousse, we were stuffed full. Everything on the menu was delicious, but I was surprised how taken I was with the cucumber peanut salad–it's just cucumbers, peanuts, lime juice, green chilis, and a little sugar and salt, but the heat of the chilis contrasted wonderfully with the coolness of the cucumber.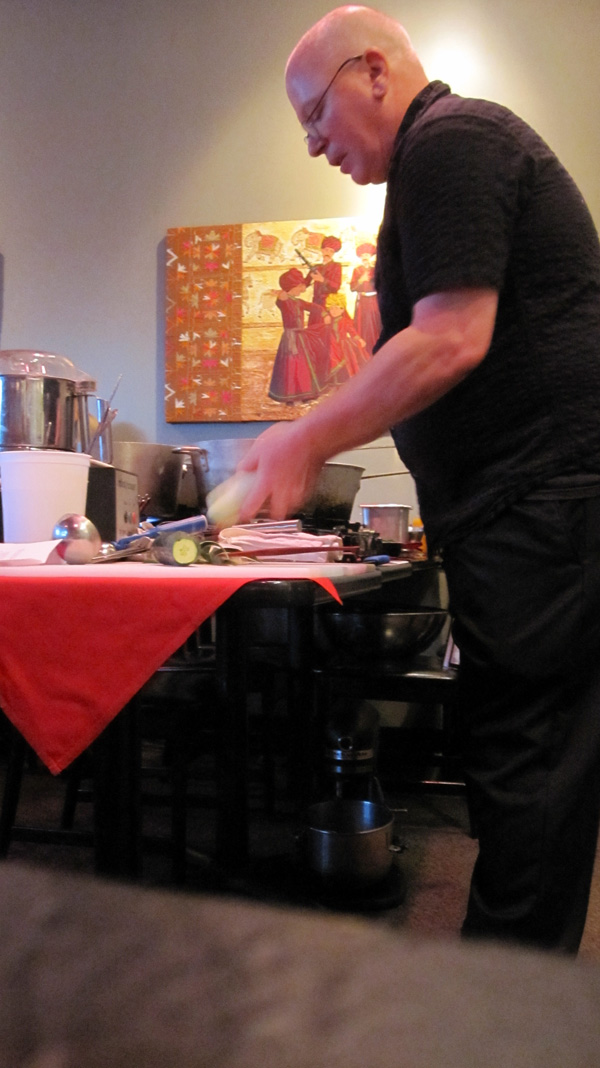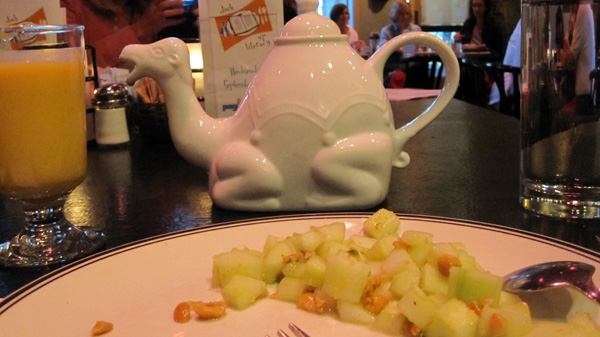 I'm not going to type up all the recipes, but since the Major Grey is the dish that got me hooked, that's the one I'll share here:
Major Grey Chicken Curry
3 lbs of boneless, skinless chicken breast, sliced thinly
1/2 lb onions diced (about 1 medium size onion)
1/4 cup curry powder, mild
1 1/2 cups whipping cream
pinch salt
2 1/2 tbsp vegetable oil
1 cup Major Grey Mango Chutney (mild), pureed
Green onions, chopped (green tops only)
Fry onion in oil until translucent (not brown. Whisk in curry powder. Cook 2 minutes. Whisk in chutney and cream. Add salt to taste. Saute sliced chicken breast in a small amount of oil with a bit of salt and pepper until cooked fully. Add the sauce and simmer for about ten minutes, watch the heat so the cream doesn't separate. Garnish with green onions and serve. If you'd like your dish spicier, add chili powder, minced serrano peppers, or crushed red chili.
Pretty simple, no? I was surprised, too. I'm going to give it and the pulao a shot for tomorrow night's dinner–here's hoping I don't screw it up! After dinner, we were allowed to go back into the kitchen to look at their tandoori oven and observe the process of making naan. Shamiana's oven is a ceramic tandoori oven, as when they used clay, it would break about once a year, and then would require two weeks of seasoning before they could make naan, which impacted their business. This ceramic oven has been going strong for nine years!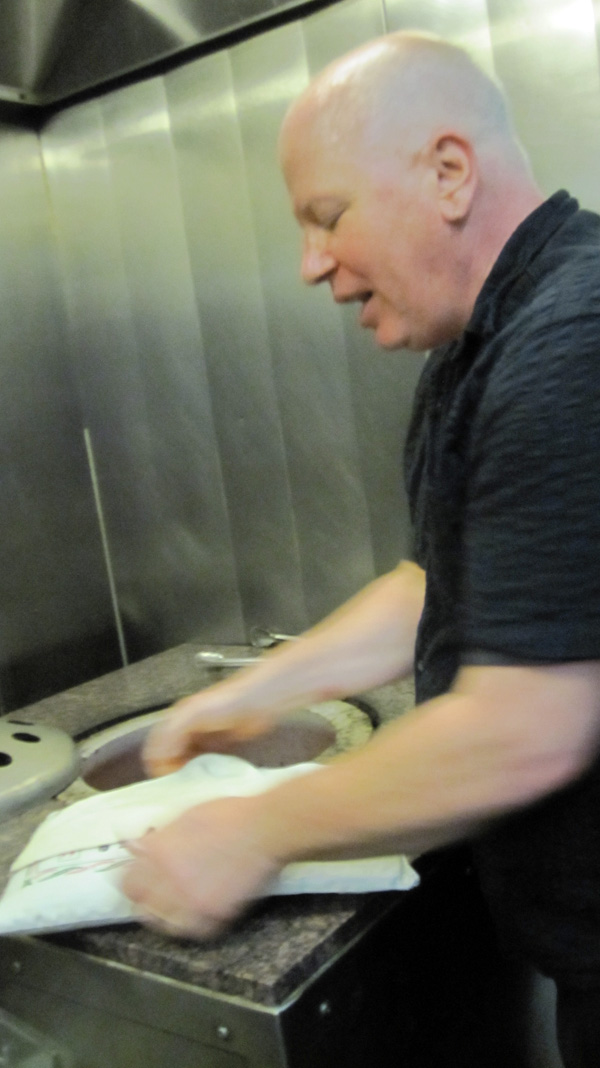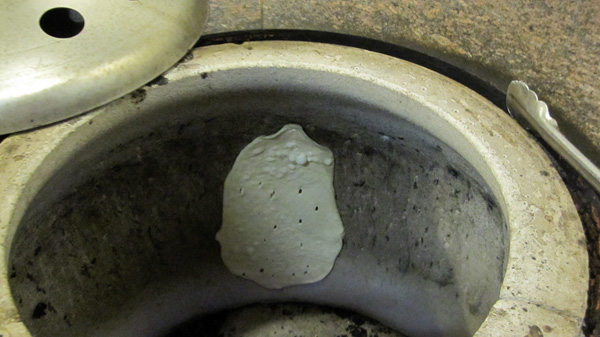 Of course, we're not going to get our very own home tandoori oven, so when we make at-home curries, garlic naan from Trader Joe's will have to suffice. Or, I'll have to give this recipe a try. Either way, I'm excited to expand my cooking repertoire!