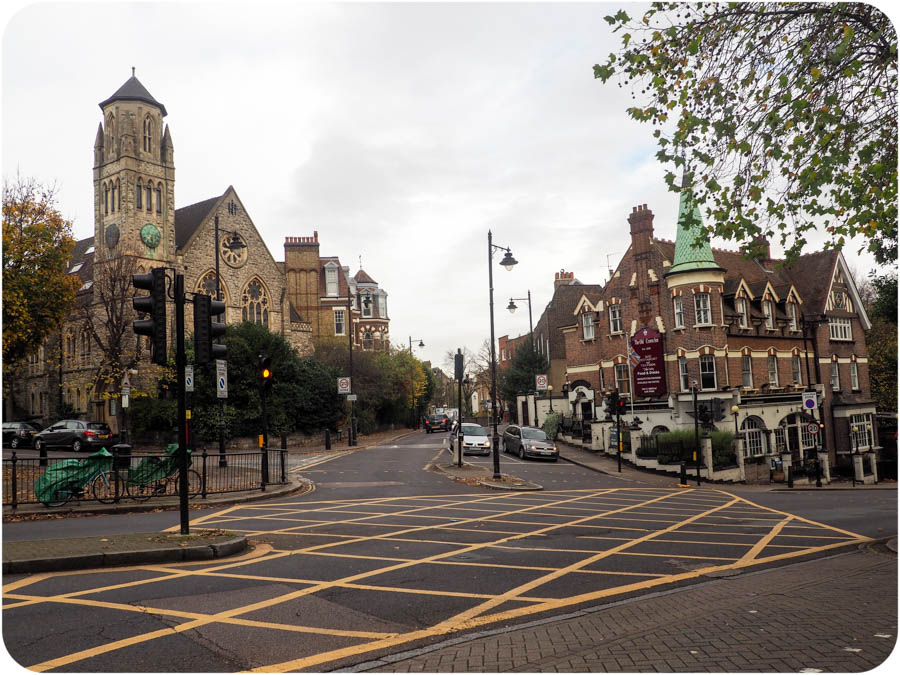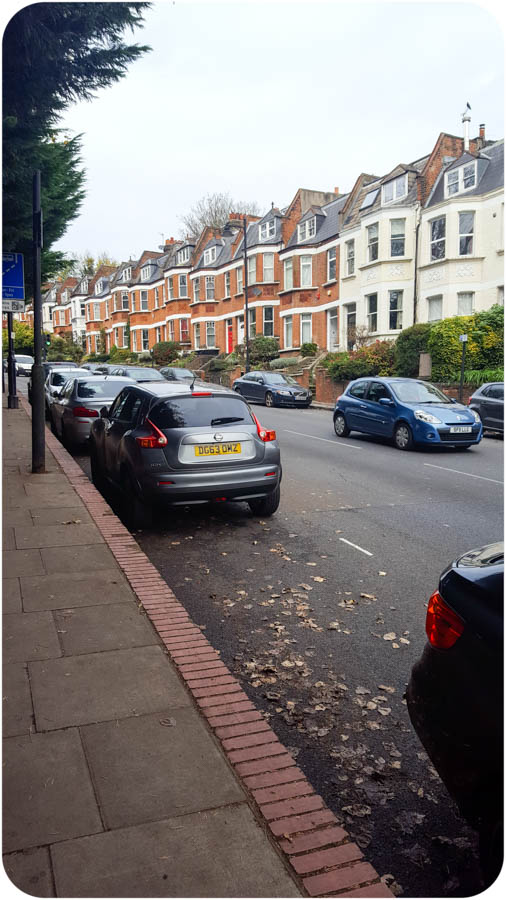 It took until our uphill walk from the tube station for it to strike me: people in London don't put bumper stickers on their cars. It feels like a curious absence, as in the States, it seems as though every third car has a sticker proclaiming the size of their family, their belief in Jesus, and their even more fervent belief that their toddler could kick your toddler's ass in karate. No truck seems complete without one or two giant American flags just in case its owner might otherwise forget in which country they reside, between arduous tasks like walking from a big box store to their parking spot, diagonally across three reserved spaces at the front of the lot. Once I noticed this difference, I kept a weather eye open for any form of bumper-based cling and spied nary a one for the rest of the trip. How was I supposed to know if a stranger was my ideological enemy without these physical labels? Thankfully, to calm my American sensibilities, I was headed to a place where nearly everyone was going to be wearing a label: the cemetery.
Despite writing an impassioned letter in high school to the editor of my hometown newspaper in defense of goths (this was long enough ago that reporters believed that if you wore all black to school, you were an incipient murderer of other, normal children), I've never been fully committed to the goth lifestyle. I enjoy the literature and the music, black clothes are my jam, I am inordinately fond of velvet, and I do belong to the members-only goth club in town (even if I never go anymore). But hanging out in cemeteries and dancing in the rain have always felt outside of my wheelhouse, potentially owing to their involvement of both the outdoors and physical activity, especially if that outdoor physical activity involves the dampening of my velvet frock. Just thinking about moist velvet makes my skin crawl. This was a very long-winded way of saying I don't often visit cemeteries. St. Louis No. 1 in New Orleans was an exception. Highgate would be another. 
Nearly ten years ago, I saw Neil Gaiman on his tour to promote The Graveyard Book. In the ensuing decade, I have forgotten the book nigh-entirely, save for the fact that its setting was inspired by Highgate Cemetery. Luckily, it's a fast, breezy read compared to the dense twelve hundred page tomes I've been reading lately, and thus I was able to reacquaint myself easily enough. This is when I discovered that the book references Highgate Cemetery west, and I'd visited Highgate Cemetery east, the western side being open only to guided tours booked in advance on weekdays. Doh! Nevertheless, "a sludge of fallen leaves, a tangle of ivy…and fallen angels stared up blindly" (231) could just as easily describe the eastern side, at least when you move beyond the very manicured main walkway.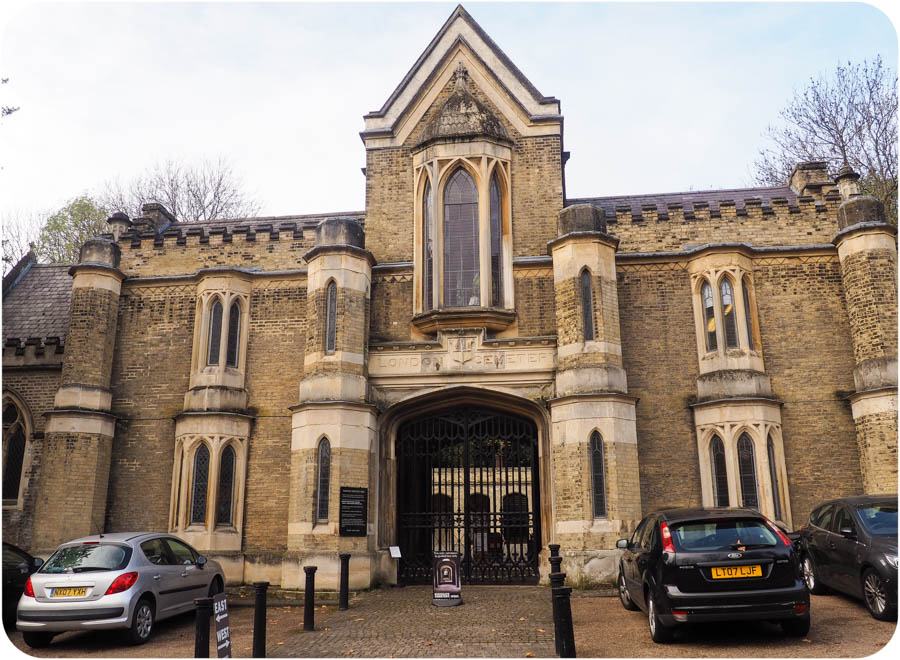 Entrance to the west side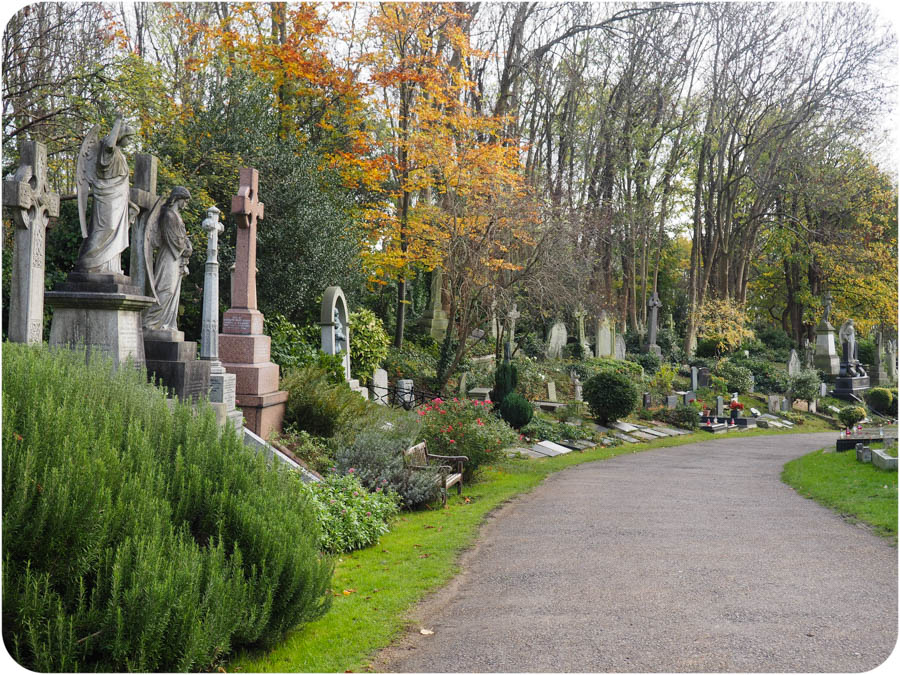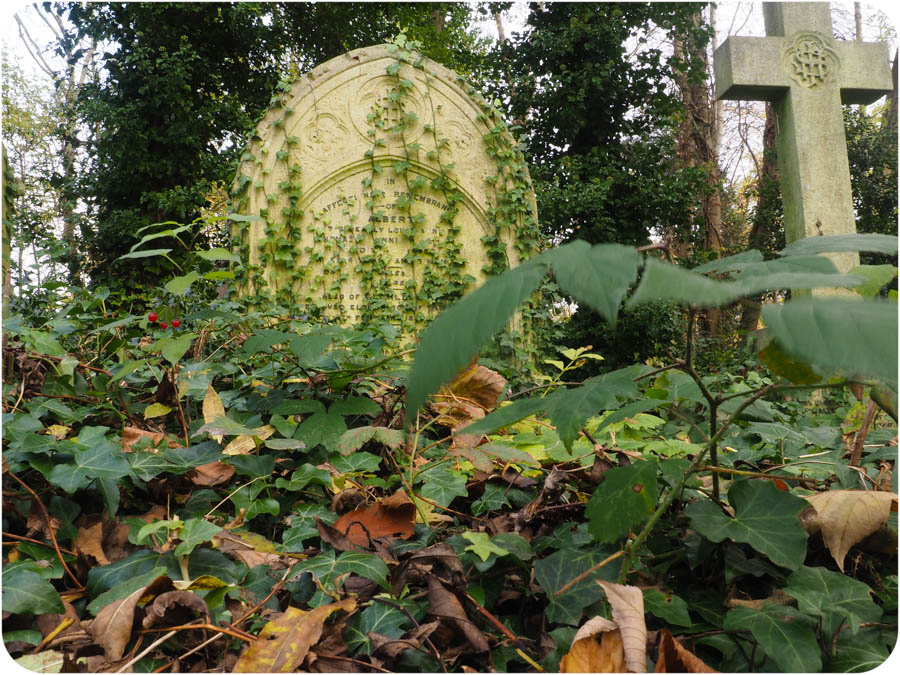 I know that those marks are IHS with the letters overlaid as a religious signifier, but in my heart, it's a special dollar sign that only the really rich can use.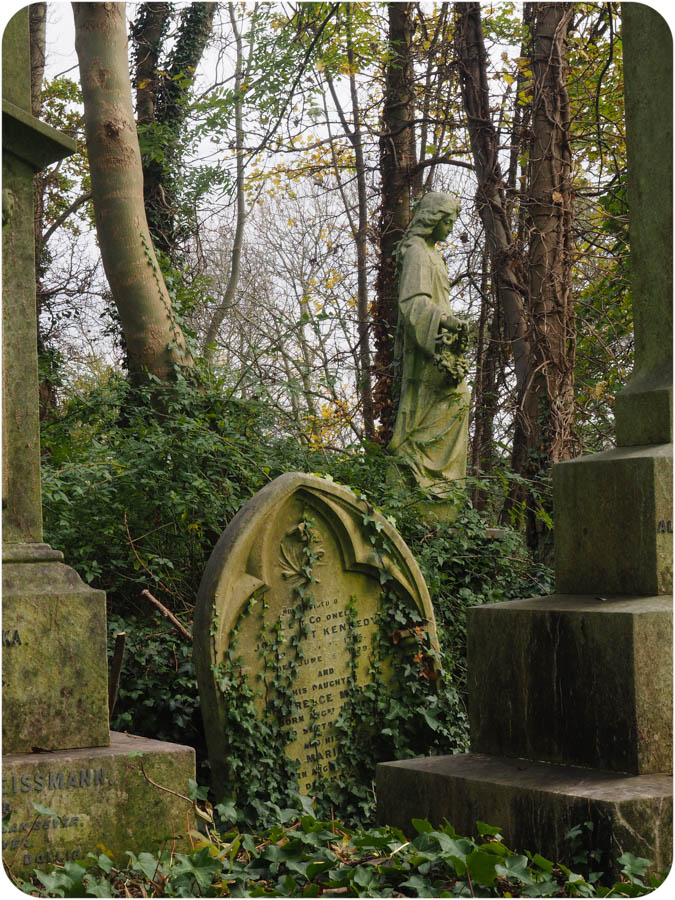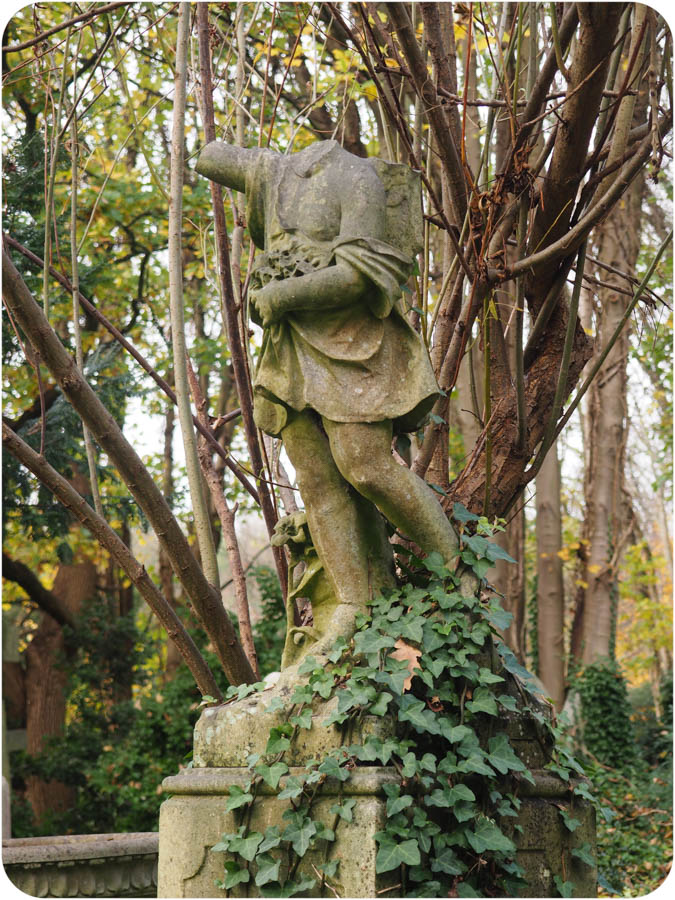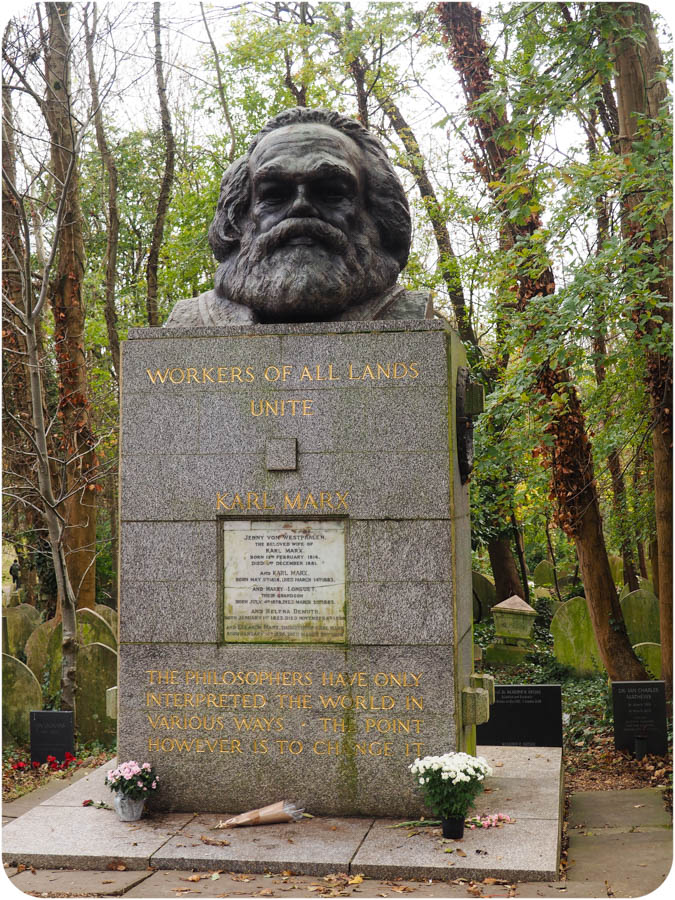 look I'm not saying I'm just saying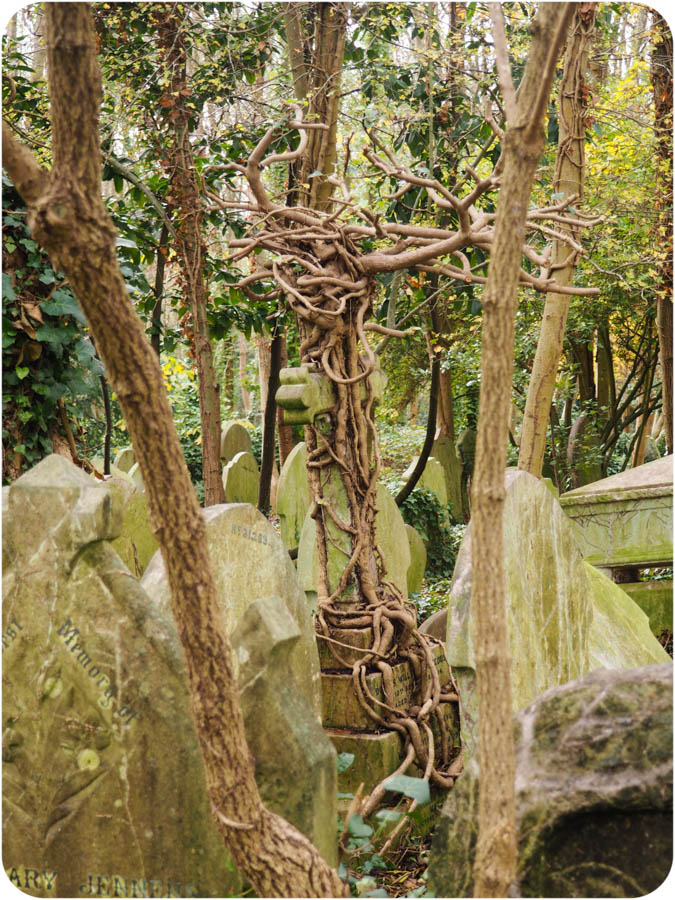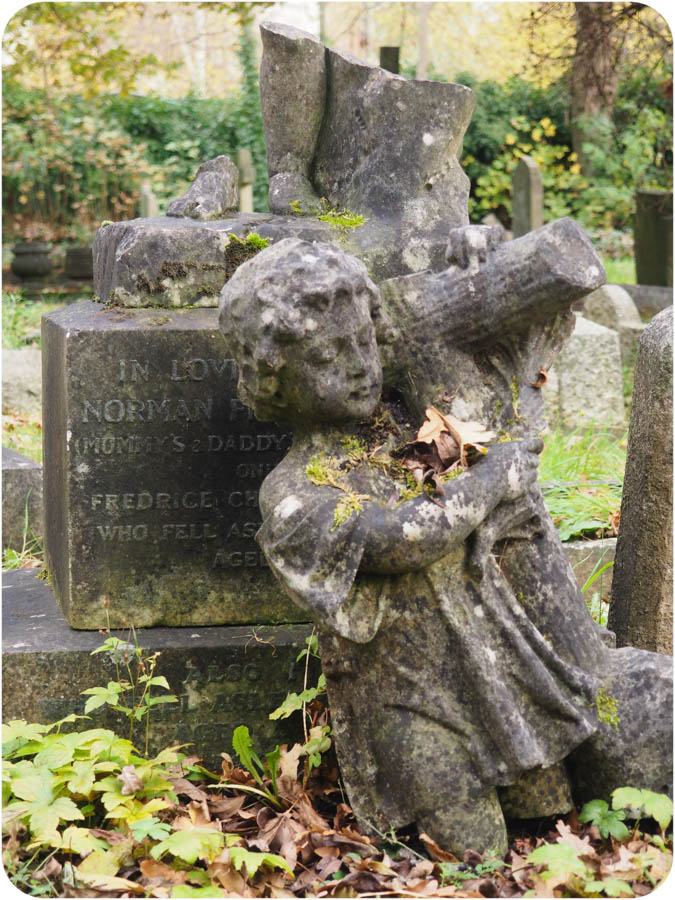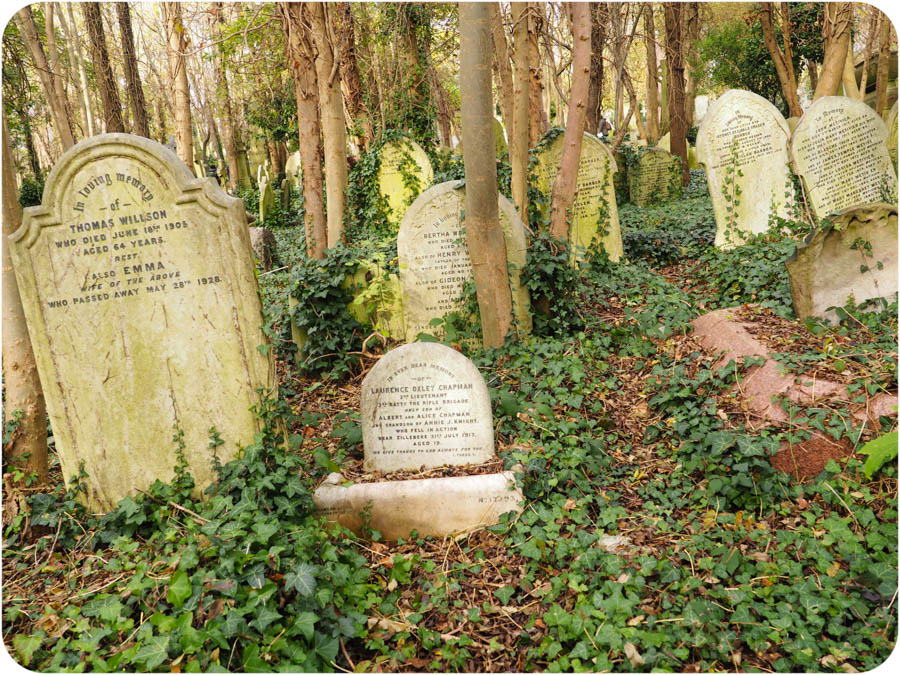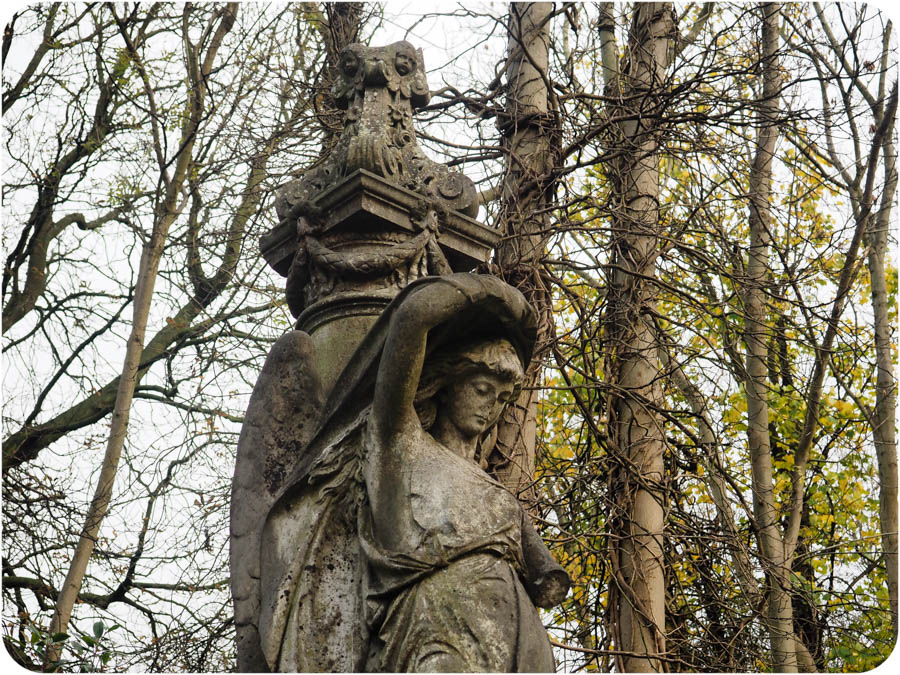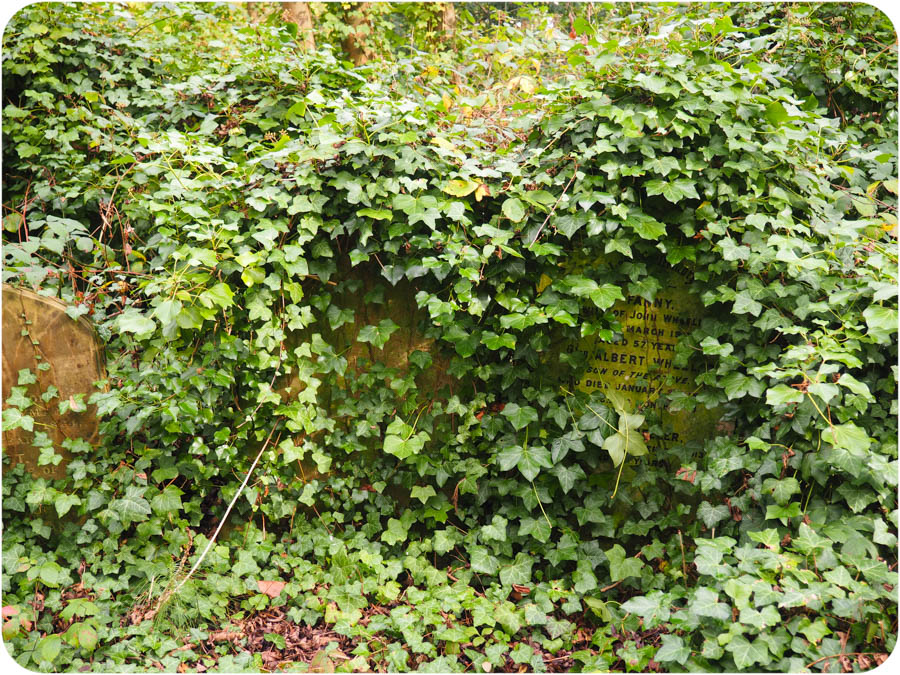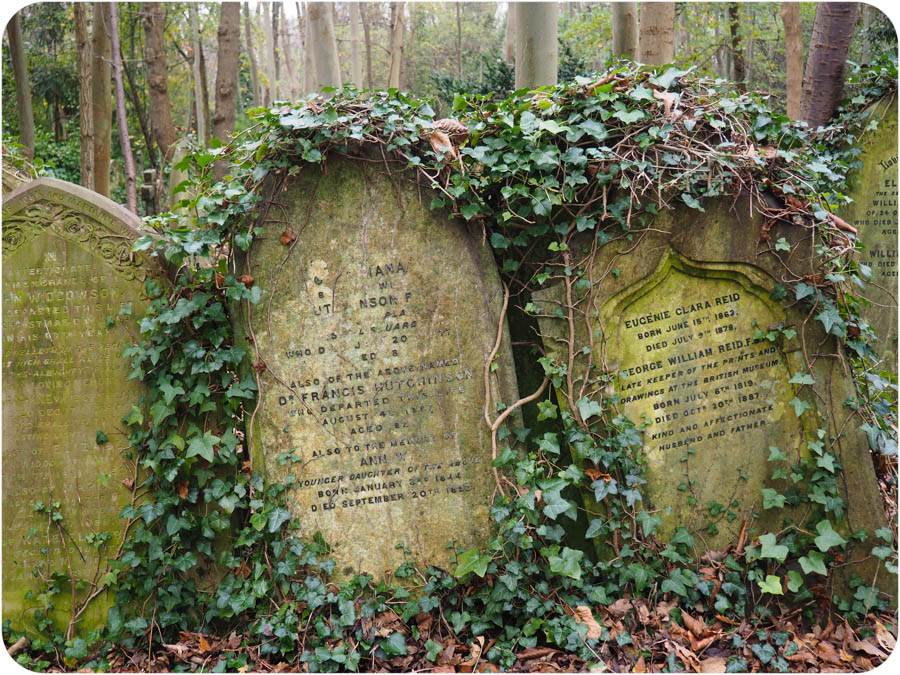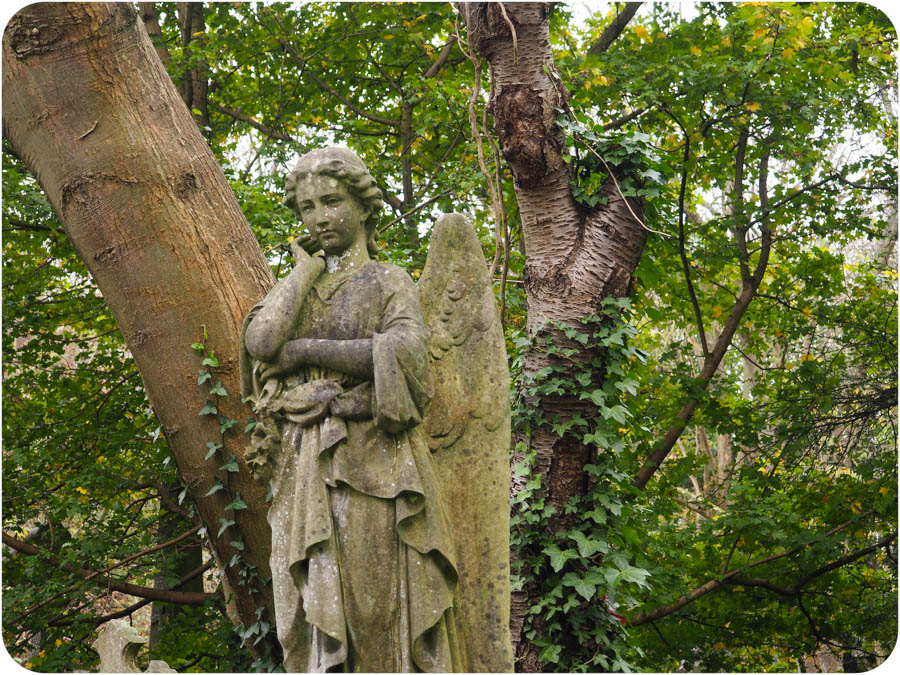 This angel legit looks like she's trying to decide which toppings she wants on her sandwich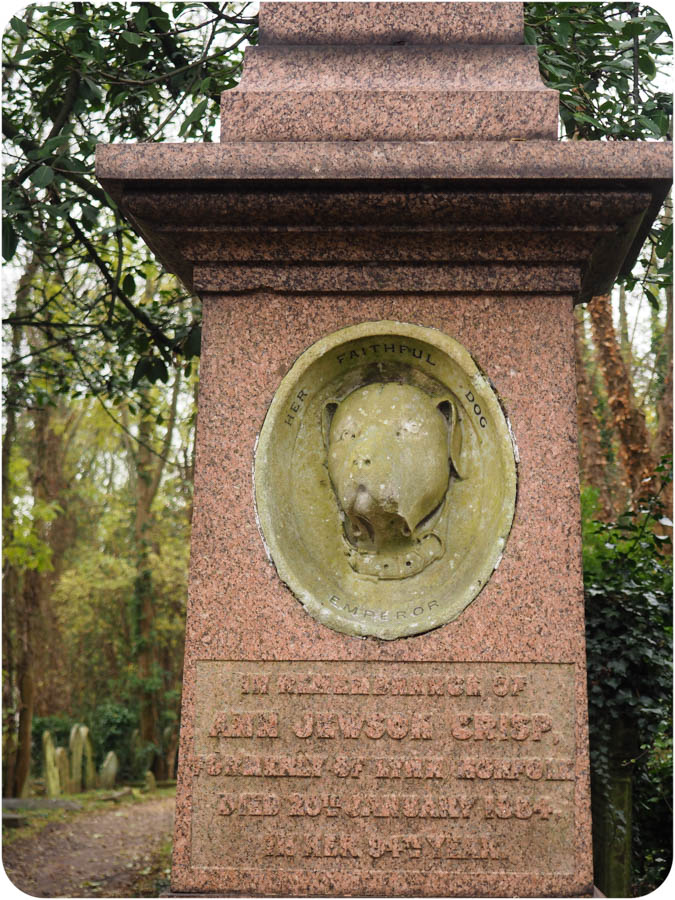 If there's a dog I will find him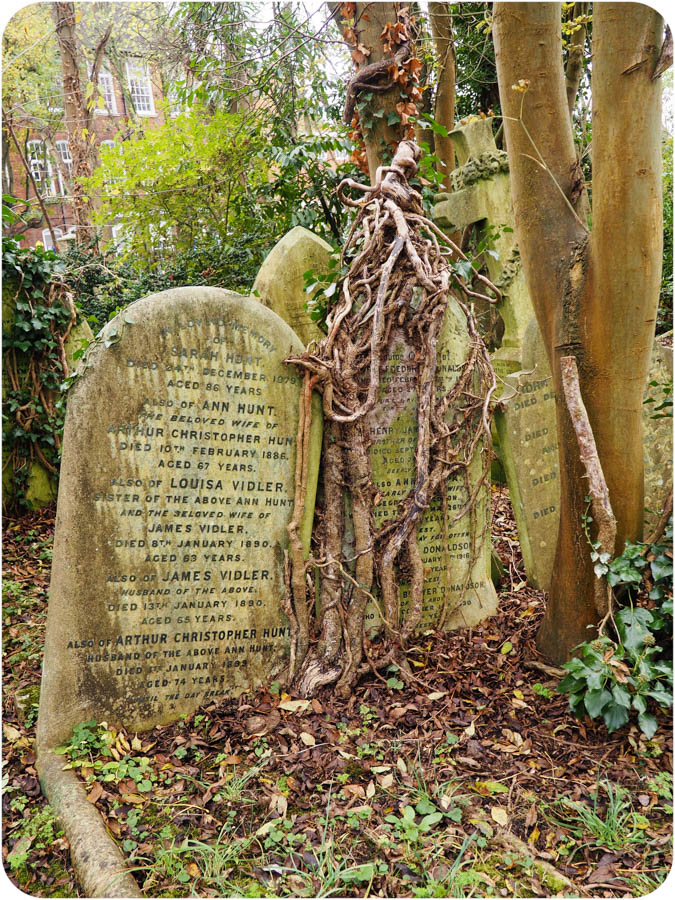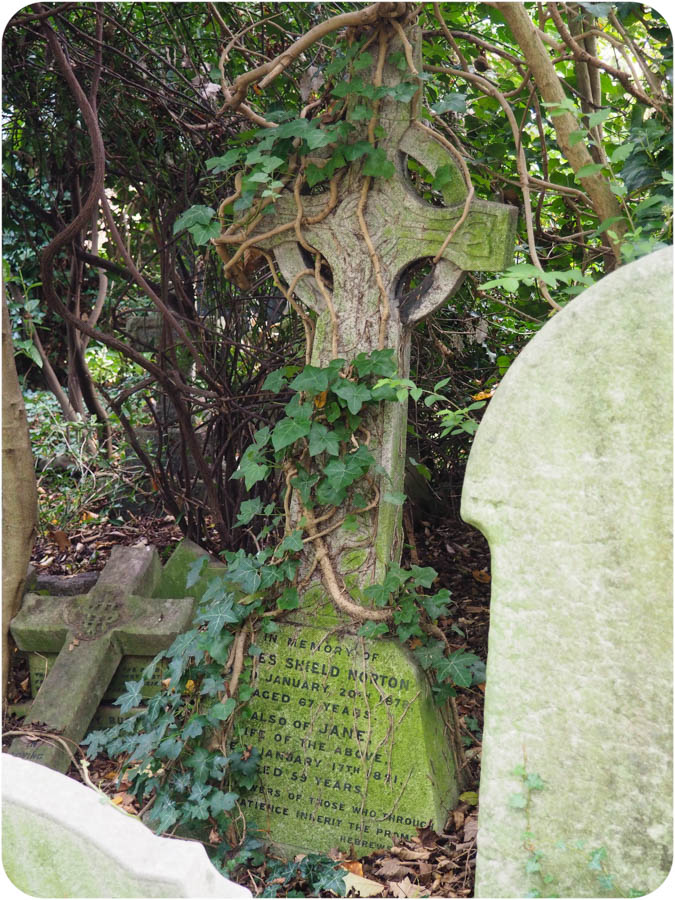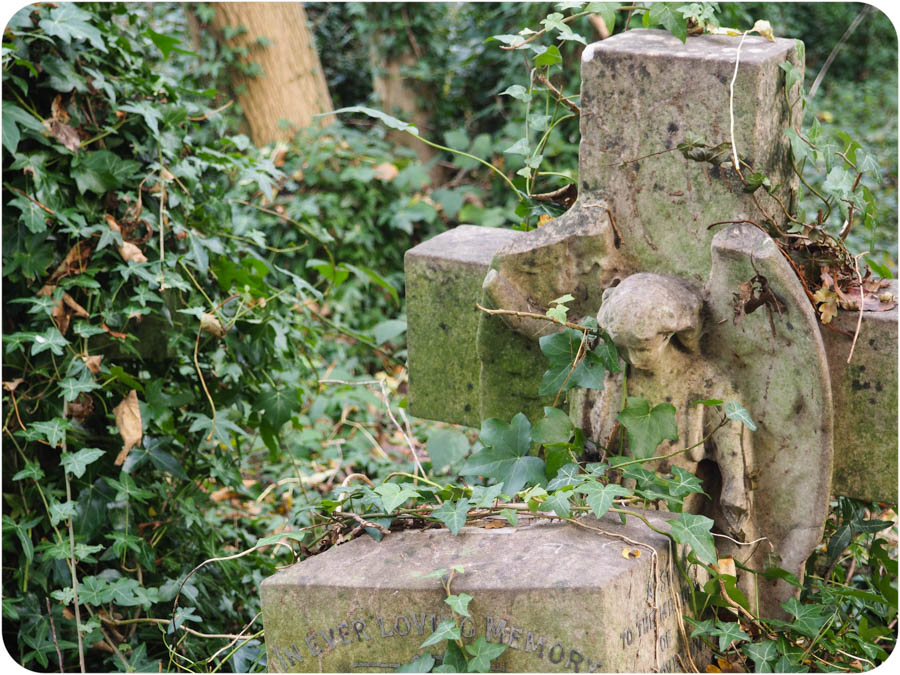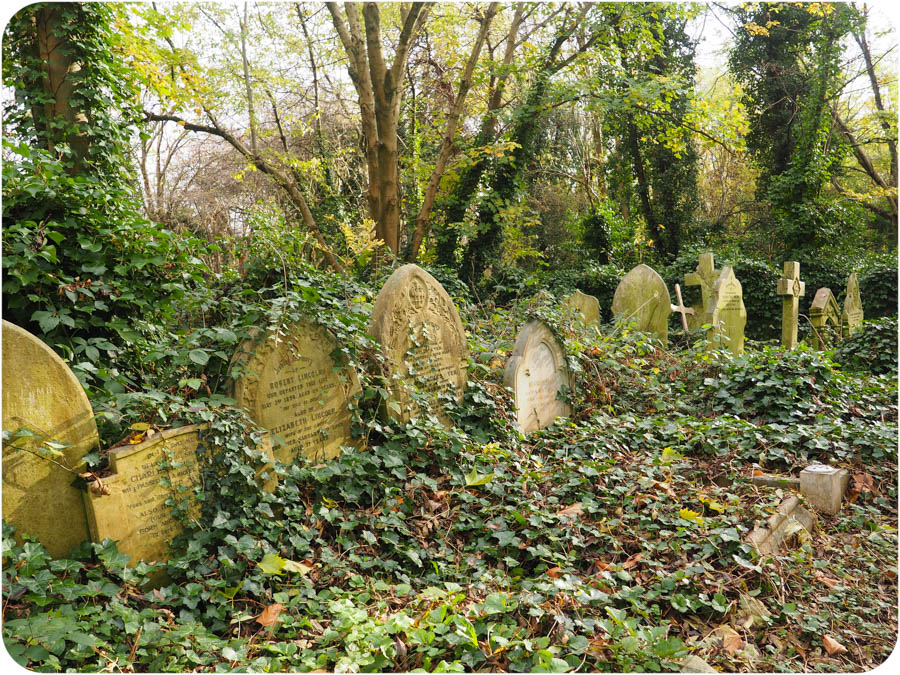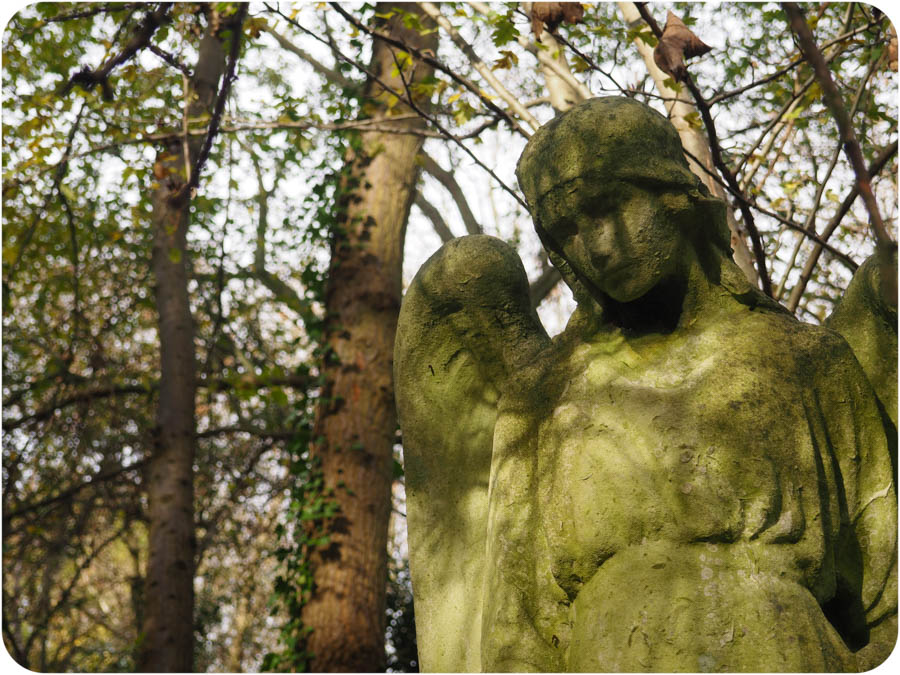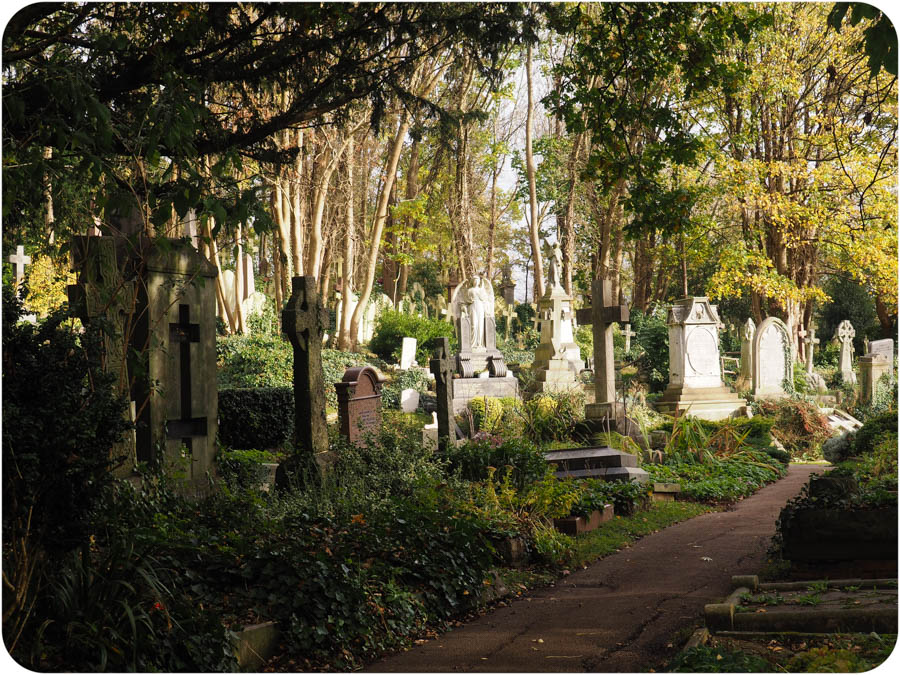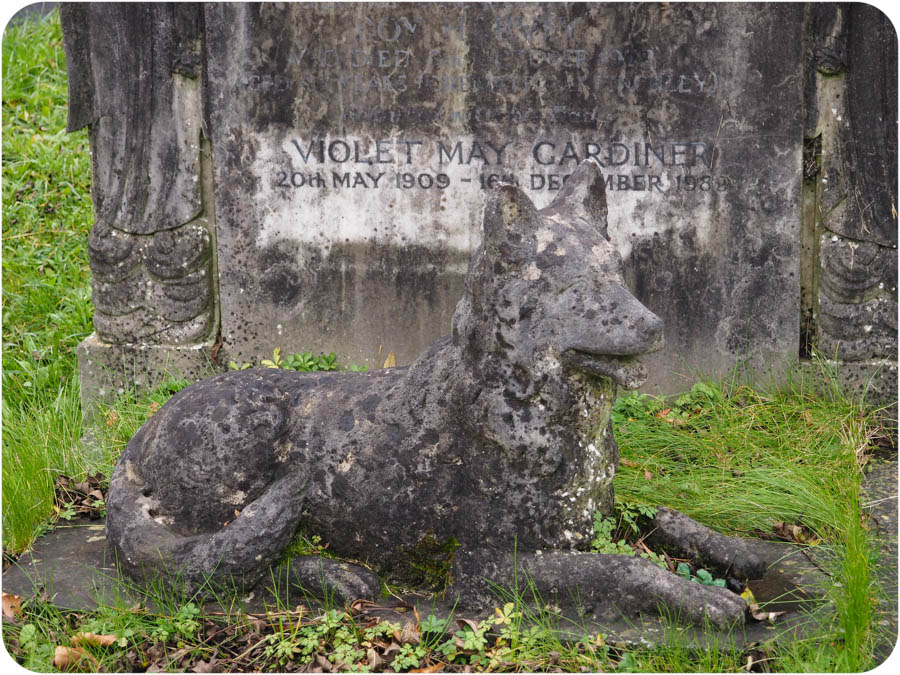 I told you I would find the dog
The wilder Highgate got, the more I liked it, plants exploding in a riot of life in this place of the dead, plunging their roots into the heart of our remains and springing forth as something new. Not gone, just changed; even as time, decay, and plant matter work to obscure and reclaim the stones themselves, removing the identities and labels people clung to in life, so that in death they may finally rest in peace with their neighbors.  
Our route to and from Highgate also took us through Waterlow park, which has several lovely ponds and was donated to the city by Sir Sydney Waterlow as "a garden for the gardenless". These gardens also featured some benches for the benchless, of which we availed ourselves while watching some waterfowl paddle around. Sitting on a bench to watch ducks, I'm already vacationing as if I were in my twilight years. This must be very compelling content.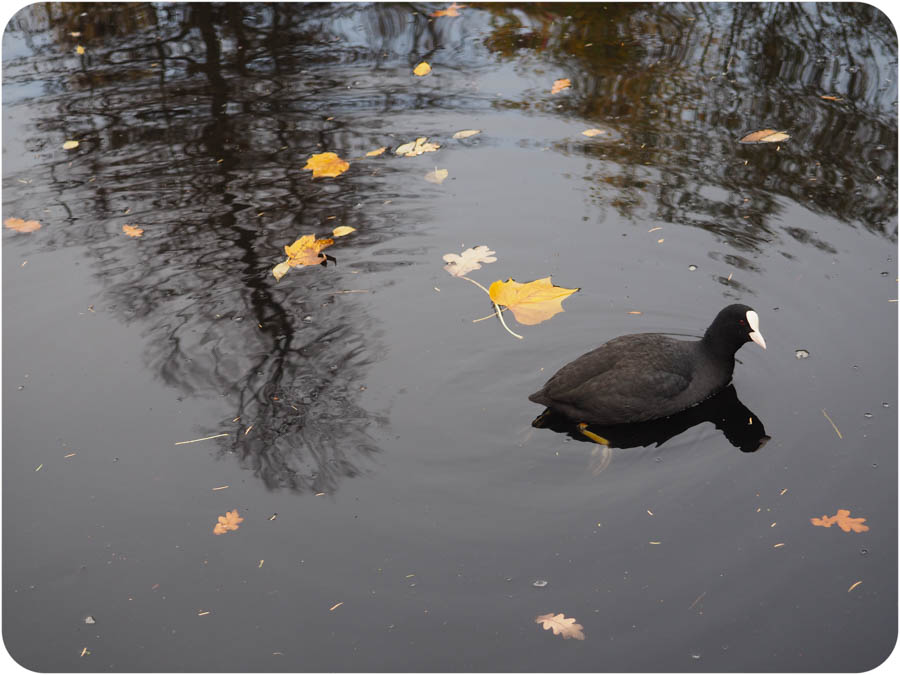 A common coot, I'm not certain at which point in its life cycle it officially becomes an old coot. Hit me up, ornithologists.