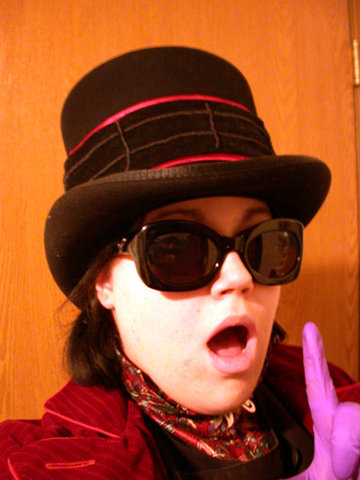 Against Vegas odds, I actually finished my costume on time to attend the Kirkland Mafia costume party on Saturday night. I'm very happy with the way it turned out, and really feel that there are only a few details that could've been executed better, if I had the time or gumption to fix them (I don't.)
For instance–I wish the gloves fit more snugly. I have damn-near child-size hands, so the overall impression of my hands in these gloves is that each one of my fingers comes with its own reservoir tip, perfect in case my hands start to ejaculate or I happen to meet a man with five tiny penises.
Also, my glasses are a bit of an issue; I'd wanted to order some contact lenses, but that would've required two separate eye exams, one of which is uncovered by insurance, which is a ridiculous amount of effort and expense for something I'd wear so rarely. I'd ordered a really cheap pair of glasses in my prescription and planned on affixing those lenses behind the Wonka glasses' lenses, but as of this posting, they still have not arrived, though they were ordered a month ago. Screw you, zenni optical!
I ended up wearing my glasses underneath the sunglasses–this works fine until someone takes a picture of me with a flash, whereupon you can see the outline of my glasses through the Wonka lenses. WHICH LOOKS CRUMMY.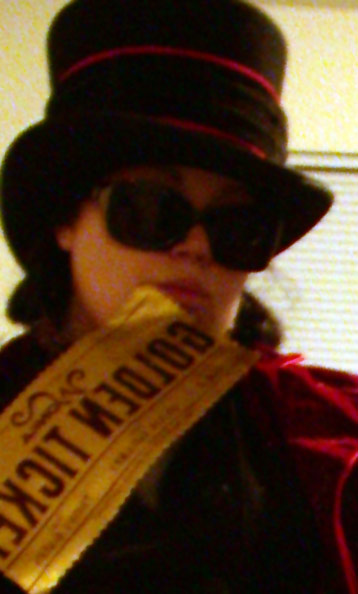 I've got a golden tiiii-cket! I've got a golden tiiii-cket! Many thanks to shadowstitch, who gave me a golden ticket template. I waited til the day of the party, and my printer decided that even though the black ink cartridge is full, it would only print faint outlines, so everything is colored in with a tiny sharpie. Everything that looks right about it is his doing, everything that's vaguely screwy is my inability to color within the lines coming through.
I never realized how dim my room is until I tried to take pictures of myself in black pants, with a black vest, and black buttons, and only a silver watchfob breaking the whole mess up–it turns out that everything melds into a supermassive black hole in my midsection. Trust me–the vest turned out AMAZING. Better than I'd even dared hope!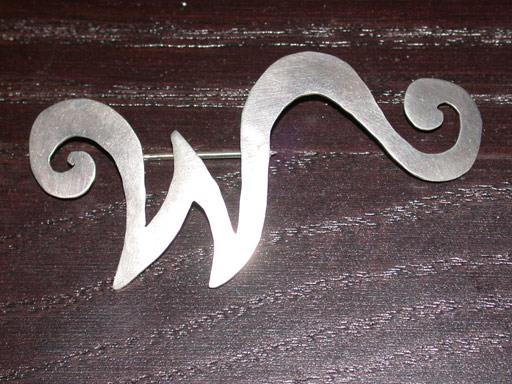 One of the details I felt helped make the costume is the 'W' pin, made with gentle loving care by one of my friends so I wouldn't cut a finger off with a jewelry saw or scalp myself on a buffing wheel.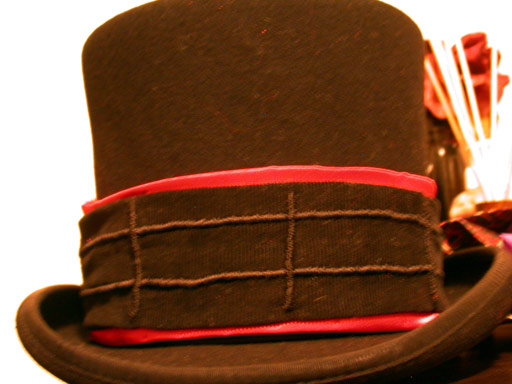 I love how the hatband turned out. This motherhumping thing took me forever and a day to sew (read: over forty hours on it, alone) because the 3-D details are comprised of individual, tiny stitches. It takes a special sort of lunacy to attempt something like this.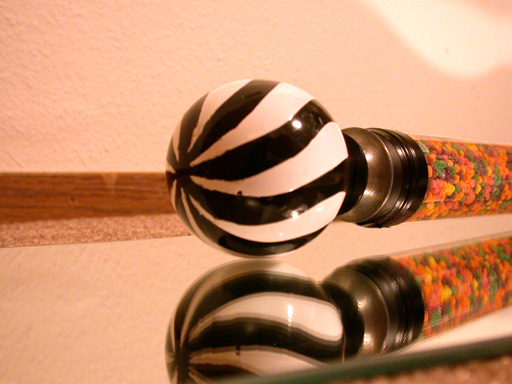 I also love how the cane turned out. This thing represents no less than 5 trips to home depot, several hours worth of driving around to various stores, looking for theatre-size boxes of Nerds, a lot of cursing and a nearly hacksawed leg. The top bit is a curtain rod finial that I taped/spraypainted/sanded. The clear bit is a plastic florescent light covering, the bottom bit is a wee table leg. Running the length of the cane is a wooden doweling that takes up a good deal of the space inside the plastic tube, so it's not filled with as many Nerds as one might expect, but it's still nearly 3 theatre size boxes. It weighs a motherfucking TON. I could easily kill a man with it; the only problem being is that the plastic tube would surely split, filling the murder scene with candy like the victim was a man-pinata.
I'm hoping that I'll be crowned the victor of the safetymonkey costume contest, two years running!