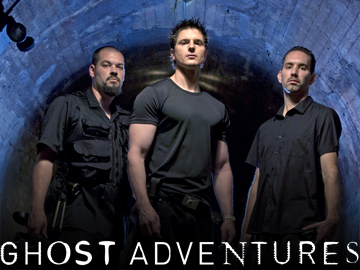 On Friday, I went to a friend's place to have dinner, gossip, and play the Ghost Adventures drinking game. If you're not familiar with Ghost Adventures, it's a show about grown men who have decided to investigate supposedly haunted areas and their theory is that they can draw the ghosts out via taunting. It's three men, standing in the dark, illuminated by night vision cameras in an empty room, screaming at nothing. In a word, it's amazing. It's like a slumber party for dudes minus the nail-painting and lasting psychological damage. If people think *I'm* an overacter (and the majority of the population does), I've got NOTHING on these guys.
We watched two episodes, one from the first season when they visit a country-music bar that they have heard is "the gateway to hell" and the second was the newest episode, where they revisit that place. The first time around, they went crawling through some drainage pipes and then had themselves locked into the building at night. The ringleader of this ridiculous spectacle, Zak, began to complain about some heat and pain on his back after screaming at the ghosts that if they wanted to attack someone, they ought to attack him. His shirt was lifted, and to the sounds of much dramatic freaking out by all of them, they discovered that he had three faint scratches on his back. Zak's voice started cracking as he demanded at the air to know why something had injured him, when it's patently obvious that he had injured himself earlier in the day in the drainage pipes because his skin was not reacting in a way that would be consistent with scratches that had supposedly just occurred. Zak decided to consult a 'priest' (I have my doubts) about his injuries, and the priest claims that it's three scratches to represent the holy trinity. Demon ghosts are all about god symbolism, you see. Totally.
When Zak returns to the scene for the next episode, he again freaks out and claims that this is where he got his 'scars'. Really, guy? Three light, faint scratches managed to scar your delicate skin? The scars are never shown and I am calling shenanigans. I also called shenanigans when the 'priest' insisted that the camera be shut off when he was supposedly exorcising one the guys. SHENANIGANS. You can't have a show about taping everything to prove that there are ghosts and then shut off the cameras when it's easier than faking demonic possession.
Regardless, the drinking game is as follows:
1. One drink per Zak voice over 2. Two drinks per Aaron "OMG" freak out and run 3. One drink per EVP 4. Chug for entire duration of a 'possession' 5. Two drinks per disproportionate conclusion Zak comes to when talking out loud (for example, if they hear some random clicking sound–"Is that the sound of the gun that Roger Rogerson loaded before taking the life of his girlfriend and then himself?") 6. One drink per new piece of unexplained electronic equipment 7. One drink per ridiculous camera angle
…we drank a LOT.