Recently, a friend gave me some chairs and a side table for me to refinish that had seen their fair share of abuse; she didn't want/need them anymore and didn't have the time to fix them up.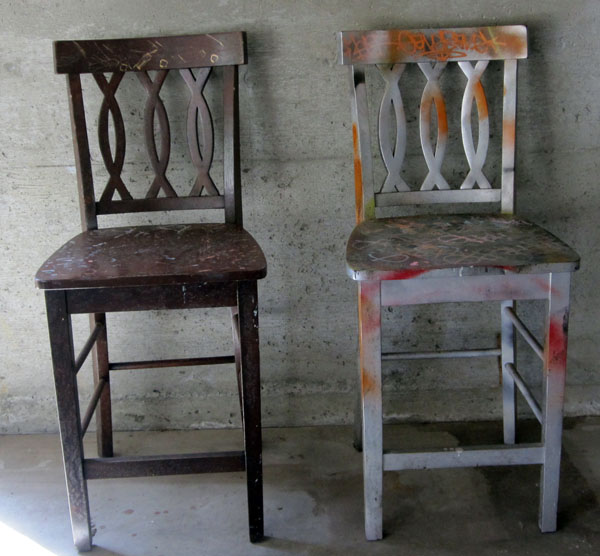 I started on them today, and while the table is going to take more work than anticipated (and will thus get its own before/after post if I don't screw it up completely), the chairs are just about done. I sanded them down–one of them required a lot more sanding than the other (can you guess which?), wiped them off, primed them, and then painted them the color I've deemed "Fuck Yeah Orange!" I am completely and totally into vibrant color lately, particularly in the kitchen, and since I'm not going to paint this kitchen orange like I did the last one, Fuck Yeah Orange! chairs are the very best next thing. I'm going to also make some cushions for them when I find the right fabric, which will be dual purpose–both protecting the finish and delicate hineys– but in the meanwhile, they will be a sorely needed splash of color in an otherwise entirely-too-neutral kitchen.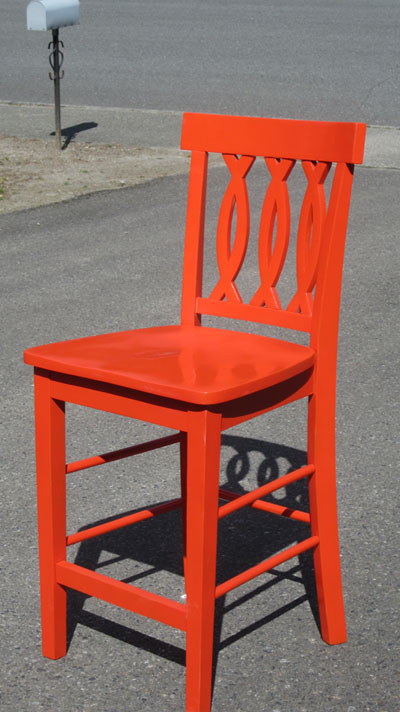 It's so vibrant, my camera can hardly deal with it. LOVE IT. If I could find a leather/leatherette purse this color, I'd snatch it up in a second.
In other news, my manicure is shot, I've got primer in my hair, spraypaint coating the inside of my nose, and two to three distinct strata of sandpaper grime and dirt on the rest of my body. How many showers to get it all off? The world may never know.