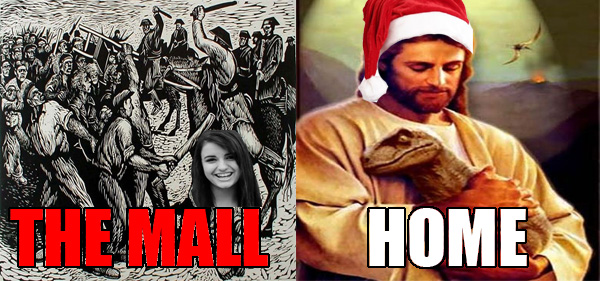 If I could pinpoint the thing I hated the most about working retail, it was the inevitable Black Friday ritual of getting up at 3am to be at work at 4am when the doors opened to the pushing, shoving, rude masses who would elbow-drop their own grandmother to save a buck. There are plenty of professions that make their employees work shitty hours, but very few will pretend to give you a holiday off while taking half of it away with a shift that starts five hours earlier than normal (or now, a shift that starts at 9pm on the same day), just so the guys at the top can make some extra money and then still let you go at the end of the season. Why even bother to leave the house? Some dingleberry who set up camp outside the store a week ago is going to get all the stuff at the low advertised prices, leaving you sleep deprived and caffeine jittery to pay full price because you feel like you've got to justify why you're out instead of eating pancakes while wearing a fuzzy robe.
If the day after Thanksgiving isn't complete for you without shopping, why not try shopping online at some of these awesome indie shops?
Firelight Fusions: This indie perfumier is inspired by classic games, movies, anime, and comic book characters. The perfume oils are carefully blended by hand and react with your skin's chemistry to make a scent that's uniquely yours. Best of all? She makes custom orders for special requests, so if you need something reminiscent of space and time for a Dr Who fanatic or a zesty scent inspired by the Pepper Spraying Cop meme, you know where to go.
Batgirl Designs: One thing I've realized after living in the pacific northwest for a while–not nearly enough coats have hoods. Particularly the cute, stylish coats. This seller makes an ingenious product that is a hood, scarf, and handwarmer, all in one, in a variety of colors with geeky/cute embellishments to match any winter ensemble. She also takes custom orders!
Shanalogic: There are about a million things I love here, made by a network of over 100 artists from around the world. But everything is packed and shipped from one central location so it's one-stop indie shopping!
Fomato: For when you don't want to get someone a gift, but you do want to get them a card. An awesome card.