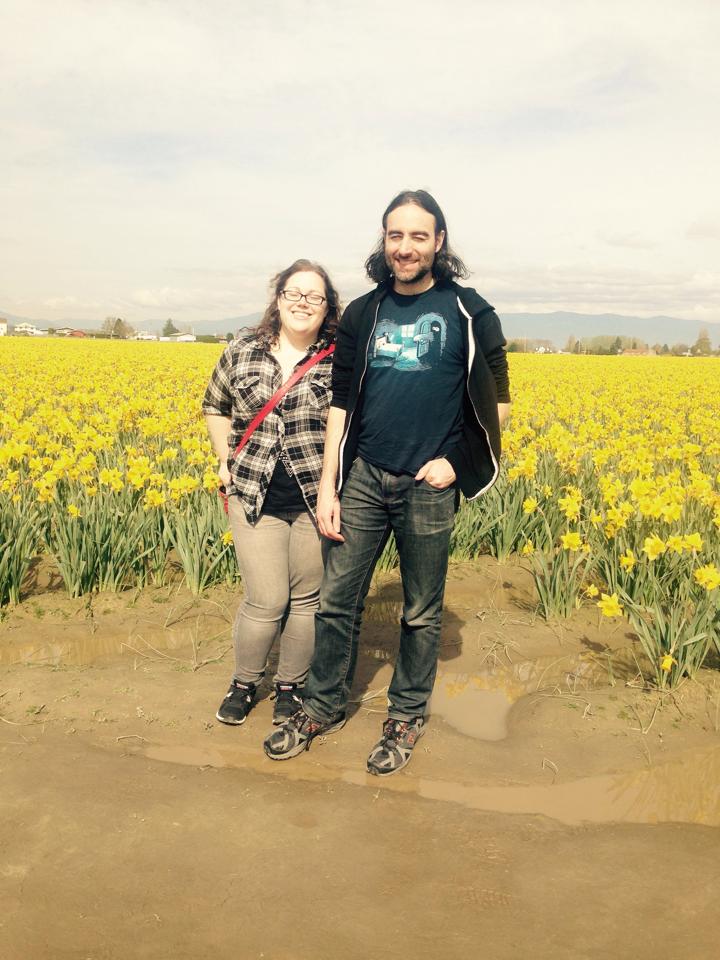 I'm  always poised, waiting for the shutter release so I can close my eyes and take the least-flattering photo possible. That's where I'm a Viking.
  * Jason's family was in town last weekend, so we did a ton more eating out than normal. First, we went to the Portage Bay Cafe for breakfast last weekend, where the slogan is "eat like you give a damn". They're all about organic, sustainable, ethically sourced foods, which is how they can get away with charging twelve bucks for oatmeal. I ordered a goat cheese omelet, imagining pillowy eggs slathered in creamy, tangy cheese. What I got was eggs with about an eighth of a teaspoon of goat cheese on top. I think I would have had to break it apart at the molecular level to get it to spread across the entirety of my eggs. Now I have to assume that was the ethical portion of cheese to include, and every other restaurant that uses more than a whisper is using cheese from a goat who has been waterboarded into giving up her cheesy bounty. If you haven't already imagined the sounds a waterboarded goat would make, give it a try. It's been cracking me up all week. BAAAAAWHARRGARBLE. BAAAABLLLLLL. BAAAABGBLLLLLL.
* We also hit up my favorite breakfast place that weekend, Mon Amie bakery. As it turns out, the owner goes to the same church as my brother and sister in law (formerly often referred to as a 'cult' in the news, so hey, that's something). I'm used to being recognized by the employees there, but I was surprised that the owner recognized me as well, because I think she's maybe helped me once. And when she said she recognized me, it didn't come out in what sounded like a positive fashion, so now I'm wondering what I did or said. I always tip well, I've never gone in crabby, so I'm at a loss. And then when one of the baristas came to the table to clarify my drink order, I heard the other one call out "I told you so, that's what she's always gotten for like the last year." Uh, maybe I need to change things up a little bit. For the record, it's an iced blackberry white chocolate mocha and it is the fucking bomb and I only get it like once a month.
* I got my brand new camera from Olympus this week, which wraps up that saga. It both turns on AND focuses so it's already leagues ahead of the previous two cameras. There's a small issue of the battery catching inside when I try to remove it, but I think I'm just going to let it go for a couple of reasons: one, I am so tired of dealing with their CS (and I'm sure they're tired of dealing with me), and two: there's no way I could get the camera to the repair center and back before my upcoming trips. Let's just call it good enough. For now.
* A friend recently announced her upcoming birthday theme: Jem and the Holograms. I somehow missed this one as a kid, so I've been watching through the series on Netflix and have subsequently been way overanalyzing a show for seven year olds. I have spent a truly outrageous amount of time thinking about the show's message and underlying themes and rolling my eyes at myself. I've also been watching a lot of Walking Dead, and last night, the theme songs blended in my mind in a truly, truly, truly horrifying way.