Since I've crammed all of my Florida posts into one stretch, you might not know that I actually made two trips to Florida in the past few months: one to Orlando for my honeymoon and one to Miami for my brother-in-law's wedding.  On each, I stayed in 5 star hotels; the Waldorf Astoria in Orlando and The W in Miami, and yet the experiences could not have been more different.
The Waldorf Astoria Orlando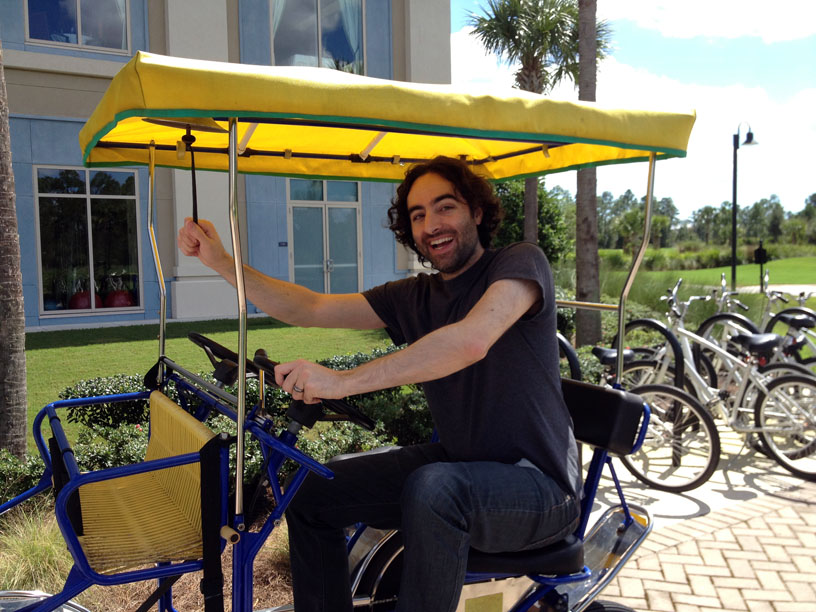 We booked our trip to the Waldorf through Expedia, securing a rate that averaged to $150/night with the "Best of the Waldorf" package which included $50 of room service/spa treatment credits per day, an included breakfast buffet every day (for which they normally charge $32/per person), and when we arrived, there was a fruit platter waiting in our room with a personalized card stating that they hoped we would enjoy our stay. Valet parking was mandatory, at an additional charge of  $24/day, and there was an optional daily resort fee of $25, which included wifi throughout the hotel, access to the driving and putting ranges, and use of the spa.  Including  these additional charges, we paid $200/night. As we made use of the room service credits and breakfast daily (Gelato delivery! Fresh fruit juice! French pastries! Crepes!), and had a most excellent time making divots in their driving range, it still overall worked out in our favor.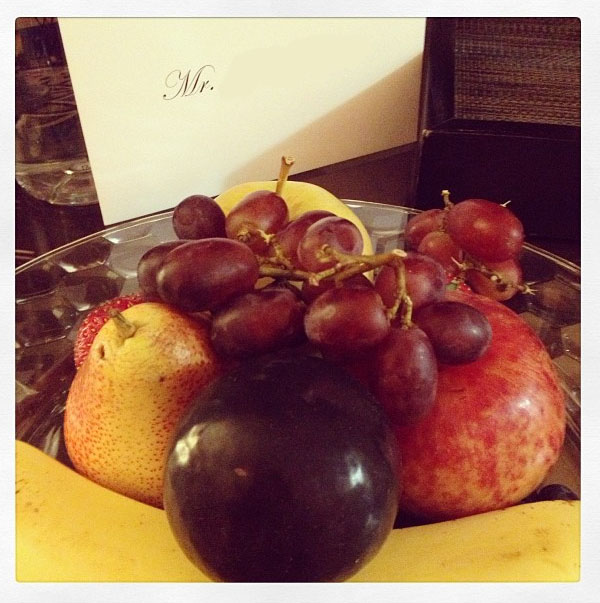 The room itself was clean if a bit old-fashioned and was cleaned again every morning with a second turndown service each evening. The bed was comfortable, the bathroom was sizable (containing both a soaking tub and a separate shower) if a bit dark for my preferences. The towels were average quality, as were the toiletries. They also provided two comfortable robes for our use during our stay. The room had one large television centered for prime viewing from the bed. The only time we heard other people was when they were walking down the hall and talking directly in front of our door. Whenever we called down to have our car brought around, someone always answered the phone immediately and referred to us by name each time, always finishing the call by asking if there was anything else they could do for us.
The two pools at the Waldorf were large, but the best part was that we were also given access to the next door Hilton's pools as well, which had a lazy river for us to splash and play in during the day, contrasting with quieter swims at the Waldorf in the evening. They also provided bicycles with which to travel between properties.
Considering we booked through a third party service at a presumably deeply discounted rate, the Waldorf Astoria had no incentive to give us special treatment, yet we were treated as honored guests in every respect. Everyone was exceedingly polite and friendly, and the one issue we had with our room (our toilet would run occasionally) was fixed immediately upon contacting the front desk.
The W Miami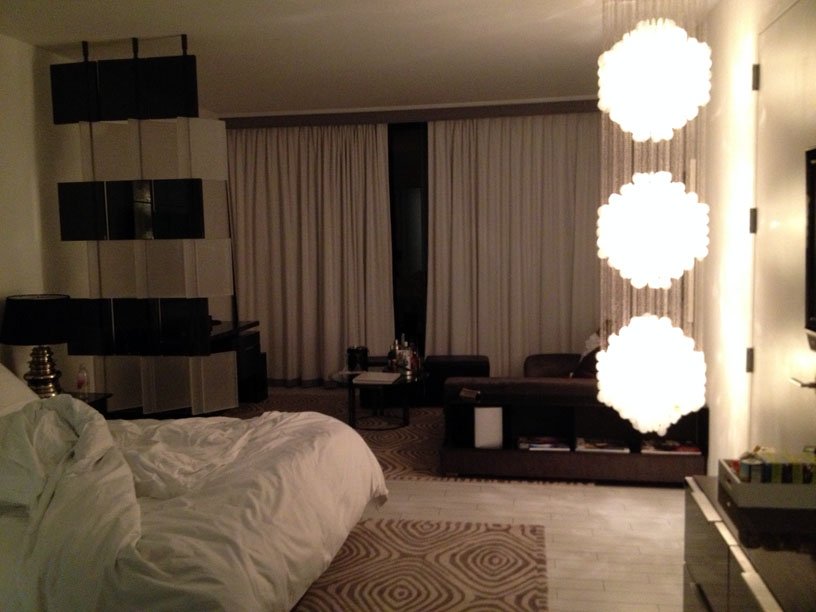 Our trip to The W was booked as part of a block of rooms, as the wedding itself was at the hotel; the rate was $750/night, which was for the room only. Valet parking was mandatory, at an additional charge of $37/day. Internet was an additional charge of $15/day, bringing the overall daily rate to over $800. When we arrived, I noted that our room was coated in dust, and every available surface was filled with items they'd be happy to sell us for an additional fee–water, snacks, etc. All of those items were dusty as well. They also provided a broken kaleidoscope. When I tweeted my displeasure at the level of service we were receiving for our room rate, to their credit, someone got back to me immediately and contacted the hotel manager, who called me and was very apologetic; he said that he'd like to make things right as a show of good faith and comped our internet, while stammering that it's standard practice to include a munchies bar in every room. My issue isn't that you sell snacks at a premium price, dude, my issue is that you sell dusty, expired snacks at a premium price. He also sent someone upstairs with two bottles of water, and though I had emphasized the dust all over everything in the room, the woman who came to my door didn't seem to know anything about it. She thrust the bottles of water at me and said huffily "Look, I'm just here to make you happy" which, incidentally, made me less happy. She then left to go get a feather duster; I had to leave the room to attend the rehearsal dinner, and when I returned, I saw that a half-assed dusting had been done, but that overall, the room had still not been cleaned to a 5-star standard.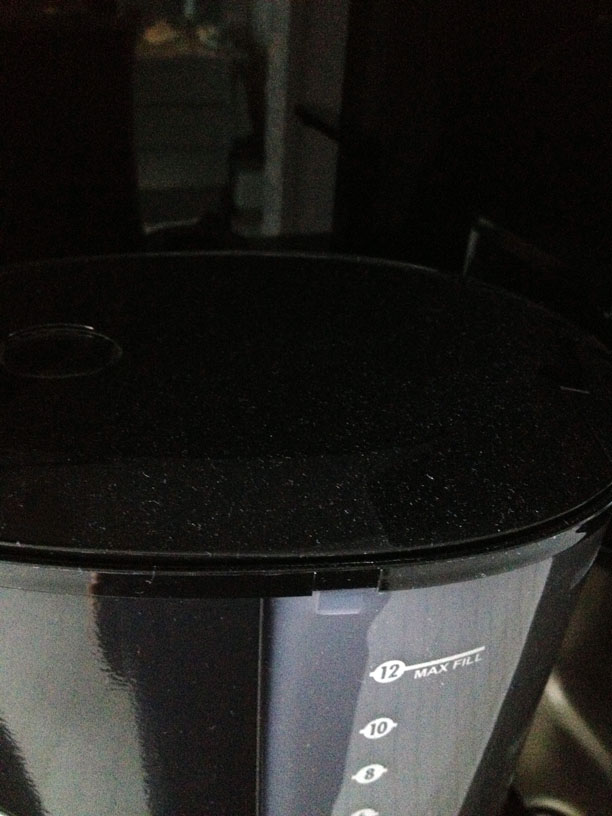 Dusty coffemaker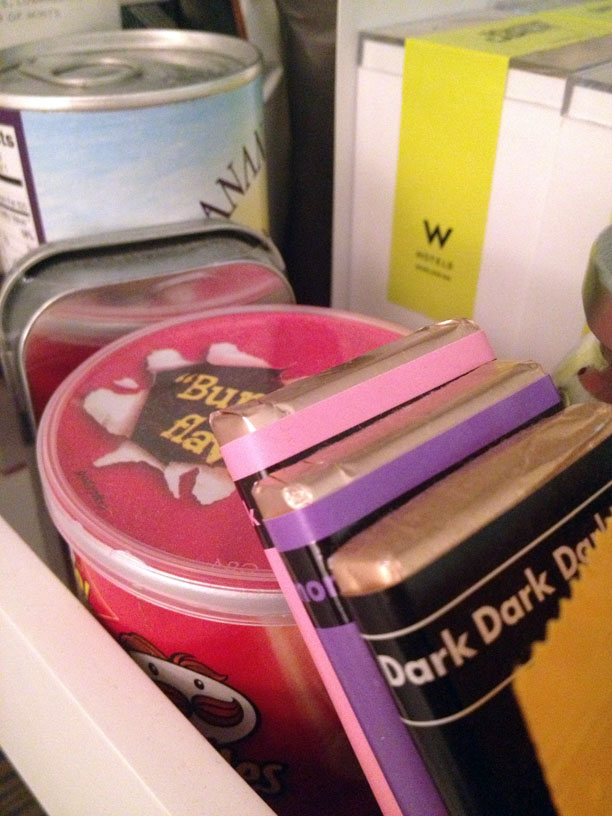 Dusty snacks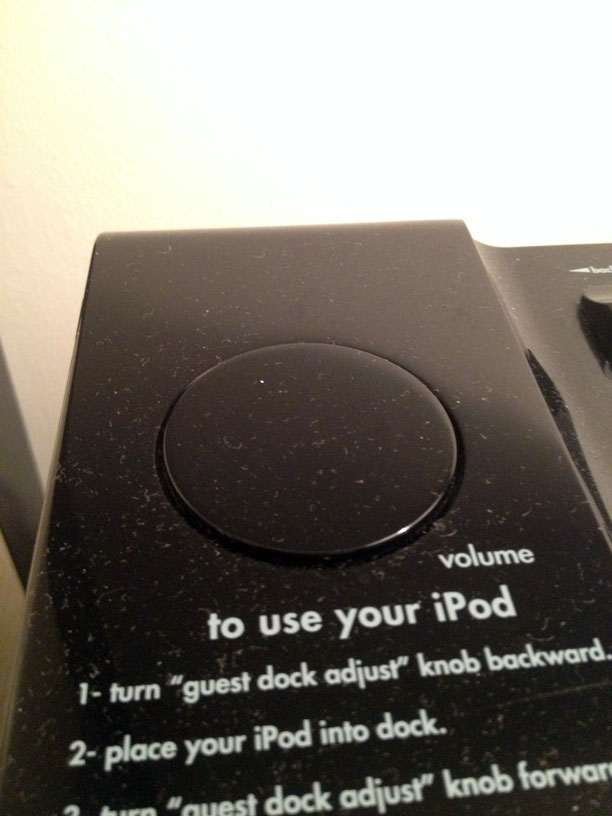 Dusty alarm clock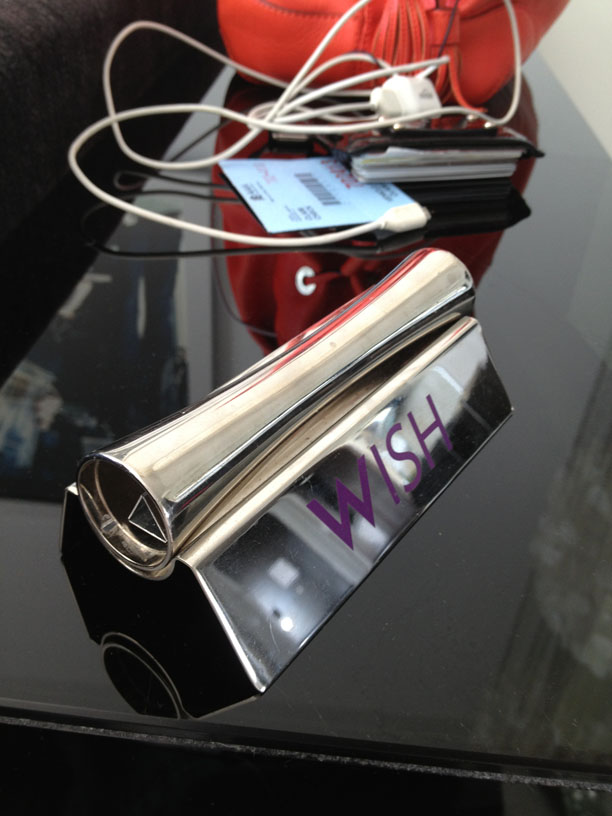 I guess if I was going to make a wish, it would be for a working kaleidoscope.
The room itself was beautiful and modern and opened up onto a balcony which overlooked the ocean and a public parking lot; however, the setup of the room was awkwardly split into two. Our bed faced a doorway into a different guest room, which is something you usually see in cheaper hotels, and it shuffled the TV off oddly to the side. The room actually contained two small televisions, which were controlled via one remote, so after we were finished watching television in bed, a click from the remote turned that TV off…and the one in the office area on. This happened back and forth until I finally got up and turned them off manually. The bed was a bit stiff. The rugs were stained. The bathroom contained only a shower, with an extra wall spigot straight at butthole level, and there was a panel of frosted glass between the bedroom area and the bathroom, so if you use the bathroom in the middle of the night, you end up lighting up the entire room unless you attempted to pee in the dark. The towels were scratchy, and while the toiletries were from Bliss, they had a funky aftersmell that neither of us cared for. To collect our car, we had to go downstairs and wait; unfortunately, when we went down, the valet was nowhere to be found so we had to wait around. The noise? The noise was unbearable. Anthropologists will be delighted to know that there is a new subspecies of human being residing in Miami that exclusively communicate to one another via honking their car horns. Short beeps, long blasts, this happened at all hours of the night, along with screaming and shouted obscenities, beside the more traditional and expected hallway noises. We could even hear the valets loudly talking to one another outside: this is with the balcony doors closed on the fourteenth floor.  At one point, at three in the morning, there was a series of extremely loud thuds coming from another room that literally shook all of the booze bottles for sale on our coffee table. I was able to sleep only fitfully over the course of our stay due to the aforementioned honking, screaming, shouting, and thudding; this made everything else feel so much more unbearable.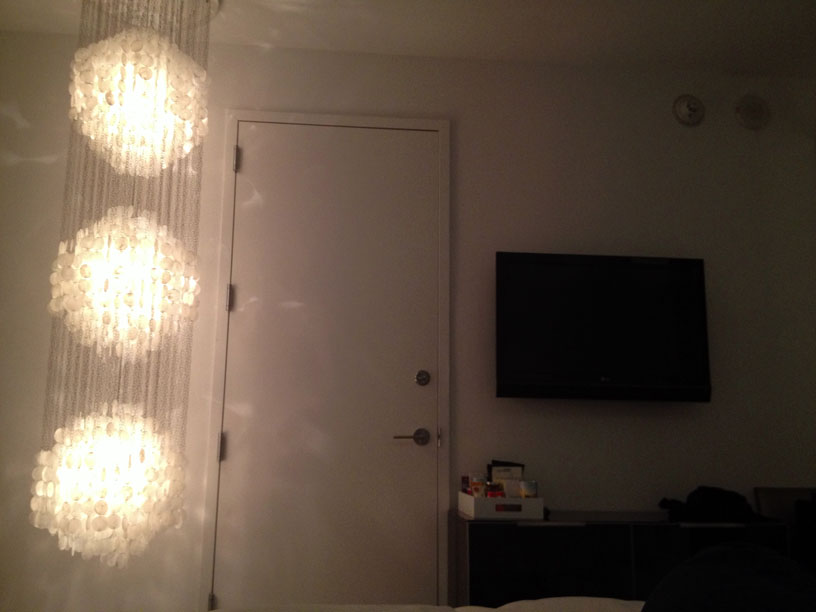 View from the bed
Butthole spigot with glass panel that looks into room
The pool at The W was well-maintained and attractive, but small, with an even smaller number of seats available. Of course, there was the ocean available immediately outside their doors, but their pool alone was substandard.
As said before, our trip to The W was part of a large block of (full price) rooms reserved for wedding guests and the wedding and rehearsal dinner were both at the hotel. Over the course of the weekend, a lot of money changed hands between the family and the hotel, and yet we were treated as though they literally could not have given even part of a shit about our comfort. One of the bridesmaids had jewelry stolen from her room. My tweet was resolved with a half-assed smooth-over that made it clear to me that further complaint would fall on deaf ears because all they wanted to do was "make me happy"/shut me up. They claim to want to provide you with Whatever/Whenever and for your experience to be filled with Wow; the only things that wowed me were the bill and the staff's overall "whatever" indifference.
 Overall
Even if we'd paid close to the same price for the hotels, the level of service we received from The W and their overall room quality was appalling when compared to The Waldorf Astoria. It's appalling when compared to the goddamned Best Western. When you factor in the price difference, it's not only appalling, but insulting that The W believes they can get away with treating their customers so poorly. Granted, Orlando tends to cater to families, and as best as I can figure out, Miami caters to the scum of the earth, but that still doesn't account for the discrepancies between what are supposed to be world-class hotels. If given the option, I'll choose the establishment that values service over flash every time.