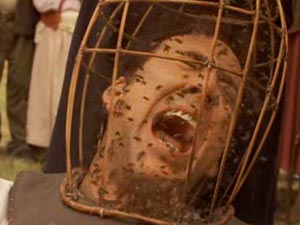 On Saturday, my intention was to lay around and do nothing. On our way to the show on Thursday, Emily said she can't ever just relax, because her brain insists that if she has time to lie down, she has time to repot this plant or to clean this or to do that. I snidely told her the proper response in that situation was to say "Shut up brain, or I'll stab you with a q-tip." Little did I suspect at the time that her hyperactive brain was giving mine ideas, and though I tried my best to do nothing on Saturday, my brain insisted that I get up and go through the boxes I had in my storage closet like I had been intending to do for months. So, you see, everything that follows is indirectly Emily's fault.
I loaded up my upbeat cleaning playlist (which consists of Earth, Wind, & Fire, Michael Jackson, Kennedy, 'Do the Bartman', etc) and since my patio faces a wooded area, I felt free to bop around and make an ass of myself. To start things off, I was listening to some Junior Senior. If you aren't familiar, feel free to familiarize yourself:
I think it's important that you're able to place yourself at the scene as much as possible. So, it's a nice warm day, I'm bopping around, the dog is watching me intently from the apartment, I unlock the door, take down a box, and it is absolutely covered in mouse droppings.
I dropped the box and screeched a little in dismay and rage. The possibility that I might encounter a mouse corpse or a live, rabid one, hadn't even crossed my mind. I opened up the box to see if the contents were mouse-damaged, and a horde of spiders flooded out. Wave after wave, like soldiers hitting the beach. Tiny ones, larger ones, daddy long legs, those uber creepy translucent ones…I am certain, now and forever, that the proper term for a group of spiders is a 'nightmare' of spiders.
I shrieked and promptly declared defeat to the outdoors, decided that nothing in the storage closet was worth attempting to salvage, and threw it all away. Bye bye, Ursula costume. Bye bye, craft supplies. Bye bye, boxes I didn't even attempt to open for fear of what new horror might be lying in wait.
Days later, and I am still slapping myself on every tickle, real or imagined. Thanks, Emily.