This is the fax that I actually sent to Skechers Customer Service today. Any bets on whether I get a pair of replacement shoes?
To whom it may concern,
I purchased a pair of D'lite Raptures (Style#11469) on December 19th, 2009. They quickly became my daily-wear shoe, as I find them light and comfortable, which is important as I average five miles of walking per day. However, within the last week, one of the shoes has developed an enormous hole on the upper stitching along a seam, a hole so gargantuan that it can easily accommodate two fingers, though three are as of yet right out. I know what you must be thinking, that surely my monstrous gorilla feet caused undue pressure on the sides of the shoe and thus the seam had no choice but to burst open—a five pound sack of shoe with ten pounds of foot crammed into it, a veritable thunder lizard foot packed into an airy shoe, and that the outcome was as inevitable as taxes and even death, should science fail and robot bodies not become readily available by the time the cheese eventually settles into my heart. I assure you this is not the case. My feet have been described as dainty, petite, and even smelling of a spring morn. Sonnets may have been composed about my feet; I'm unsure as I'm not around other people twenty-four hours a day and it is possible that someone has dedicated a portion of their off time thoughtfully considering my feet and their place in the universe. I do know that someone on Myspace has offered me one hundred dollars American in the hopes of having a 'go' at my feet, and although my disgust at the offer is palpable as I would never defile my delicate tootsies in that manner, I do believe it speaks volumes about their general appeal. My feet would be the superstars of the foot world if only they weren't hopelessly attached to an unattractive cankle. Therefore, the trouble must indeed lie with the shoe.
Is it reasonable for a shoe to wear out in under three months? Are these shoes perhaps designed for someone with a more sedentary lifestyle, as foot accessories, akin to a tiny dog in a purse (It is my understanding that those, too, wear out during walking)?
If you should read this letter and feel compassion for my wonderful feet attached to the unattractive cankle attached to the bloated calf attached to the dimpled knee (the picture only gets worse as you look higher, like staring at a hideous burning sun) and want to replace their beloved D'lite Raptures, they wear a size 5.5 and would be ever so grateful.
Thank you most sincerely for your time,
Mellzah Dildarian (address here)
I also included a picture of the damaged shoe and the attractive, sad foot, as demonstrated by a sadface drawn in MS paint and the word 'NOOOOOOO!' circling its head. *I* would give me a new pair of shoes. Maybe even twelve pair.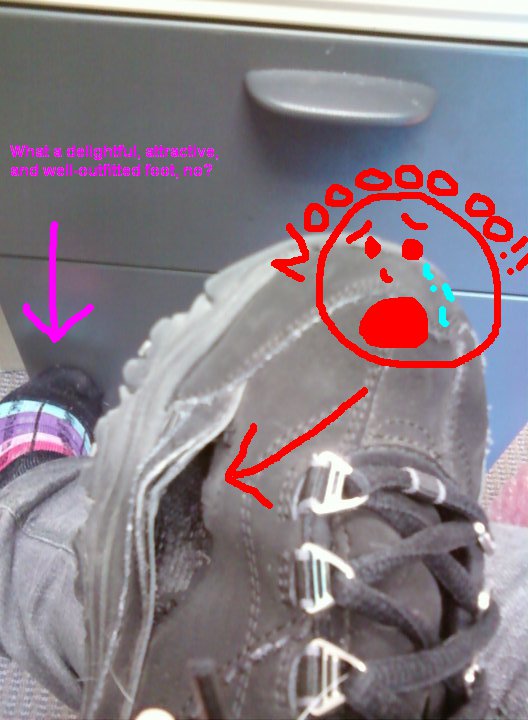 Update: It has been four years and still no response. I haven't given up waiting, though. Surely those shoes are coming any day now.