On Saturday, Aisling picked me up to do some last-minute christmas shopping for her family and do a bit of selfish shopping as well. I keep maybe one awesome pair of walking shoes around at a time, and over the course of the last month, I've put enough miles on them that I've worn the soles completely through. When shoes begin to leak water, it is time to replace them or face the gross consequences, so replacing them was high on my list of priorities.
We started our afternoon at Starbucks, where we used a grand total of four cards to pay for two coffees because we are awesome. I had been carrying around two gift cards worth about three bucks total for the last year or so, Aisling had her gold card, and then we put the rest of the balance on a card because neither of us carry cash. We are the douchebag twins.
I wasn't able to find any light-up shoes with dinosaurs on them…this time, but I am fully confident by the time I need another pair of shoes, at least one shoe company will have a product out taking my special needs into consideration.
All of the mall employees we encountered were ultra-mega surly, and I don't blame them one bit–working retail around the holidays is no treat, even when you take special steps to entertain yourself. Aisling and I took it in stride, and decided one of our day's activities should be to find our sleep number. The sleep number store was full of beds and no employees. We looked at each other, looked around, shrugged, and picked out a bed. Just as we started taking photographic evidence, an employee came out and growled, "What do you want?"
"Um, uh, we wanted to find our sleep number."
"Go nuts."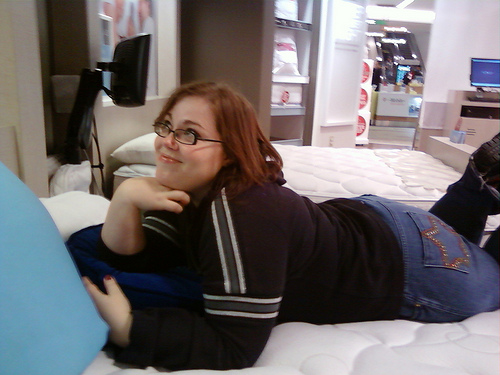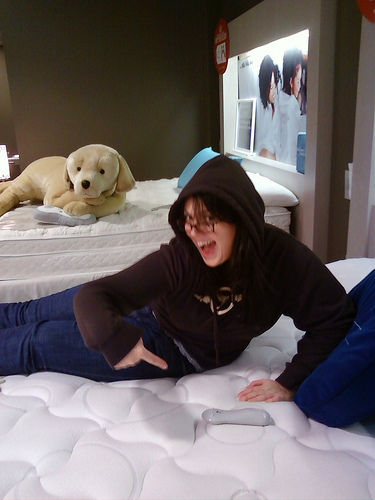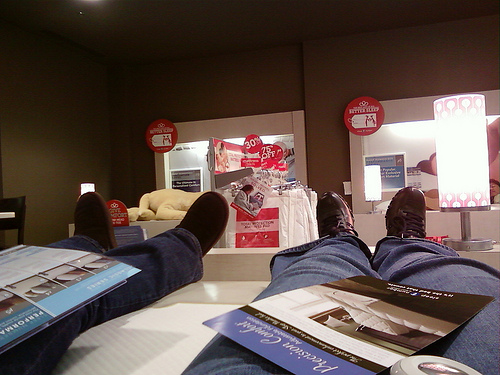 After we settled in and started fiddling with the remotes, the employee came back with a special remote that adjusted both the head and the foot of the bed and also turned on a vibrate mode. I couldn't help exclaiming, "Oh my god, it's like being in a cheap motel only at home!" and I believe this is when the employee decided we were not assholes and began to make surly jokes WITH us.
Aisling and I have decided that we both need vibrating sleep number beds in our lives, and both of our sleep numbers are the same: 35. We must have spent an hour in the sleep number store, and while neither of us actually slept, we both left feeling rested, and not just in the 'hey, I've been on my ass for an hour' sense.
We then proceeded to try on fuzzy hats, annoy more clerks, have a dressing room fashion show, and find magic jeans. Bonus: all of this walking coupled with my reluctance to trudge up the hill to buy groceries has caused me to go down a full pants size and then some. Negative: I now must wear belts, wash and dry on hot, or face inevitable humiliation. No one needs to know I wear spongebob underpants.
…aww, crap.
After our shopping shenanigans, we decided to go eat dinner in an exotic locale that can be accessed without a passport–the Rainforest Cafe. Neither one of us had been there since we were little kids (or annoying tweens, whatever), and we're both big enough people to admit that we'd like to enjoy some animatronic animals with dinner.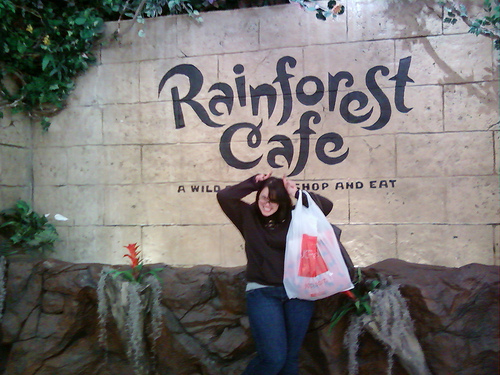 We thrilled and clapped like children at the robot animals, the giant tanks of fish, the copious amounts of neon signage, and the contrived thunderstorm.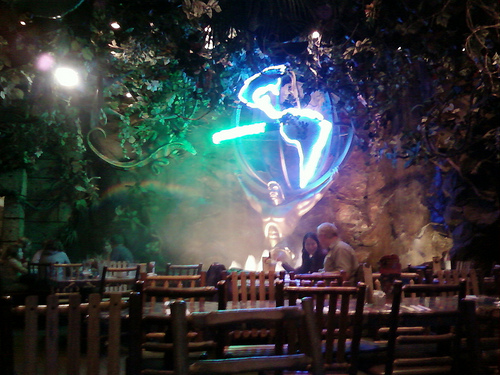 The servers at the Rainforest Cafe were no exception to the 'surly employees' rule, shuffling off to grab our shared appetizer and almost grumbling at the idea that we were going to split the appetizer, skip dinner, and split dessert. However, if you were in our position, you would've done the same thing. There's no way we would have had room for both dinner AND a brownie with a sparkler crammed in it, and whenever I have the rare opportunity to order something with a sparkler crammed in it, I am going to take it, come hell or high water or grumbling servers.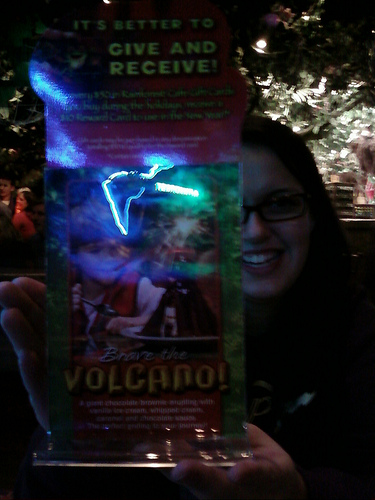 Plus it DARES me to eat it, right on the goddamn advertisement, by implying I am a weenie if I don't brave the volcano. I don't like being called a weenie. Not one bit.
As with all things, it was good until it wasn't. Toward the end of the appetizer, one of us (I won't say name names, but it's the person who ALWAYS has this sort of thing happen and then blogs about it as if she's befuddled) scooped up some dip with a chip and then pulled a terrible, terrible face as she picked a kinky hair that belonged to neither party at the table out of her mouth. The server came back and when we pointed out the hair, she huffed and said she'd get the manager, but not before she asked if we wanted our dessert. Sorry, the hair sort of killed it for us. Not even the presence of a sparkler could bring back the carefree attitude of five minutes prior.
A not insignificant amount of time passes. All the while, the unnamed party can still feel the offending hair in her mouth, even without its physical presence.
The manager eventually wandered over to our table. "Hello ladies, I hear we've had some difficulty with a foreign object in our food this evening." The hair on the plate is again pointed out. He then asks if we'd like a fresh appetizer. "No. No, thank you." "Oh, ok." He grabs the plate and leaves. Aisling and I shared a confused look. Is the situation resolved? Maaaaybe?
After another long period, the server stalked back to our table and slapped down our bill. OH. The situation HAD been resolved. Look, lady, even though the meal has been removed from the bill, I still intended to tip you as if it were there…but when you treat me like shit, it makes it more difficult for me to do the right thing.
I think this should be the Rainforest Cafe's new motto: Fun Until It Isn't.