Since I was denied entry to the caucus on Saturday by a snotty old man who told me I'd get another chance 'in four years', out of spite I have decided to run for benevolent dictator. Vote for me, and I will rule you gently with my iron fist!
Platform:
*Insurance companies will be summarily firebombed. The jillions they have in the bank will be seized and used to rebuild the areas ravaged by Hurricane Katrina and some swanky new levees. If there's any money left over, use it to get socialized health care rolling.
*You heard me. Socialized health care. If Canada can do it, goddamnit, so can we.
*Abortions for some! No abortions for others! Miniature American flags for all!
*Reinstate corporal punishment in schools. If bullies got the shit kicked out of them regularly, and knew their teachers were packing stun guns, they'd think twice about driving angry loner children to the point of hit lists.
*Minor drug offenders will be set free. Violent offenders, however, will all be shipped to Utah for a 'last man standing' gladiatorial match. Weapons will be dropped inside at random–a sock full of pennies, a sharpened broom handle, and giant sporks. This will be televised on pay-per-view.
*Opposing politicians? Sorry guys. You're all going to be shot. Goes for the House and the Senate, too. You're useless, and the money we were paying you is better spent elsewhere. Except Russ Feingold. You're cool, you can stay.
*The war? Done. Fuck that shizz in the EYE. The Sunnis and the Shiites want to blow each other to kingdom come? Have a blast, guys. Here, have a giant spork.
*Paris Ho-lton, Lindsay Ho-han, and Slutney Spears (and potentially more) will be shot on a rocket to Mars. For science. Riiiight.
*True freedom of religion (and non-religion!) and absolute separation of church and state. You can worship any invisible man/blue man/ blue man group you want, but don't you dare tell anyone else what they should and should not be doing.
*Scientologists will be free (read: forced) into another rocket ship to go battle Xenu. Let me know how that shit goes.
*Illegal immigrants will be granted amnesty. Have YOU ever picked blueberries? Awful, awful work. But I'd still like blueberries on my cereal, so, y'know, amnesty.
*Cuba? Sanctions lifted, y'all. Quality cigars should be plentiful and cheap.
*Drunk drivers will have to walk home naked from the point where they are pulled over. Second time, with a matchstick squeezed in between their butt cheeks. Third time? You're GOIN' TO UTAH, BABY!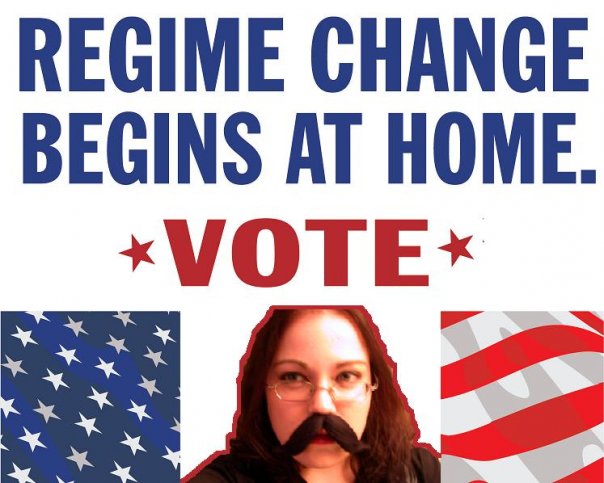 Doesn't my mustache make me look like a natural born leader/dictator? I sure think so!