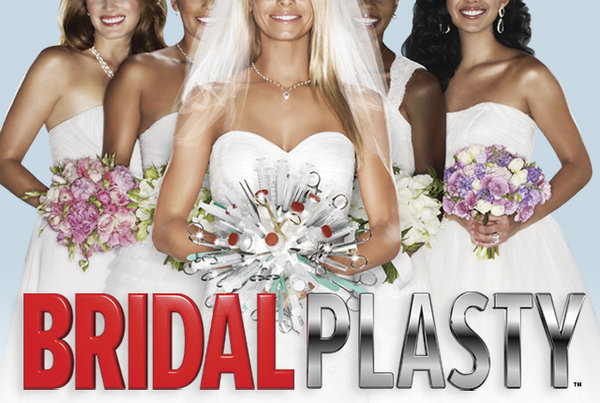 Recently, Comcast upgraded the lines in the area to fiber optic. To celebrate this momentous occasion, I added a phone line I'll never use and a buttload of TV channels and somehow will save $30 a month. In surveying this new kingdom of channels on a lazy Sunday afternoon, I happened upon one of the best and worst and saddest things I have ever seen in my life: Bridalplasty.
The premise of Bridalplasty is simple, yet mind-boggling: a group of brides-to-be live in a home together to compete to win the perfect wedding…and also to win plastic surgeries off their wish list in order to become perfect themselves. You heard me. This right here is why other countries hate the United States. Just saying.
This is how E! describes it:
Each week, a group of women competes head-to-head in such challenges as writing wedding vows and planning honeymoons. The winner receives the chance to choose a plastic surgery procedure from her "wish list." She's given the procedure immediately, and results are shown at the start of the following week's episode.
One by one, the women are voted out by their competitors and, according to the show's description, "possibly walking away with nothing and losing [their] chance to be the perfect bride."
The last bride standing will receive a "dream wedding," where she will reveal her new appearance to friends, family and the groom. "Viewers will witness his emotional and possibly shocked reaction as they stand at the altar and he lifts her veil to see her for the first time following her extreme plastic surgery," E! said.
…and yet somehow, it's gays that are ruining the concept of marriage? I will love and cherish you forever, for better, for worse, for richer, for poorer, in sickness and in health…but not with that nose. Nuh-uh. Or, for that matter, that icky divot on your forehead that I have to look at every time I kiss you. I love you, but there are limits, woman!
Except it's not the men asking that the women they love live up to some unattainable standard, that they make themselves somehow more appealing to the male gaze, it's the WOMEN. Already beautiful women with cripplingly low self esteem knocking themselves on camera in front of the men who already love them enough to make a lifetime commitment to them despite these supposed flaws. Universally, the men looked embarrassed and uncomfortable. They expressed that they loved these women the way they are, and equally universally, the women could not accept these statements as fact, laughing them off or continuing to insist that they're a quarter troll on their mom's side and half goat on their dad's side.
And then there's the whole, "I am going to get an asston of plastic surgery and you, who are making a lifetime commitment to me, will not see my brand new face until the day of our wedding, so hey, surprise, I always wanted to be a tiger-woman! How do you like my cheek implants? My whiskers are fiber optic!"
So, the premise of the show is horribly wrong, and the reality of the show is even worse. One bride-to-be moaned that her fiance has been deployed to Iraq for months and he was finally coming home the day she left to go do the show, and that "I think I'll always regret not being at the airport to welcome him home." Because, you know, the opportunity for televised plastic surgery was way more important, right? Another of the brides-to-be was appalled that another had to pawn her ring to fix her car "because it shows she doesn't value nice things." It's easier to value nice things when you can call the first bank of daddy to fix every problem, right? When all of the competing women were introduced, they also went over their plastic surgery wishlists with a 'plastic surgeon to the stars', who augmented them by taking a marker to their naked bodies and saying "Well, you need liposuction here…and here…and here…and all through here…and here…and here…and back there…and up here, also, you have the perfect breasts….for augmentation surgery" until they looked like one large connect-the-dots puzzle. It was horrifying.
And then they got to the first challenge–the girls had to assemble a puzzle of what they might look like after becoming the perfect bride over a picture of what they look like now, as clearly hideous swine-women. If they're among the first ten brides to complete the challenge, they win a syringe and get to attend an "exclusive injectables party" (I swear I am not making this up). One of the last two will be voted off, and the other's punishment for not being great at puzzles is to just watch everyone else get happily stuffed with botox and god knows what else. The first bride-to-be to assemble her puzzle shrieked, grabbed her syringe and ran with it downstairs yelling "I'm so stoked! Let's take care of my buttface!"
I'm so stoked.
Let's take care of my buttface.
-Socrates
But still the worst was yet to come. Because the bride-to-be who was voted off was ushered off the program with "Your wedding will go on…it just might not be perfect."
WHAT. Better just call the whole thing off, then! God knows if it's not a perfect wedding with a perfectly plastic bride, it doesn't stand a chance. Love and commitment and honesty and hard work–that doesn't have shit to do with marriage. Look at your successfully married hostess, Shanna Moakler! ….whoops.