Compounded by the loss of an hour due to daylight savings, a group of friends awoke extra early on Sunday morning to drive to Chehalis for a friend's wedding. It took me a while to get ready, as I have two basic modes of dress: schlub and whore. Now, when one is attending a wedding, dressing like a schlub is not acceptable, so whore it would have to be. I'm jealous of the girls who can do casual dresses, who can dress nicely without looking too dressed up–it's a skill that I simply do not have. I ended up wearing this dress with some heels, the girls I went with were a little more casual.
The theme of the wedding: zombies. The ceremony was short and sweet, sans the metaphors about love and marriage which the bride and groom did not want, referencing lovecraftian horror and asking them to fight the zombies of daily life as tattooed hero and heroine, and aiding one another in not becoming zombies by taking the time to have joy in the small things.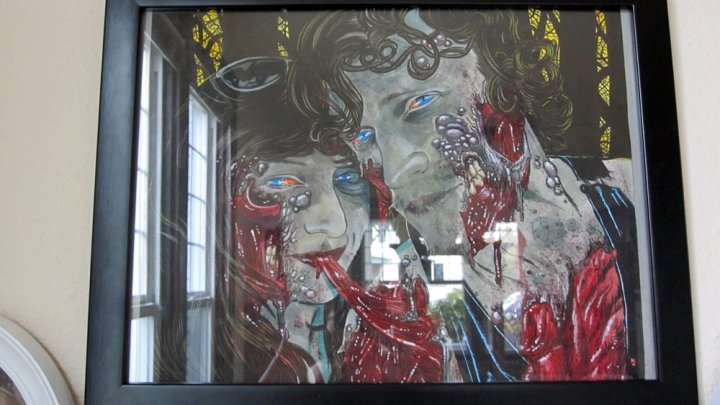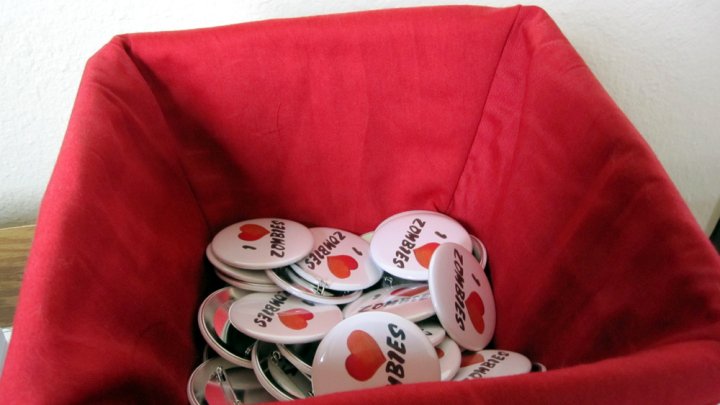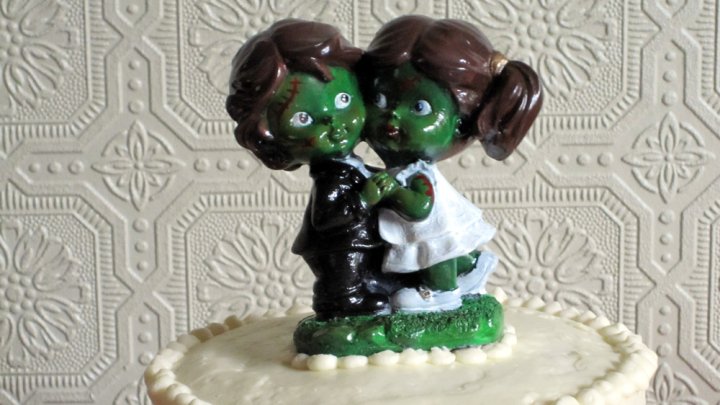 It was after the wedding that the trouble started–for me, anyway. That's when my latent freak magnet powers kicked in.
She approached me from across the room; hair bleached to within an inch of screaming and falling out, skin tanned into crocodile leather, voice gravelly from years of smoking, drinking, and gargling rocks. She complimented me, saying I looked beautiful, and I felt badly for judging her mere moments before. She then inquired if I was married, and I told her I wasn't. When will I learn that the answer is ALWAYS yes? Yes, I have a husband! Yes, I have a boyfriend! Yes, I already have plans for that day! Yes, I've already eaten! Yes, I am familiar with whatever story you are going to tell!
But no, I had to answer in the negative. I am a fool, a moron, a wretch incapable of learning, and the next lesson was soon to begin as she grabbed my wrist in her steely talon and dragged me over toward two single relatives. "Boys, this is Melissa. She is single and SEXY." One look at their faces and it was evident that they were not in agreement with The Claw about my perceived level of attractiveness, and they weren't even going to attempt to fake it for politeness' sake. It was clear from my posture, from my facial expressions, from the very awkward small talk I was trying to make with The Claw standing over my shoulder that I had not put her up to this introduction, that I was not looking to trap them into InstaMarriage or leap on them and crush them with my monstrous thighs while making wildebeest noises, but still they wanted to take no chances by interacting with me.
My eyes widened into those of a trapped animal as she then grabbed the wrist she was still clasping in iron fingers and forced it up to shake the reluctant hand of one of the pair. The other, who clearly did not get the memo that 'schlub' was not appropriate wedding attire, made a face, rolled his eyes at me, grabbed his beer, and walked away without speaking a single word to me. My friends all stood, watching this exchange in increasing horror: I was now a spectacle. The single saving grace was that The Claw had released me when I shook Remaining Douchebag's hand, and after thirty more seconds of the most stilted conversation in the history of man, moreso than even those had by the progenitors of language when both participants did not know the same words, I was able to flee back to the people who witnessed the entire awful scene.
We eventually decided to go outside and visit with the bride's dogs, who were shut in the room underneath the porch. A child watched us go in and started insistently banging on the door and peering through a crack at us, demanding to be let in. Someone told him there were no children allowed–when he asked why, I told him it was because children are stinky. We collapsed into laughter and he ran off indignantly, only to return a minute later with the withering comeback of "No! YOU are stinky!". He then ran off to tell his mom on us, returned again and shouted "HEY! I have something to tell you! Kids don't stink no worser than adults do!" and THEN his mom attempted to peer in through the crack, demanding to know who was inside.
…as it turned out, his mom was the wedding guest whom we had come to refer to as the Cave Troll—the one with the permastoned face and carabiners hanging in her ears with plastic skulls dangling from said carabiners, what looked like a butt tattooed on her back dangling from a pentagram, vomit tattooed on her right upper arm, knee-high buckled boots straight out of Hot Topic paired with a sequined dress so tacky it had to have shipped from the Pyramid collection…and who REEKED of B.O. No, child, it is my sad duty to inform you that not all adults stink–just your mom. And hobos.