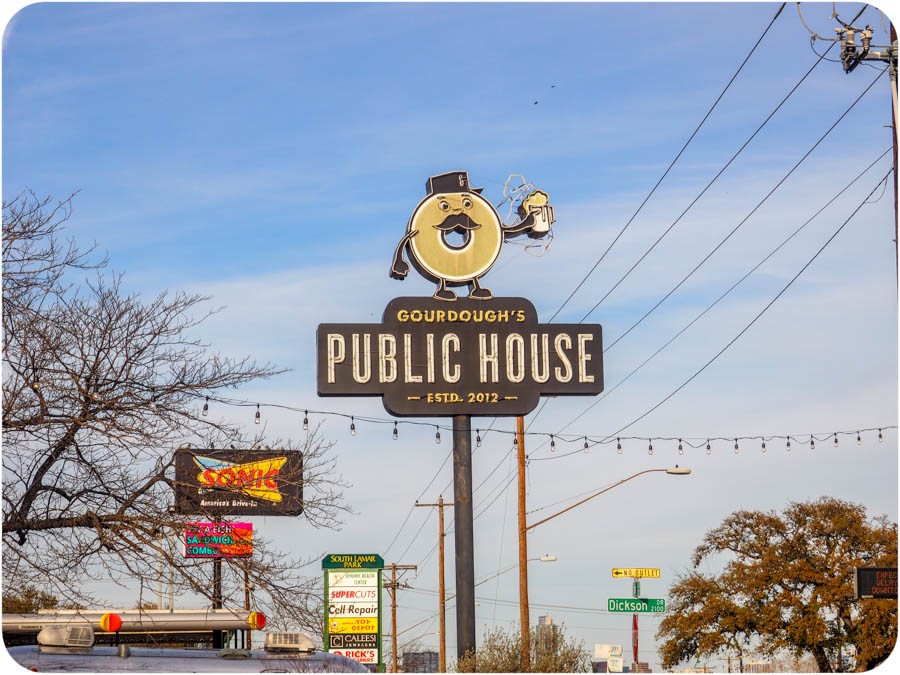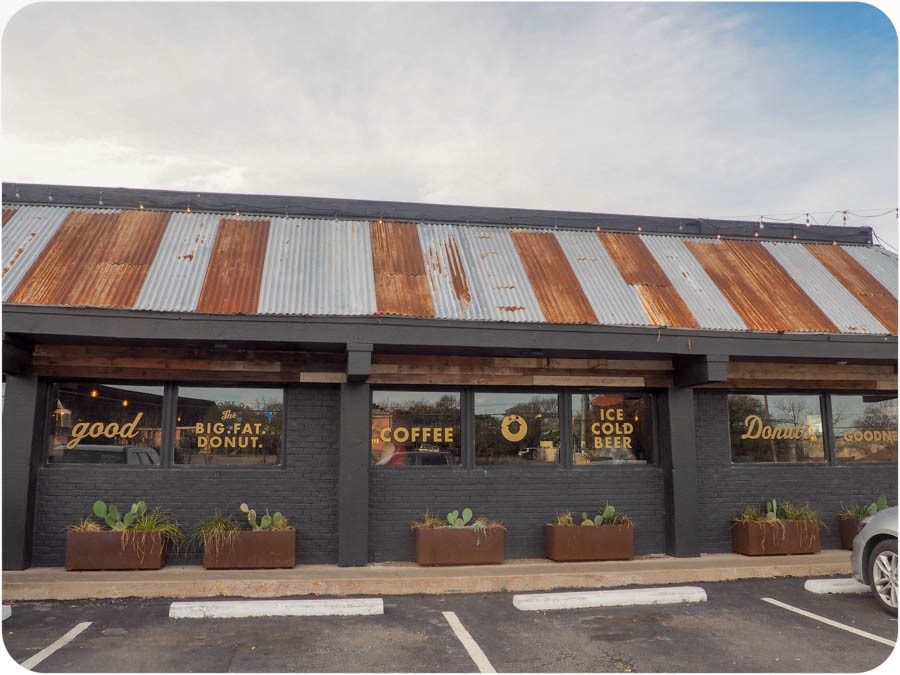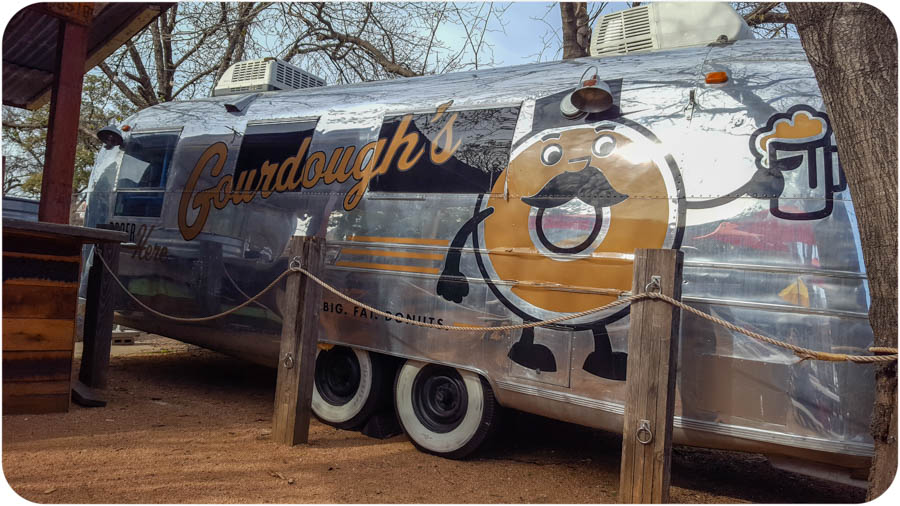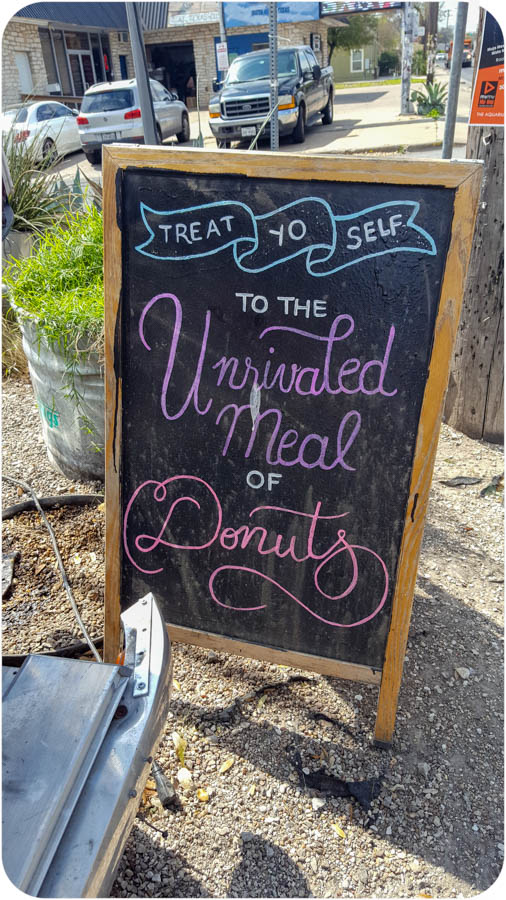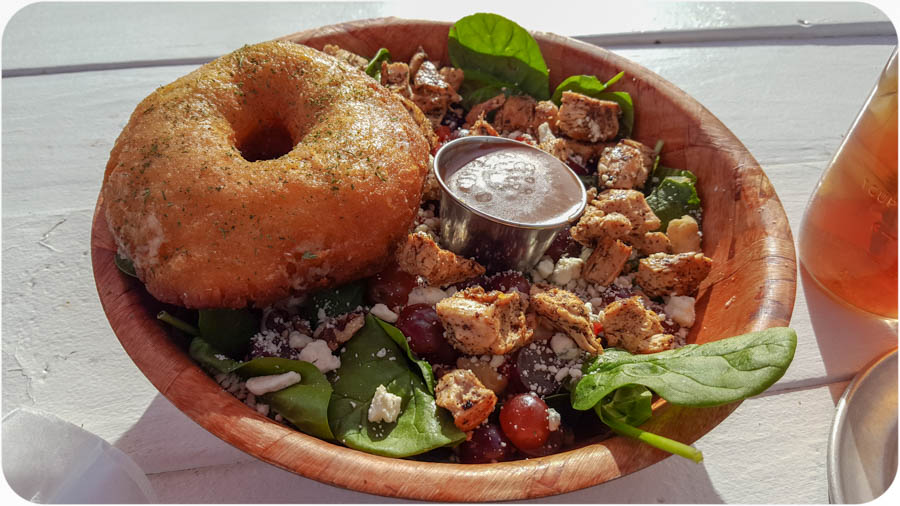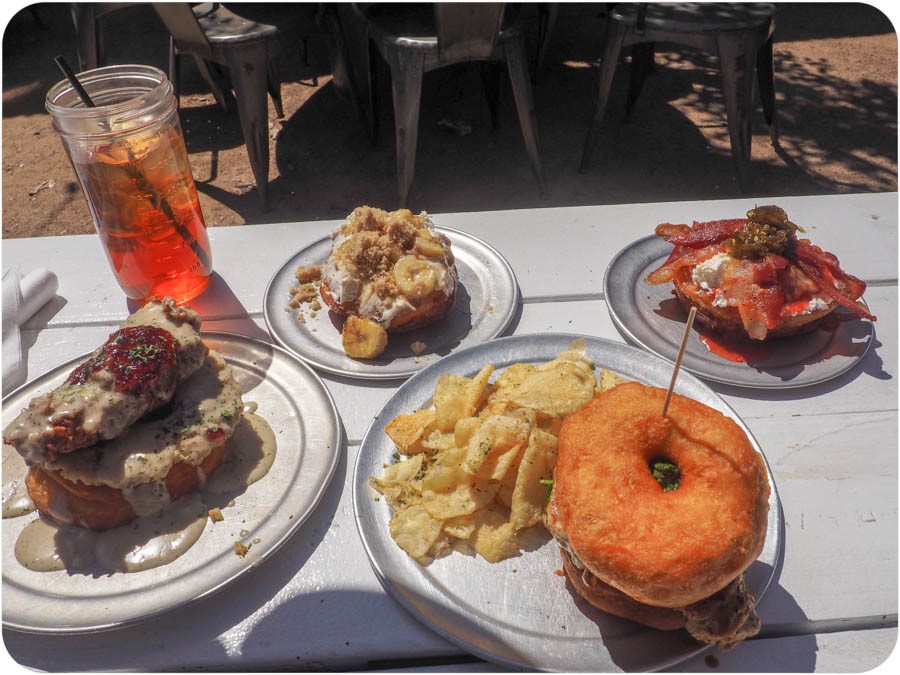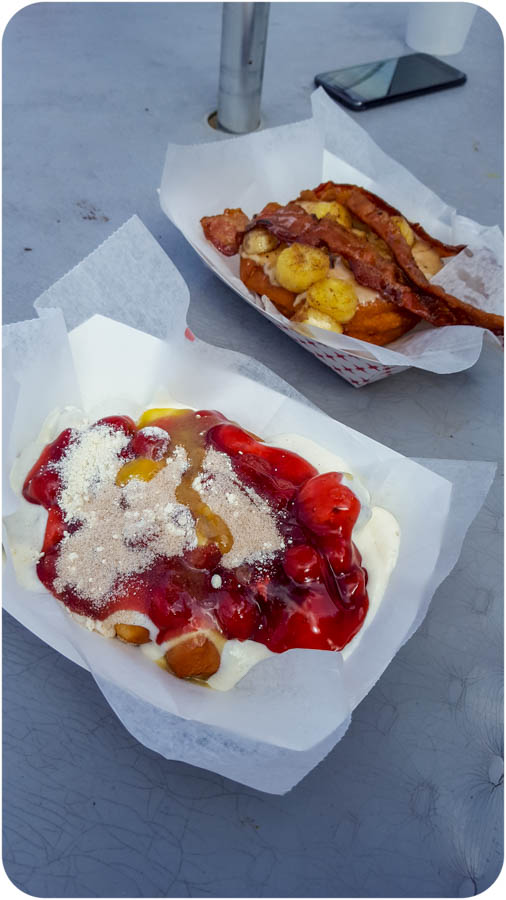 Gordough's is a public house, a food truck, an experience.  …An experience I had three times in two weeks, because DAMN. The first time, I went solo to the public house and ordered a Popeye's Roids: spinach salad with grilled chicken, honey balsamic vinaigrette, blue cheese crumbles, red grapes, roasted red peppers,  walnuts, and the star of the dish, the savory garlic donut that acted as the crouton. This glorious torus, this crispy-on-the-bottom still hot perfectly seasoned wonder of a vampire-repelling donut is the only thing about that salad that mattered.  The rest of the salad was mediocre and that's being kind–the roasted red peppers were cold, slick, and obviously from a jar and they screwed up the entire flavor profile by fighting with every other ingredient. But that garlic donut, man. The bottom was crisp in a way that suggested it had been fried in garlic butter, and it tasted like the best garlic bread in the world. It is divine. I want THAT garlic donut with everything, especially if I can use it to mop up some kind of pasta sauce. That garlic donut is the best donut I've ever eaten. And I've blogged about donuts a lot (and I'm sure there'd be more results in that link if I was consistent with my spelling of doughnut), and will continue to blog about donuts in the future, because hard-hitting donut journalism is one of my niches, and also I just really fucking like donuts. And THIS donut is the best of the best. I'm so far behind on writing about the stuff I've done this year that there are donuts that I'm going to blog about in the near future, and you should know that none of them are as good as this garlic donut. 
That donut is why I went back to the public house after Jason joined me on the trip. He ordered a Dirty South: chicken fried steak, potato pancake, white gravy and a spicy cranberry jam served open face atop a piping hot donut, and for dessert, a Funky Monkey donut with cream cheese icing, grilled bananas, and brown sugar, and he really enjoyed both, despite traditionally not being a fan of the cranberry. I elected to try a donut sandwich this time, going for the Dirty Bird (I guess in addition to donuts, the theme of this visit was 'dirty'): lemon pepper chicken with spinach, pesto, mozz, and roasted red peppers. For dessert, the Squealing Pig, with cream cheese icing, bacon, strawberry jalapeño jelly and candied jalapeños. My Dirty Bird was decent, but it didn't really have the magic of that first garlic donut, and having had this one, I don't think I'm down with the donut-as-a-bun experience in general. In fact, nothing I had at Gordough's since came anywhere close to rivaling that first, perfect donut. 
It's probably because with the exception of that salad, everything at Gordough's is a LOT, seemingly under the guiding principle of "if some is good, more is better". Like one donut? Have two as the bun for your sandwich! Enjoy the flavor of brown sugar? Have an entire handful on top of a thickly frosted donut! This is especially evident with the dessert donuts, even moreso with the donut hole dish I ordered at the food truck, the cherry bomb. These were served swimming in so much goo that they crossed the line from decadent to disgusting. Nothing else was disgusting–I do want to emphasize that the food at Gordough's in general is very good, it's just extremely decadent, even if it was being split among several people. It's just a shame, because they have a great donut, a REALLY great donut, and in most instances you can't even tell how great the donut is because of all the crap on top of it. And I'm getting to a point in my life where I don't want to leave a restaurant feeling bad or throw away 90% of what I ordered because I know that eating any more of it will make me sick. The waste sickens me.
That doesn't mean that I'm going to stop going to restaurants like Gordough's entirely–as previously mentioned, I just really fucking like donuts, and I'm coming to find that I also enjoy writing about food in more than a perfunctory "nom or vom" way.  I don't know how all of this is going to affect where I go and how I eat and how I'll write about it–who knows, maybe this change has been coming on so gradually all along that I'm the only one to whom it comes as a shock.