On Saturday, I decided the time had come to trade in the worst game of all time as my rage had subsided enough to prevent me from lighting it on fire.
This is not to say, however, that I was wholly unprepared to give this occasion the attention it deserved. When I arrived, I looked for the employee who reminded me most of myself–in that he absolutely doesn't give a fuck about his job and is willing to engage in shenanigans. I then made him sign this: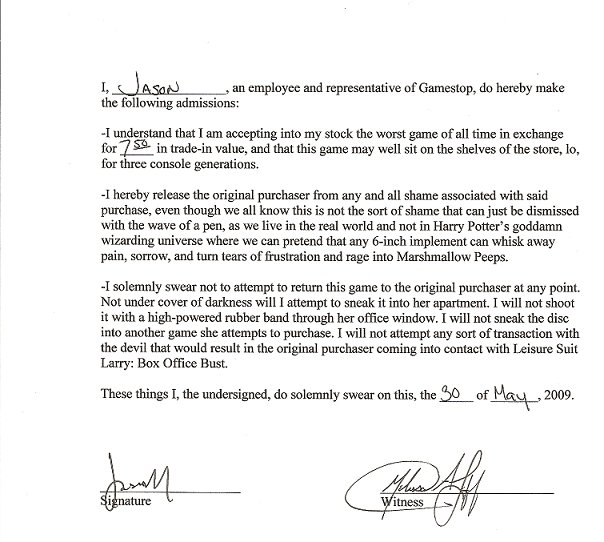 Feeling a bit smug and self-satisified, I applied that $7.50 toward what many would consider to be another mistake: Mortal Kombat vs DC. Haters, please feel free to shut thine traps, as I'm kind of in love with this game.
Bless their stupid hearts, the creators tried to have Liu Kang whaling on Catwoman make sense. "The universes are merging due to a dark force!" But, the thing is, the Mortal Kombat story has been so convoluted and stupid in anything past number one that even a genius-level writer (and bear in mind, they didn't have one) couldn't really justify the series' continuance. And really, I don't NEED a reason to enjoy pounding the snot out of the Green Lantern.
In terms of actual gameplay, I remain a bit of a Luddite in that when it comes to Mortal Kombat, I prefer the 2D game of yesteryear; gameplay felt smoother and it was easier to execute special moves. However, I do like the new countering system, the 'test your might' combat, and multi-level stages. For a game made famous for its buckets of gore, I would have expected more blood and better fatalities, but I don't NEED evisceration to, again, enjoy pounding the snot out of the Green Lantern.
The opponents and boss fights remain as cheap as ever; my thigh was slapped to a bright red hue in frustration after losing more matches than I'd like to admit, and people walking past my apartment likely heard my bitter cries of "SUPERMAN, YOU ARE A FUCKING BITCH" but unlike some games which ramp up difficulty to the point of impossibility, this sort of cheapness can be mastered with just a little dedication to learning the moves.
Ultimately, I approve of the direction of Mortal Kombat vs DC, and again, I encourage the creators to think outside their need to have a story so that we might move forward and create the greatest fighting game of all time: Mortal Kombat vs DC vs Alien vs Predator vs Velociraptor vs Pennywise the Clown vs Captain Kirk vs Jaws on Legs vs Lucille Ball vs The Hookerpunching Slapchop Dude. Amazing, non?