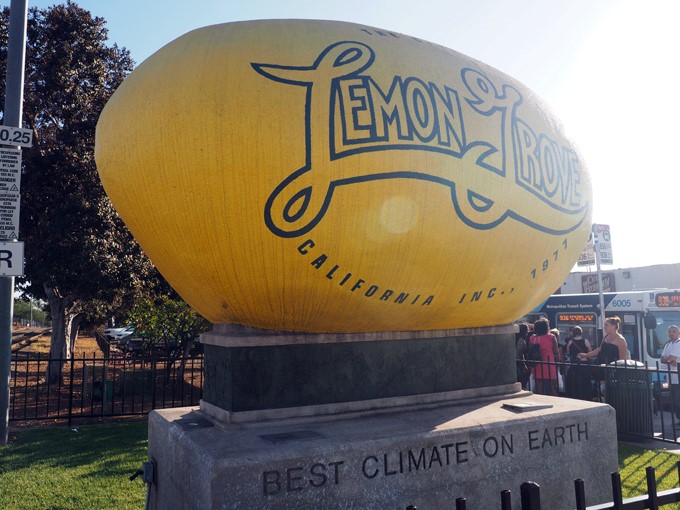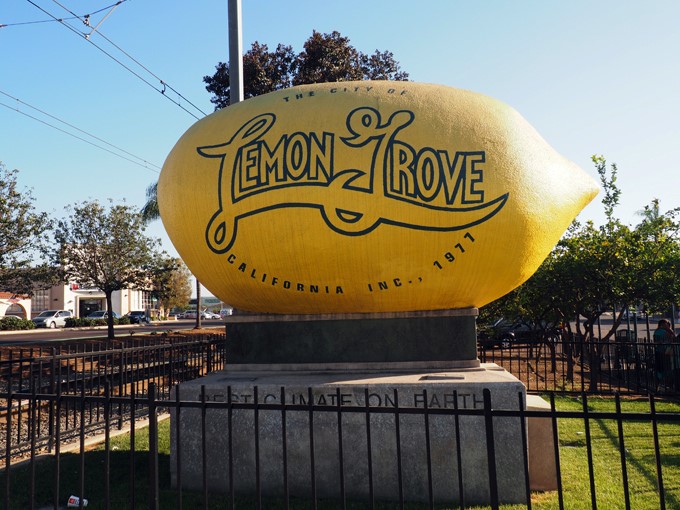 I try not to go anywhere with preconceived notions about what it will be like, because that road leads to disappointment nearly always. With the giant lemon in Lemon Grove, however, it was almost impossible to not imagine the lemon in front of a literal grove of thousands of blossoming lemon trees, wafting their scent out into the sunshine. I may have also pictured a lemon farmer selling cool, refreshing glasses of lemonade nearby. So needless to say, my vision could not have been more wrong if I was James Van Praagh trying to cold read. The Lemon Grove lemon is a metro lemon, flanking both the trolley and the bus stop, and if you're looking for refreshment, you can buy a pack of smokes at the shop across the street. There were some lemon trees behind it, though, because even your average shitty psychic gets lucky once in a while.
Lemon Grove's lemon was originally built as a parade float for San Diego's 4th of July parade in 1928. In 1930, it was plastered and has proudly proclaimed Lemon Grove's slogan for 85 years: Best Climate on Earth. The town wasn't incorporated until 1977, however, so clearly the paint job has been updated at some point during that time period. Nowadays, Lemon Grove is more notable for being the place where some stolen mummies were stashed in a garage for over a decade than lemon trees, but the giant lemon remains as a testament to the town's roots.
Spotted on Main Street in Lemon Grove, CA.