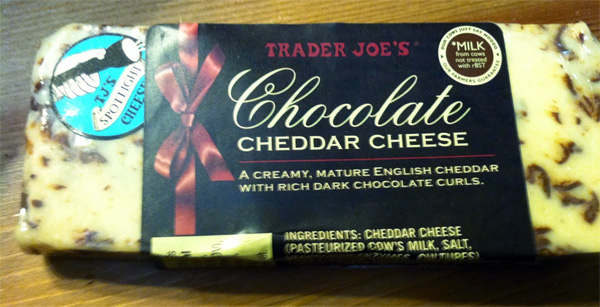 I like chocolate. I like cheese. I like triple chocolate cupcakes, and I like extra cheese on my pizza. Hell, I like a slice of cheddar cheese after eating a slice of apple pie–sometimes ON said pie. If it's the artery-clogging, blood sugar raising, bastard lovechild of a passionate mating between Wilford Brimley and Paula Deen that took place in a hot tub of bubbling trans fat oil, give it to me now.
What I'm saying here is that I'm no stranger to the delicious marriage of salty and sweet when it's consummated in my mouth. Even chocolate and cheese together in one place are not unknown to me: chocolate cheesecakes are awesome, and in Wisconsin, we have an amazing smooth cream cheese fudge that goes by the unappetizing nickname "Chudge".
But I look at sharp white cheddar and dark chocolate swirled together in bar form and I shudder a little. However, my opinion on the matter is not the only one that counts. Am I wrong? Is this a taste sensation?

Loading ...