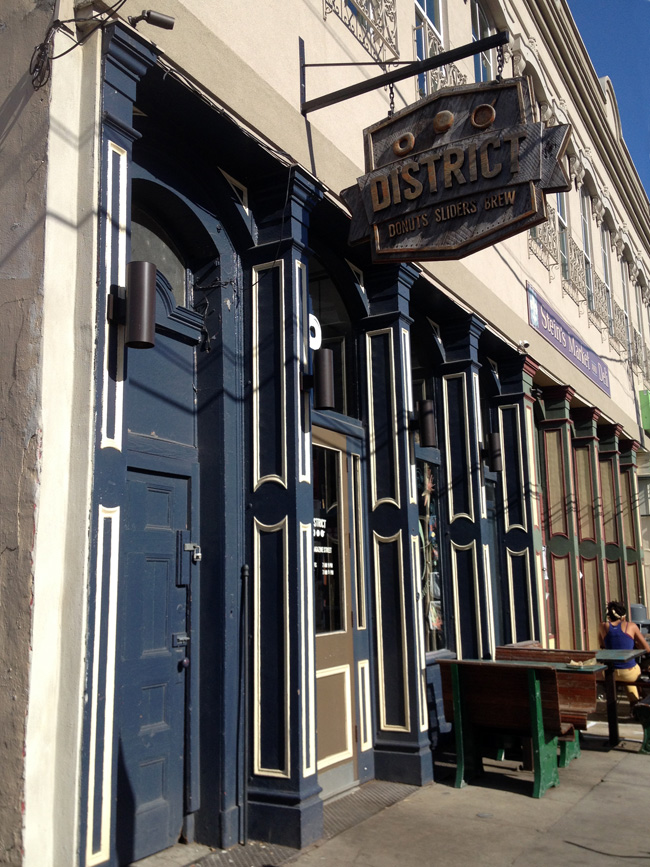 "I'd like four donuts, a cinnamon roll, two biscuits, and three coffees…for here."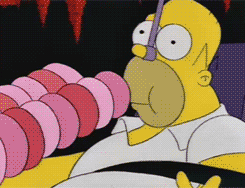 As the words left my mouth, there was no doubt in my mind I was the fattest person alive. However, I feel that if you only have time to visit District once, you'd do the same. It helped that I had two willing partners in donut-eating to try the bounty that you see before you.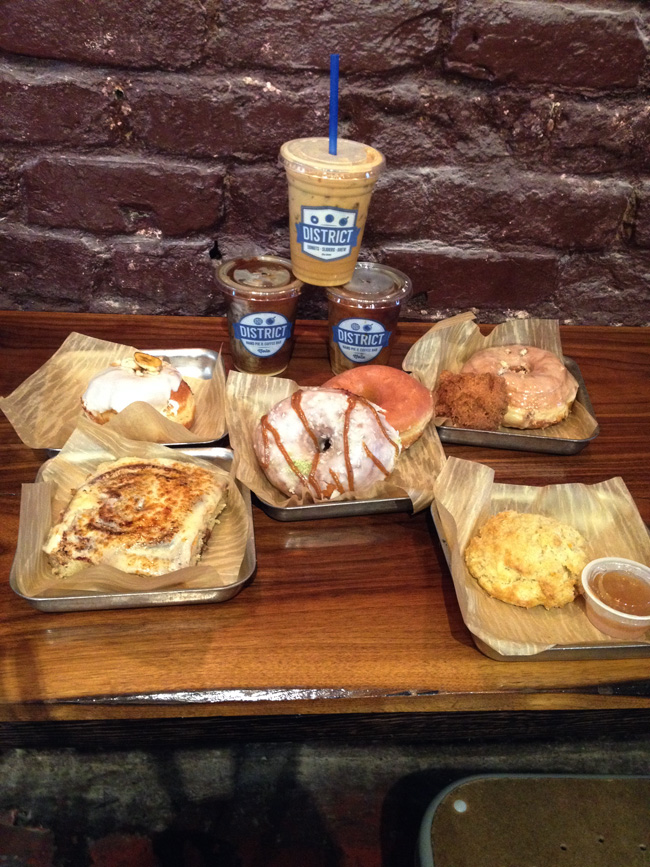 Clockwise from the upper left (ignoring the coffees): banana pudding donut, pad thai donut, plain glazed donut, buttermilk drop, maple praline donut, buttermilk biscuit, brûléed cinnamon roll.
It is a goddamn good thing this place is outside of easy driving distance for me or I would be dead inside of a month. Did you even know that a cinnamon roll could be brûléed?! Because I didn't, and that shit is a revelation. Cinnamon rolls are basically already the perfect pastry,  and adding the crisp crackle of torched sugar on top takes it up into the stratosphere.  What kind of mad science is this?! Is it possible to make something too delicious for your tastebuds to even perceive it? I feel like if any donut shop has a chance of making that discovery, it's District.
In terms of the donuts themselves, the pad thai donut was my clear favorite. Sweet but not as sweet as the others, it definitely had the distinctive flavors that made you think of pad thai without crossing over into "Oh weird, this is too much" territory. Next was the banana pudding donut, which was aaamazing but so dense and rich that a bite was enough. The maple praline and the plain glazed were both good donuts, but I felt like neither really compared to the other two in terms of flavor impact. Following up all that sweet donut and cinnamon roll with a savory biscuit is necessary to pull yourself out of the too-much-sugar zone–I preferred the standard buttermilk biscuit to the buttermilk drop in both texture and flavor. I need to go back to District and try their sliders. All of them. Maybe with a donut bun.